Texas & Texas Tech offer Ezekiel Elliott
@Miles11W I'm hearing from a pretty reliable source that 2013 DT commit Donovan Munger is "100% solid to OSU."
@BCastOZone Just received official confirmation from Ohio State that OL Joey O'Connor and LB Conner Crowell are no longer on the roster.
Kevin Wilson from Indiana visits Clifton Garrett
Curt Mallory from Michigan visits Dominique Booth
Mark Dantonio from Michigan State visits Thaddeus Snodgrass
Rick Pitino from Louisville visits Jalen Lindsey
Jaquan Lyle unofficially visits Indiana for their game against Penn State
Ohio State has offered '15 NJ SG Malachi Richardson
Urban Meyer will visit James Clark
Stan Drayton visited Elijah Hood
Lawrence Marshall plans to visit Michigan tomorrow
Brady Hoke visited Malik McDowell
RB Elijah Hood has a top five right now of Ohio State, Notre Dame, Clemson, Ga. Tech and North Carolina in no order. Not a final list

Ohio State

remains the overwhelming leader for LB Dante Booker
James Clark @GotEmCoach2: In Home With Coach Meyer Went Great!! I am Officially Visiting The Ohio State University This Weekend
#OhioState commit Zeke Elliott has confirmed he will visit #Missouri this weekend
Newly offered 2015 G Malachi Richardson says he is in contact with Coach Matta the most & hopes to visit OSU again this summer.
@MChungOZone Clifton Garrett texted me saying he will likely NOT announce before football season begins. But Meyer, I am sure, will ask during Feb. visit
@tedmadden Oregon puts on full court press trying to get DeSoto RB Dontre Wilson - the ENTIRE coaching staff visited him today.
ESPN $ - Big schools not shy about RB McKenzie '14 PA RB Shai McKenzie
Visiting tOSU on 2/10 and Tennessee leads.
ESPN $ - ESPN Watch List WR shuffles leaders '14 GA WR Demarre Kitt
Top 5 (in order) of Clemson, Ohio State, Oregon, Auburn & USC.
247 $ Elliot to visit Missouri '13 MO RB Ezekiel Elliott
By Wiltfong... As title says, he'll visit Mizzou this weekend, and is going to do research on Texas
There are still plenty of options open for what the Buckeyes can do to finish out the 2013 class, but who is Ohio State focusing on in the class of 2014?
The linebacker position is one of top priority for the class of 2014, which is evidenced by the high-profile recruits that Urban Meyer has targeted and offered. '14 LB Raekwon McMillan and '14 LB Clifton Garrett are the two names at the top of the list for the Buckeyes, and Garrett had some interesting news hit yesterday that may play to Ohio State's favor. Apparently, the '14 linebacker was set on deciding during next year's U.S. Army All-American game (which he had recently been invited to) but now it seems the Illinois-product may have had a change of heart.
Garrett now wants to commit much earlier, which only means good news for Ohio State. The 6'2", 215-pound linebacker will be visiting Columbus on February 2nd, only four days away from National Signing Day for the class of 2013. Of course, Garrett won't be alone, and I'm sure he'll have plenty of opportunities to talk with fellow recruits and perhaps future teammates. If Garrett became the 3rd commitment in the class of 2014, the rumors of this class being Coach Meyer's best ever might come to fruition.
Staying in the class of 2014, '14 WR Demarre Kitt released a new top five that had the Buckeyes within striking distance of Clemson:
1. Clemson 2. Ohio state 3. Oregon 4. Auburn 5. USC

— Demarre Kitt (@D_ocho) January 23, 2013
For now, it's alright that Ohio State trails in this one. There's a long way to go until February of next year, and it would surprise me if the coaching staff was overly concerned on this one. We'll keep following Kitt's latest updates on his recruitment, that's for sure.
Turning back to the class of 2013, the Robinson twins saga may just have concluded for Buckeye Nation:
4* San Diego (Calif.) Lincoln ATH Tyree Robinson tells me that and he his brother Tyrell will not make a visit to #OhioState

— Marc Givler (@MarcGivlerBG) January 22, 2013
After Chip Kelly left Oregon for Philadelphia, the Buckeyes swarmed all over multiple Duck recruits and commits alike, and while it was a long shot to land both '13 ATH Tyree Robinson and '13 LB Tyrell Robinson in the first place, this is sort of closure for Coach Meyer and his staff.
On the same subject as far as Oregon recruits/commits go, Ohio State may actually be having some success with another Duck pledge in '13 ATH Darren Carrington:
confirmed/quoted Darren Carrington is planning an official visit to the #OhioState #Buckeyes es.pn/YlMYyp

— Brad Bournival (@bbournival) January 23, 2013
We'll see if the Buckeyes continue to pursue Carrington, who could potentially play a number of different roles for Ohio State. He's shown flashes at receiver, as a dual-threat quarterback, and even at cornerback.
Finally, we leave you with some sick highlights of '14 ATH Marshon Lattimore. If you haven't heard of this kid before (you should have, if you're a recruiting aficionado like we are) you can take a look at why he's so special:
Urban Meyer is perhaps the fiercest recruiter in the business, so Ohio State fans have to like their chances with current Clemson commit DeShaun Watson.

Meyer paid a visit to Gainesville (Ga.) on Tuesday to check in on Watson, who committed to Clemson on National Signing Day last year as a sophomore.

Watson was superb as a junior. He threw for over 4,000 yards and 50 touchdowns and rushed for nearly 1,500 yards and 24 scores, earning MaxPreps National Junior of the Year honors in the process. He already owns the Georgia career passing record, and has one year of eligibility remaining.

It would seem Watson would fit perfectly into Meyer's offense, which is perhaps one of the reasons it seems that Watson is entertaining Ohio State's overtures.

Georgia will also intensely recruit Watson, who will likely have his pick of colleges.

On Sunday, Watson made his debut on national television, as he was seen standing on the Falcons' sideline in Atlanta's 28-24 loss to the 49ers.
Two weekends ago, it looked like Ohio State might get the chance to lock up a wide receiver.

Corey Smith (Akron, Ohio/East Mississippi CC), Cornelius Elder (Nashville, Tenn./Ensworth) and Shelton Gibson (Cleveland Heights, Ohio/Cleveland Heights) were on campus on official visits.

Ryan Timmons (Frankfort, Ky./Franklin County) was scheduled to come as well, but backed out at the last moment. Incidentally, Timmons picked up an offer from the Buckeyes on Tuesday night so that could change things again.

Smith is a Mississippi State commitment, but still loves the Ohio State. Elder has the Buckeyes and UCLA in his final two. Gibson has committed to West Virginia.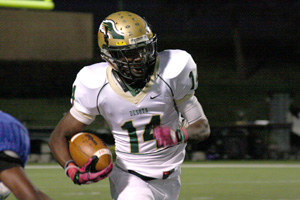 While Timmons is still in play -- Ohio State visited him Tuesday -- Oregon commit Dontre Wilson (DeSoto, Texas/DeSoto) is scheduled to come to town this weekend.

Incidentally, James Clark (New Smyrna Beach, Fla./New Smyrna Beach) could be a late add to this weekend's official visit list as well. He has an in-home visit with the Buckeyes tonight.

The following weekend another Duck, this one -- Darren Carrington (San Diego/Horizon) -- has an official visit lined up as well.

Tyree Robinson (San Diego/Lincoln) and his twin brother Tyrell Robinson were scheduled to make an official visit this weekend, but have parted ways with Ohio State.

If they can lock up Wilson it might push things along in the process with others.

Wilson likes Oregon's promotion of former offensive coordinator Mark Helfrich, but still wants to look around. He has always liked the Buckeyes, so a complete sell job could be the difference.

A wide receiver commitment could also hurry the process along a bit for other targets.

With Urban Meyer and Co. filling up another spot in a class with so few precious ones remaining, a commitment from a lineman like Dan Skipper (Arvada, Col./Ralston Valley) or Cameron Hunt (Corona, Calif./Centennial) could come sooner rather than later.

It won't likely affect ESPN 150 safety Vonn Bell (Rossville, Ga./Ridgeland), who will wait until signing day, but maybe it brings one of the aforementioned receivers to Columbus, Ohio.

Either way, a pledge this weekend should get the ball rolling. Otherwise, expect an insanely hectic final week for the Buckeyes as they wrap up their 2013 recruiting class.
Franklin County receiver/running back Ryan Timmons, a Courier-Journal All-State player and the top in-state offensive target of the University of Kentucky, received scholarship offer from Ohio State on Tuesday night, Flyers coach Chris Tracy said.
It's an offer Timmons has sought for months to go along with the major offers he has from UK, Florida, Illinois, Missouri, California, Arkansas, Purdue and others.
Tracy said Timmons will announce his college choice at 1 p.m. Feb. 5 – the day before national signing day.
The coach said Timmons is deciding whether he wants to visit Florida, which made an offer on Sunday, or Ohio State with his fifth and final official visit. Tracy told Timmons he also would be willing to drive him to either of Columbus or Gainesville for an unofficial visit in order to make sure he sees all the places he wants.
Timmons has previously been to UK (Jan. 18), Arkansas, Purdue and Illinois. UK coach Mark Stoops and offensive coordinator Neal Brown are scheduled to visit him on Thursday.
Illinois and Missouri coaches are visiting Franklin County today. Ohio State sent two assistants on Tuesday, and Timmons spoke with head coach Urban Meyer on the phone on Wednesday. Florida assistant Joker Phillips, UK's former head coach, visited on Monday and will be back next week, Tracy said.
The coach was unsure which way Timmons was leaning with his final decision.
The Buckeyes have been short on scholarships this year because of NCAA sanctions and had not been able to make an early offer to Timmons, even though they have been recruiting him consistently for many months. He was a standout at one of their summer camps and has visited the school unofficially multiple times.
The Ohio State football program announced Wednesday afternoon that offensive lineman Joey O'Connor (transfer) and linebacker Conner Crowell (injury) are no longer with the team.
The Ohio State football program announced Wednesday afternoon that offensive lineman Joey O'Connor and linebacker Conner Crowell are no longer with the team.
Per an email from an OSU spokesman, Crowell will not be cleared by team doctors to play in future seasons, while O'Connor has requested a transfer closer to home.
The decisions increase the possible number of spots open as the Buckeyes attempt to fill the rest of this year's recruiting class.
Crowell hails from Waldorf (Md.) North Point and actually began this season as the team's No. 2 middle linebacker. He finished the campaign with one tackle in three games.
However, he has fought injuries for much of his career. A three-star prospect coming out of high school, he suffered a leg injury late in his senior season that was so bad it kept him out of the entire 2011 campaign at OSU.
He later told BSB that was probably the hardest year of his life.
"It was just tough watching everybody else compete and go through the grind, and you're just sitting back and watching," Crowell said on Media Day this August.
He worked as the team's No. 2 linebacker through fall camp and even saw time when the linebacking unit was banged up in the UAB contest, but Crowell did not play in the second half of the season.
O'Connor was a three-star prospect picked up by Urban Meyer late in last year's recruiting class. The offensive guard originally committed to Penn State but switched his pledge after the Jerry Sandusky scandal resulted in longtime PSU head coach Joe Paterno being let go.
However, the Windsor, Colo., native did not play this year after undergoing microfracture surgery on his knee early in fall camp. He was expected to play either guard or center for the Buckeyes.