In today's installment of our pictorial countdown to football, we do double-duty, honoring one of the legends of the gridiron and remembering one of the most memorable beasts of the modern era. First, let's all tip our hats to the late Chic Harley, one of only a handful of men to have their numbers retired, and to be forever memorialized inside Ohio Stadium, affectionately known as the "House That Chic Built."
Harley was the old-fashioned "triple-threat," which meant something very different back in the day.
Harley's exploits were such that raising the funds to construct the iconic "Horseshoe" known as Ohio Stadium was no sweat.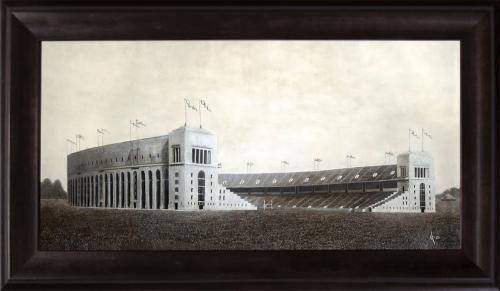 As such, it was only fitting, during the 2004 season, for Harley's number to be retired and hung alongside greats such as Horvath, Griffin and George.
Here's to you, Chic. How, for a more recent trip down Memory Lane, let's all recall fondly the last man to wear #47, A.J. Hawk. One of the fiercest linebackers to don the colors in recent memory, Hawk was often seen on football Saturday terrorizing opposing quarterbacks, and permanently implanting pieces of turf in the backs of their helmets.
Oh, and occasionally he ended up with the ball, too:
So here's to 47 more days until Buckeye football - are you feeling it yet?
For more photos to tide you over, check out Days 50, 49 and 48.