Michael Hill Interview With Michael Chung
@bbournival Michigan commitment Denzel Ward looking at #Florida, #OhioState #Buckeyes and #Purdue.
@Derek11W 2014 WR Dominique Booth offered by #Tennessee #Vols today
@Derek11W Bill Greene was just on 97.1 The Fan and said Vonn Bell's coach believes Bell would sign with #OhioState if he had to sign today.
@RivalsDallas Most called name of the #ArmyCombine was Dillon Bates. That is more impressive knowing he is a LB!
@SportsZoneCOM reporting OSU coaches have been notified that James Quick will be a Buckeye.
Rivals $ - Odenigbo loves Minnesota '14 OH DE Tito Odenigbo
Hearing from Ohio State, Boston College, Cincinnati, Minnesota and others...grew up a Gophers fan and says it would be hard not to commit on the spot if they offered.
The Under Armour All-American Game is being played today, which will also coincide with the announcement of 4-star LB Trey Johnson's college decision. The Buckeyes have other recruits and commits participating too, giving us plenty of reasons to tune in.
Some of the best athletes in the country are going to be playing today at the Under Armour All-American Game. Buckeye commits and targets alike will be competing in the annual recruit game, showcasing their skills in what would be one of the last chances to show schools what they've got. While the class of 2013 is just about ready to be wrapped up, Ohio State still has a couple of targets in mind.
The Buckeyes alone have four recruits of interest that are either committed or are seriously considering Ohio State starting for one of the Under Armour teams. Those athletes are '13 ATH commit Jalin Marshall (starting at WR) '13 DE commit Joey Bosa (starting at DE) '13 LB Trey Johnson (starting at linebacker) and '13 DB commit Gareon Conley. I know for a fact that I'll be watching, and can only guess that Coach Meyer and his staff will have a close eye on the game as well. I'm particularly interested in finding out what Marshall can do at the receiver position. To play an entire season at quarterback only to switch to wide receiver for an All-American game is impressive.
Speaking of the Under Armour All-American Game, those four mentioned above aren't the only recruits Ohio State is after. '13 OL Cameron Hunt was just awarded with a scholarship offer from the Buckeyes after a solid season and will also be participating in the festivities:
Been one of the best here at #UAGame RT @gregbiggins: #OhioState is the latest offer for SoCal OL Cameron Hunt

— John Garcia Jr. (@JohnGarcia_Jr) January 3, 2013
Sebastian LaRue, recent USC decommit said he is open to OSU if they call. OSU has not been in contact since Nov when his visit was cancelled

— Michael Chung (@MChungOZone) January 3, 2013
Class of 2013 ATH Sebastian LaRue recently decommitted from USC and has reopened his recruitment. Since then, he's let it be known that he's ready to listen to the Buckeyes, if they would like to reach out to him. As you can see above, there may just not be enough interest with LaRue, possibly because of '13 WR James Quick filling that role.
Finally, 2014 DB Damon Webb visited Ohio State a couple times this summer, including Friday Night Lights in late July, but plans to make another trip to Columbus in a little over a week. January 11th is the date set for Webb and his family to visit Ohio State, a weekend that is shaping up to be quite the party with all the recent announcements of recruits visiting. Webb is coming off an outstanding junior season. He helped Cass Tech win a second straight state championship with 42 tackles and seven interceptions from his cornerback spot and 30 catches and seven touchdowns as a wide receiver. We'll be sure to keep tabs on Webb, as he may end up being a hot commodity around the recruiting battlegrounds.
Georgia will have only one player pick a hat on national TV during an all-star game.
It's Trey Johnson, the linebacker from Central Gwinnett High School.
The 6-foot-1, 220-pounder will announce his college decision on ESPN during the Under Armour All-America game at 5 p.m. Friday. Here's Johnson on his finalists:
Ohio State: "I like the atmosphere up there, and I understand they need linebackers."
Florida: "I like the defensive scheme they have, and how good their defense was this year with Will Muschamp."
Tennessee: "They brought in the same defensive scheme that Auburn had, which is the same scheme my high school ran, so I feel like I fit into it well."
Most people consider it "automatic" for Johnson to select Ohio State because that's the only college that he toured on an official visit. What is Johnson's response to that? "I made a ton of official visits. I took three trips to Florida. I've been to Tennessee twice, but I haven't been up there recently."
cont...
SAN ANTONIO -- Mike Mitchell is one of seven U.S. Army All-Americans scheduled to make his college decision Saturday afternoon during the game's broadcast on national television.
The hats on the table for the four-star linebacker from Plano (Texas) Prestonwood Christian will be Ohio State, Oregon and Texas A&M.
Mitchell, like several players in the game, said roster analysis was a major part of the process for him.
"I looked a lot at the depth charts of the schools that were recruiting me," he said. "I have no plans on redshirting, and I want to compete for a spot right away.
"Playing time is really important to me, and I don't want to go to a place with seven linebackers already in the program ahead of me."
Mitchell is the No. 30 player in the Rivals100, and at 6-foot-4 and 216 pounds he thinks he is ready to earn his spot.
cont...
Ohio State already has nine recruits lined up to play in this weekend's high school All-Star games—the Under Armour All-American Game Friday and the Army All-American Bowl Saturday. It wants to add a few more recruits and has a chance to do so before the weekend ends.
Among the uncommitted players playing this weekend are three recruits that the Buckeyes are after: WR James Quick, LB Mike Mitchell and LB Trey Johnson.
OSU has 19 verbals in this year's class with room for a handful more to come on board.
Here's a look at each individual player, where the Buckeyes stand with each player and a prediction for each player.
cont...
One of the players that the Michigan State staff has already offered for the class of 2014 is linebacker Kyle Berger of Cleveland St Ignatius High School in Ohio. The Spartan staff is hoping to add the 6-foot-3, 210-pound Berger to the Green and White, but it will definitely be a battle to do so. We asked Berger about the teams that are current recruiting him the hardest.
"Right now I have offers from Ohio State, Michigan State, Cincinnati, Illinois and West Virginia. I have also just started talking with Tennessee as well."
Michigan State was one of the first schools to offer Berger a scholarship and he does have a significant amount of interest in the program and is hoping to learn more in the coming months.
"I like Michigan State, I enjoy talking to Coach Samuel," Berger said. "I actually am good friends with Kenny Kaminski who is on the Michigan State basketball team so I hope to visit soon and go to a basketball game."
Berger had an outstanding season this past fall for St Ignatius while helping lead them to and 11-2. He talked about his time-table for making his college choice and what he will be looking for.
cont...
Heading into the new year and offseason workouts, BuckeyeNation will look at some holes left by the departing Ohio State veterans and potential candidates to fill them.
DEFENSIVE END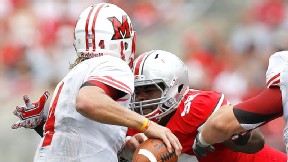 Who: Within the Ohio State locker room or around the Big Ten, on the field with prolific production or in the weight room with his fanatical work ethic, John Simon's reputation and legendary status was officially secured during a senior season largely played at less than full strength. Battling various ailments without issuing a single complaint, the defensive end still finished the year on top of the conference in sacks. A two-time captain, Simon willed the Buckeyes through a series of other injuries that tested the defense and ultimately helped them finish unbeaten in the face of NCAA sanctions that prevented them from playing in the league title game or a bowl. Replacing everything Simon provided certainly will be no small task, but he's at least done all he could to provide a blueprint for those players coming behind him.
By the numbers: A knee injury suffered in the Wisconsin game ultimately proved too much for Simon to recover from and robbed him of one last outing in a rivalry showdown with Michigan, but the senior certainly went out on top against the Badgers. Simon's four sacks tied the single-game record at Ohio State, and they also helped him climb up to No. 7 in school history in both sacks (20) and tackles for loss (43) -- numbers that potentially could have been higher with an extra game or two.
Job description: No pressure or anything, but Simon was unquestionably the heart and soul of the perfect Buckeyes, and filling his leadership void will take more than just a strong voice. Much of Simon's work was done by example with his tireless search for improvement, and it will be imperative for veterans to step up and provide the kind of guidance he and fellow captain Zach Boren provided. Simon certainly got things done on Saturdays as well, and the Buckeyes will need his replacement up front to show the same kind of strength he showed in overpowering blockers while also flashing the kind of speed he possessed chasing down quarterbacks in the backfield. Ability to play both inside and out is a plus.
Top candidates: The Buckeyes didn't panic when they found out Simon wouldn't be able to play against the Wolverines, and Adolphus Washington made it clear where some of that confidence was coming from. The true freshman turned in one of the most memorable plays of the final win of the year with his bullrush past All-Big Ten tackle Taylor Lewan for a sack and forced fumble, one more example of the bright future ahead of the highly touted recruit a year ago. Like Simon, Washington has the combination of size and quickness to play different spots up front, and he's likely going to be tough to knock out of the lineup when the chance to claim that job permanently presents itself in the spring.
One to watch: The bumper crop of freshmen combined with the hold the seniors had on jobs ahead of him kept Steve Miller from really emerging as a sophomore, but the chance to compete for more work is coming for him heading into his third season with the program. Miller left spring a year ago as the backup to Simon, but he only appeared in seven games and finished with just one sack. At 6-foot-3, 255 pounds and another year ahead of him to build his body and improve his technique, Miller should be able to put himself in position to give the Buckeyes much more than that next season.
If fans don't know about many of the Ohio State commitments in the recruiting class of 2013, it might be a good idea to watch some of the all-star games this weekend as nine pledges will be in action with a 10th getting recognized as well.

The sixth annual Under Armour All-America Game leads things off Friday with some of the biggest names, as defensive tackle Joey Bosa (70 tackles, 9½ sacks), cornerback Cam Burrows (39 tackles, 14 pass breakups, fumble recovery), athlete Jalin Marshall (2,186 total yards, 25 Tds) and two-way star Gareon Conley (1,096 receiving yards, 16 Tds, 25 tackles, 2 fumble recoveries, interception) headline the event.

Also joining the four ESPN 150 seniors will be ESPN 300 tight end Marcus Baugh (38 catches, 610 yards, 4 Tds). Baugh showed up big for the Buckeyes on Wednesday when he won the American Family Insurance Skills Challenge at ESPN's Wide World of Sports for offensive and defensive linemen.
Marcus Baugh stood out all week at the Under Armour practices, as the athletic tight end showed off his talents. The Ohio State commit is anxious to get started on his career at the next level.
Riverside (CA) North tight end Marcus Baugh has been one of the more impressive athletes in action this week at the Under Armour practices in Orlando.
Baugh, 6-foot-4, 230-pounds, who committed to Ohio State last summer, is ranked as a four-star prospect on FoxSportsNext.
"It's been great being out here with all these great players," Baugh stated. "The experience is good and it helps prepare me for what I'm going to find at Ohio State. For me, it's all business on the field, but having fun with the guys off the field."
"I will be taking my official visit on January 11, and I was at Ohio State last summer on an unofficial visit," he added. "I love everything about Ohio State, and I have a cousin in school there right now. He told me how great it is there, and I'm excited to get there."
His talents have been evident all week in Orlando, as Baugh has shown both the ability to catch the football, and be an effective run blocker.
"I'm very athletic, and I try to use that in the passing game," he explained. "I still need to get faster and stronger to become the type of player I want to be. I'm a player that gives 100% on every play."
"Coach (Urban) Meyer played a big part in my decision, and in my eyes he's a tight end guru," he continued. "Knowing he's going to use me as Aaron Hernandez means an awful lot to me, and I think I can help the team right off the bat. I love Ohio State and I can't wait to get there and become a part of the team.
ST. PETERSBURG, Fla. -- Coming off a relatively serious leg injury, Moral Stephens (Perry, Fla./Taylor County) wanted to establish some confidence.

Being unable to run around at top speed like he used to was frustrating. But at the Under Armour Combine, he finally got a chance to do that again with some of the top juniors in the country.

"I am feeling pretty good," he said. "I am just wanting to prove myself that I am healthy and all of that. I am still in good shape."
SAN ANTONIO - - Bill Bates was a Tennessee Volunteer before he became one of the NFL's pre-eminent special teams player during his 15-year career with the Dallas Cowboys.

His son, junior linebacker Dillon Bates (Ponte Vedra Beach, Fla./Ponte Vedra), has a chance to follow in his footsteps. The Volunteers have already offered.
But the Bates' have agreed to let Dillon blaze his own path and aren't pushing him to go to Tennessee.
ST. PETERSBURG, Fla. -- For months, Ohio State coach Urban Meyer and his staff have made the No. 2 inside linebacker prospect in the country a recruiting priority.

Their patience paid off tonight when Trey Johnson (Lawrenceville, Ga./Central Gwinnett) committed to Ohio State during the Under Armour All-America Game, live on ESPN.
Johnson chose Ohio State over Florida and Tennessee.

A longtime Auburn Tigers commitment, Johnson happened to be returning from his official visit to Ohio State on Nov. 25 when Auburn fired coach Gene Chizik. That time on the Columbus, Ohio, campus helped the No. 2 inside linebacker get a better feel for the Buckeyes.

"When I took a visit up there it was different," said Johnson, a starter in the UA Game. "I kind of like the feel up there, the depth chart. And there are many factors that make it a good fit there."

The addition of Johnson gives Ohio State 20 commitments, nine of those being members of the ESPN 150, and boosts what is already the No. 4 recruiting class in the ESPN rankings.

Johnson, who made 140 tackles, three sacks, and one interception as a senior, is the first linebacker commitment for the Buckeyes in the 2013 class. They are still working to add linebacker and ESPN 150 prospect Mike Mitchell (Plano, Texas/Prestonwood Christian Academy), and are in the mix for another standout in the Peach State, Under Armour All-American safety Vonn Bell (Rossville, Ga./Ridgeland).