For the lulz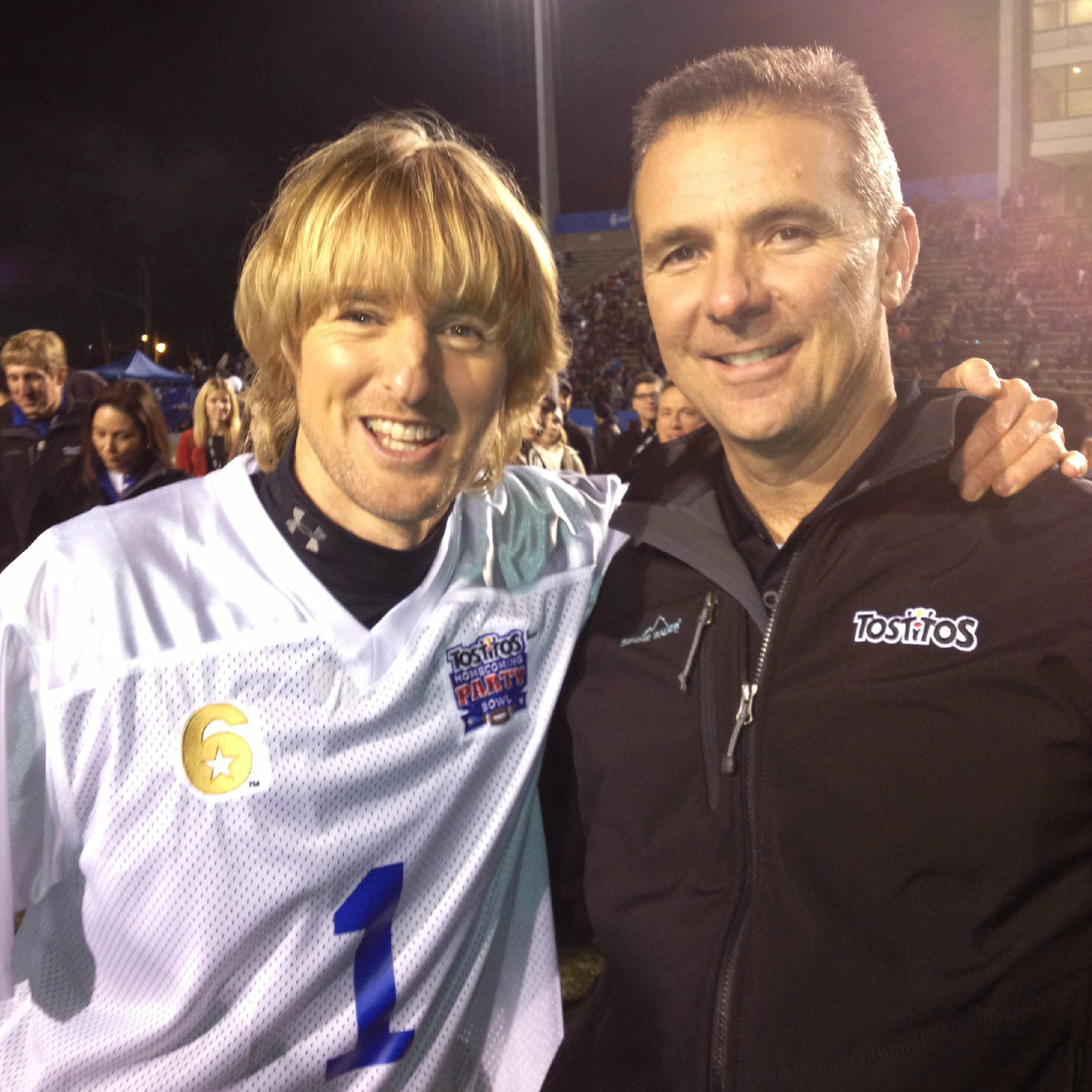 Eli Apple, EzE, Evan Lisle & Johnny Townsend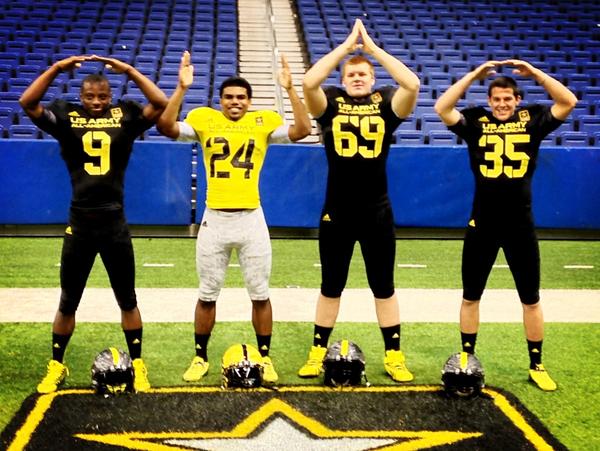 Mike Mitchell Interview With Michael Chung
Ezekiel Elliott Interview With Michael Chung
@AndrewJBone #Buckeyes commitment Joey Bosa beats #Michigan commitment Patrick Kugler on two straights reps coming off the edge.
@BillBankGreene Jalin Marshall really coming on as a WR. Getting better every day and having fun. Will be a starter in the Under Armour game.
@MistaAlderman Trey Johnson says he spoke with #auburn today. Could possibly not announce at #UAGame this Friday. #vols #Buckeyes #Gators
@GerdOzone ESPN's Tom Luginbill says Trey Johnson has been "as advertised, if not exceeded expectations" this wk. He will be announcing at the UA game.
@Miles11W Rumor that Trey Johnson may not decide Friday isn't true. His Coach Todd Wofford told me he's still announcing Friday at the UA Game.
@MChungOZone Mike Mitchell told me that the big Texas A&M class is a factor in his decision. Says Aggies have a lot of LBs in this class.
‏@MChungOZone After talking to Mike Mitchell personally, I am almost 100% that he is OSU.
@CoreyLong Of the Ohio State commits Cam Burrows has frequently stood out to me. Just a big-time talent all around #UAGame
@BillBankGreene Heard from one college coaching staff not connected to either Ohio State or Louisville. They "KNOW" James Quick is committing to OSU
Tennessee offers Quincy Wilson
BN $ - Webb Set To Visit Ohio State Again '14 MI DB Damon Webb
By BK...visiting 1/11...his father feels like his son favors Michigan, Michigan State, Ohio State and LSU in no particular order.
Rivals $ - U.S. Army Bowl: Top performers West
BN $ - Bosa: The Next John Simon? '13 FL DE Joey Bosa
By Helwagen...talks about the practices so far and why he chose OSU...is honored to be compared to Johnny Simon...will make his official on 1/11.
Rivals - Commitment Watch
Farrell predicts Mitchell to OSU, Quick to U of L, and Stevens to A&M.
Scout$--Marshall Adapting To New Position '13 OH ATH Jalin Marshall
Jalin says he is working at becoming a better WR and tOSU plans to use him in many different ways. He again says he is working on Trey Johnson and notes that he will be taking his official visit with Vonn Bell.
Rivals$--Mitchell is more than a combine freak '13 TX LB Mike Mitchell
Mike says he basically has his mind made up on where he wants to go but will consider a few more things. He is high on tOSU and loved his visit. Enjoying himself in San Antonio...recaps his OSU official...will decide between OSU and TAMU and plans to recruit his brother wherever he ends up.
There are only a couple of days before the announcing of several high-profile recruits at the Army All-American game and the Under Armour All-American game. Who is considering the Buckeyes and what are their chances of gaining more recruits in the class of 2013?
Along with the likes of '13 LB Trey Johnson, '13 LB Mike Mitchell and '13 WR James Quick, another class of 2013 recruit that plans on announcing this weekend is '13 WR Tony Stevens. Stevens (FL) knows where he wants to go to school, but is waiting until Saturday's U.S. Army All-American Bowl to announce it. Stevens will be choosing from Florida State, Texas A&M and Ohio State.
As our friends at SB Nation looked deeper into Stevens' announcement, they noticed that his decision may have already been made:
Thing is, two of those schools may already be out of the picture. Stevens hasn't visited Ohio State and there is plenty of talk out there that the Seminoles have moved on. The 6-4, 175-pound wideout has visited College Station, having taken an official visit there in November, roughly a month after decommitting from Florida State (for the second time).
So it looks as if Ohio State is already out for the count in this one, although I would not rule the Buckeyes out until everything is official. If things don't work out with Quick, they can easily have a fallback to land on.
'13 ATH Christopher Worley recently received a score of 20 on his ACT, which is good news for Buckeye fans. The Cleveland-Glenville product looks to keep the pipeline going as he has set an official visit with Ohio State for January 11th. Furthermore, on Christmas day, '14 OL Marcelys Jones committed to the Buckeyes. Jones plays alongside Worley for Cleveland-Glenville and also plans to be in Columbus on Jan. 13 when the Ohio State staff holds a junior day just as Worley and over a half dozen other top seniors are wrapping up their official visits to Ohio State. I'm sure Jones will pull all of the stops to try and get his teammate to Columbus.
Finally, head coach Urban Meyer received the news that a pair of 2014 recruits have put the Buckeyes in their top five. '14 S Montae Nicholson added Ohio State, as well as '14 RB Elijah Hood:
North Carolina RB Elijah Hood has Ohio State in his top 5

— jbook (@jbook37) January 1, 2013
PA Safety Montae Nicholson has Ohio State in his top 5

— jbook (@jbook37) January 1, 2013
I like the strategy to recruit Nicholson just in case something should happen to the Vonn Bell situation and overall depth. This staff as a whole has recruited very well and it's starting to pay dividends.
Several members of the Ohio State Buckeyes' 2013 recruiting class will have a chance to showcase their talents this weekend at either the Under Armour All-America Game or the Army All-American Bowl this Friday and Saturday, respectively.
A combined nine of the Buckeyes' 19 current verbal commits will participate in this weekend's games, not including the handful of targets the team hopes to land.
Last season, DE Noah Spence and DT Adolphus Washington each had spectacular showings in their respective All-Star Games.
On Friday night, the Buckeyes will send five commits—Cam Burrows, Joey Bosa, Jalin Marshall, Marcus Baugh and Gareon Conley—to St. Petersburg, Fla., for the Under Armour All-America Game. In fact, all five verbals will be on the same team, giving them an early opportunity to play together before they come to Columbus.
Burrows, the first to commit to the class of 2013, has caught the eye of a lot of analysts in this week's workouts, including NFL Hall of Famer and special assistant Deion Sanders. He also has the added benefit of having his high school coach Maurice Douglass on the team's coaching staff.
LB Trey Johnson is also playing in the game, and is among the players that could declare his commitment to the Buckeyes this weekend.
Four more future Buckeyes—Ezekiel Elliott, Evan Lisle, Eli Apple and Johnny Townsend—are in San Antonio for the Army All-American Bowl on Saturday afternoon. Elliott will, just this once, be on the opposite team of his future teammates as he will play for the West squad this year.
cont...
Ohio State will go into 2013 with one of the best stable of running backs in the country. Each one possesses a different threat to defenses.
There's speed, power and elusiveness that each bring to the table.
Every running back who touched the ball in 2012 is expected to return, and you can't forget who's coming in this year's recruiting class. Let's take a look at every back for the Buckeyes who will be part of a lethal ground attack in 2013.
Carlos Hyde
Hyde proved himself as the No. 1 running back after a strong 2012 season. When Urban Meyer talked about having an angry team, Hyde was one who took that message to heart. After missing two games early in the year, Hyde returned with a vengeance and was unstoppable when he got his pads going north and south.
By the end of the season, the offense's success ran through Hyde as he averaged more than six yards per carry over the last three games. With every offensive lineman returning in 2013, Hyde will be the battering ram for the Ohio State offense.
Jordan Hall
Hall presents a different threat as he's a smaller, shiftier running back that could even be used in the slot. Hall was the top running back going into last season, but injuries kept him on the sidelines for all but two and a half games.
The News-Herald reported that Hall would take a redshirt season and return in 2013 as a redshirt senior. Though it may not seem like it, it's huge to have a guy like Jordan Hall return for another year. Being in his fifth year in the program, Hall will provide instant leadership on and off the field. In 2012, he played in two full games, racking up 223 total yards. There are many ways Hall can be used if he stays healthy enough to be on the field this upcoming season.
Rod Smith
The undeniable, most interesting running back on the team definitely goes to Rod Smith. Some around Buckeye Nation think Smith is the most talented back on the team, and rightfully so.
Smith gained playing time as the season went on and was a threat to take it the distance every time he touched the ball. Mostly used as a kick returner, Smith has all the attributes at 6'3", 228 pounds.
Early in his career he suffered from fumblitis which has limited his playing time his first two years on campus. Though a couple fumbles hurt Smith's stock late in the year, the light finally seems to be going on as the sky is the limit for No. 2. Hold onto the ball, and Rod Smith will become a household name in every home in America.
With a loaded backfield, it's hard for the younger guys to step in and get playing time. However, Dunn, who was a true freshman last season, earned solid playing time in his first year as a Buckeye with 133 yards on 25 carries and two touchdowns for the season. Dunn was also used as a kick returner.
Meyer is high on Dunn, as he was the first player he called when he took the job in December 2011 according to SI's Steve Wiltfong. A former Scout.com 5-Star running back, Dunn will continue to work his way up the ladder for playing time as he looks to be slowly developing into the same type of player Hyde is.
Warren Ball and Ezekiel Elliot
The two newcomers for the 2013 Ohio State Buckeyes are Warren Ball and current class of 2013 commit Ezekiel Elliott. Yes, yes I know Warren Ball is not an incoming freshman, but Ball missed the entire season with a foot injury as he took a medical redshirt. Ball was an All-State running back in high school and will be looking to make a name for himself once spring practice starts up.
That leaves us with Ezekiel Elliott. Elliott is a current commit for the Buckeyes and could gain playing time when the season rolls around. Elliott is the type of running back Urban Meyer is looking for in his spread offense. With a reported 40 time of 4.42 by ESPN.com, look for the back to make a splash whether it comes on offense or special teams.
When it comes to running backs, a team can never have enough. These are some of your best playmakers on the field. With a plethora of talent at this position, the Ohio State offense has the potential to flourish in their second year under Urban Meyer. Oh, and it's never a bad thing when you have a quarterback like Braxton Miller running the show.
Clemson is one of 27 offers for DB Tony Brown of Beaumont, TX. Brown plays corner and safety and can also play receiver. Some of his other offers are Alabama, Texas, LSU, Texas A&M and Florida. "All the schools recruiting me have a chance," said Brown. "I look at all of them the same." Brown said he doesn't have a lot of information at this point. "I know they have a good offense,' he said, "but I don't know much about their defense." He was going to visit Clemson last summer but didn't make it, and he might visit this summer. Brown said he will not make an early decision and will go thru the entire recruiting process. He does not have a favorite.
John Burroughs senior Ezekiel Elliott has been selected as one of the posterboys for the U.S. Army All-American Bowl this week. Here, he is seen unveiling the new ADIDAS cleats the players will wear in Saturday's all-star game, which will be televised by NBC. US. Army All-Star game
When John Burroughs football star Ezekiel Elliott touched down in San Antonio on Sunday to play in this Saturday's U.S. Army All-American All-Star Game, he had no idea what to expect in the week leading up to the game.
The two-time Missouri all-state performer and St. Louis-area Offensive Player of the Year, who totaled more than 3,000 all-purpose yards and scored 50 touchdowns this past season, knew the U.S. Army folks would be keeping him busy, he just didn't know how.
Well, in his first couple of days down in San Antonio, Elliott has learned that the plan is to feature him not only on the field, but as one of the posterboys for the week, in many of the week's planned television and magazine advertisements.
'Zeke', as he's called by friends and teammates, began his new duties as Army Bowl feature attraction by participating in an autograph session on Monday, in which he and a few other selected players signed more than 400 cards, jerseys, and footballs to commemorate the all-star week.
Then on Tuesday morning, Zeke was again one of the players asked to be on hand when the special ADIDAS game day equipment arrived.
And there's even a new fantastic print ad that will begin running in sports magazines soon, that shows off Zeke's movie-star smile, as he unveiled the new ADIDAS Adizero 5-Star 2.0 cleats the players will wear on Saturday.
There are also expected to be advertisements and photo releases of the players modeling the gameday jerseys and uniforms that they'll wear on Saturday.
Zeke, who will play for the West squad as a running back, slot receiver, kick returner, and possibly some defensive back, will wear No. 24 in what will be his last high school football game.
Updates on James Quick, Mike Mitchell, Shelton Gibson and More
SAN ANTONIO, Tex. — San Antonio is synonymous with greatness.
American history had a zenith when members of Texas militia held off Mexican despot and general Antonio Lopez de Santa Ana in a crucial Battle of the Alamo. This allowed general Sam Houston the time to lead his forces to victory, eventually overtaking the Mexican army, bringing Texas into the United States.
Currently, the city of San Antonio can also be associated with Ohio State greatness, as the Buckeyes have five commits being selected to play in the most prestigious of all high school all-star games. The East squad has P Johnny Townsend, OL Evan Lisle, CB Eli Apple and DT Michael Hill (out due to injury), while the West has RB Ezekiel Elliott.
There are also three significant targets for Urban Meyer and his staff – WR James Quick, WR Shelton Gibson, and LB Mike Mitchell – playing in the U.S. Army All-American Bowl.
Wide receiver Tony Stevens is also an OSU target, but all signs down here in Texas are pointing to Stevens becoming an Aggie.
cont...
Earlier this week MaxPreps announced its Freshman All-America Team and along with its National Freshman of the Year award and the Sunshine State was well represented for the Class of 2016.
The team complied by MaxPreps' National High School Football Editor Steve Spiewak, Nick Bosa of St. Thomas Aquinas (Fort Lauderdale), was awarded the National Freshman of the Year award. Bosa was a standout leader on the defensive side of the ball that allowed the Raiders to capture the 2012 Class 7A State Title. It also became St. Thomas' second state title in three years.
Here is the list of Florida Players who made the teams:
FIRST TEAM DEFENSE
DL Nicholas Bosa, St. Thomas Aquinas (Fort Lauderdale)
LB Xavier Gaines, Frostproof
LB Shaq Quarterman, Oakleaf (Orange Park)
FIRST TEAM OFFENSE
WR Keith Gavin, Wakulla (Crawfordville)
WR Tyler Byrd, Naples
TE Jordan Woods, Trinity Catholic (Ocala)
SECOND TEAM DEFENSE
DB Javier Craft, Nease (Ponte Vedra)
SECOND TEAM OFFENSE
ATH Dionte Mullins, Gulliver Prep (Pinecrest)
To view the entire first and second teams for MaxPreps' Freshman All-American Teams click here.
If you haven't noticed, Ozone correspondent Michael Chung has been absolutely slaying it down in San Antonio, where he is providing outstanding coverage of the U.S. Army All-American Bowl prep.
If you haven't read Michael's Random Thoughts from San Antonio on Tuesday, you're missing out on the latest updates on some of the biggest names on the recruiting front for Ohio State.
Michael has video reports on Louisville WR James Quick , Texas LB Mike Mitchell and Cleveland Heights WR Shelton Gibson .
He also has some good stuff on other Ohio State commits who are down in San Antonio, but there are some other All-American games going on this week as well. Future Buckeyes like Joey Bosa, Cameron Burrows and Jalin Marshall are all down in Florida at the Under Armour all-star game.
Here are some things the national recruiting guys from Scout, Rivals and 247 Sports are saying about the OSU kids:
cont...
Heading into the new year and offseason workouts, BuckeyeNation will look at some holes left by the departing Ohio State veterans and potential candidates to fill them.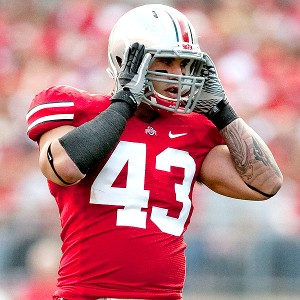 Who: Despite hardly practicing in live situations at all during training camp and still needing to have his reps limited during the first half of the season, Nathan Williams gave the Buckeyes the kind of help up front they were hoping for as he worked back from microfracture knee surgery. Williams might not have had the kind of explosion or lateral mobility that he had before suffering the injury that wrecked his junior season, but he progressively chipped off the rust after a full year on the shelf and wound up making 40 tackles, including 3.5 for a loss. His work ethic and determination as he rehabbed might have been even more valuable for a team with a handful of talented defensive linemen behind the upperclassmen, setting an example that could stick with the program well after Williams has moved on.
By the numbers: The numbers weren't all that impressive individually, but what they might have lacked in each specific category, Williams made up for by putting in entry in pretty much every column in the stats sheet. Among the major statistics for defensive players, Williams chipped in at least one play for each of them -- missing only a safety, a blocked kick and an interception.
Job description: At times, Williams' role shifted between linebacker and defensive end, which requires a unique blend of athleticism and intelligence to handle the various responsibilities needed to give the Buckeyes the ability to change from 4-3 to 3-4 formations and confuse offenses. The next guy to fill the void will have to be able to play in space and win matchups in coverage against the pass, as well as be able to rush the passer when a hand on the ground when Ohio State is looking to get after the quarterback.
Top candidates: Noah Spence wasn't quite ready to take over a first-team job during his first year on campus, but his steady emergence as a freshman helped add valuable depth up front and occasionally allowed the Buckeyes to get more creative with their packages and rotations on the line. Spence was officially listed by Ohio State as the backup to John Simon at the end of the season, but his impressive speed and size (6-foot-3, 240 pounds) that is almost identical to Williams makes him a logical choice to fill a sort of hybrid role for defensive coordinator Luke Fickell -- and perhaps take it to another level.
One to watch: At this point it's safe to assume the Buckeyes went at least 3-for-4 with their recruiting haul up front on National Signing Day last year. Earlier in the season, Urban Meyer publicly declared Ohio State had connected on all four -- and it will be up to Se'Von Pittman to break through in the offseason to deliver the clean sweep after battling through injuries and redshirting during his first year on campus. Tommy Schutt, Adolphus Washington and Spence each had the benefit of early playing time and might have something of a head start, but Pittman has the physical tools to be a force and the Buckeyes will at least need him to supply depth.
Joey Bosa (Ft. Lauderdale, Fla./St. Thomas Aquinas) will stay in his home state this weekend for his all-star game, but the ESPN 150 defensive tackle will do so with the attitude that made him a state champion this season.

A hard-nosed senior, Bosa joins an Ohio State fearsome five of Jalin Marshall, Marcus Baugh, Gareon Conley and Cam Burrows in the Under Armour All-America Game on Friday and will do so with the idea of proving his rankings are exactly where they should be.

Ranked 46th overall in the ESPN 150, Bosa played a versatile role for the Raiders this season, lining up at nose tackle, defensive tackle and defensive end for St. Thomas Aquinas. Despite an injury early in the season, Bosa finished with 70 tackles -- 27 for loss -- and added a team-leading 9.5 sacks.
Ohio State can't forget it, now the Buckeyes want everyone to remember it.

Urban Meyer wins with a surplus of defensive linemen.

When he was coaching at Florida, Meyer rotated his men in the trenches more than a service station changes tires.
SAN ANTONIO -- Wednesday was a day of rest -- time off the football field, at least -- for the U.S. Army All-Americans. For players such as Ohio State commit Ezekiel Elliott (St. Louis/John Burroughs), the rest was well deserved.

An ESPN 150 running back, Elliott has double-dipped for the West team as a running back and a defensive back. The 6-foot, 205-pound athlete has seen time at safety because of roster injuries.