Marcelys Jones Junior Highlights
Damon Webb on his visit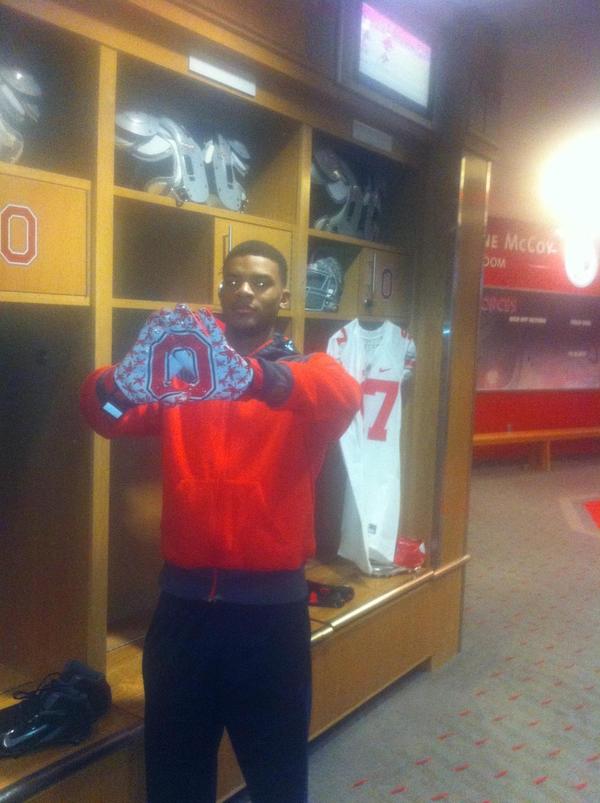 @Derek11W Nothing earth shattering on any of the official visitors but I know Vonn Bell spending great amount of time with Shazier, Braxton, and Roby
@Derek11W In-home visit with Saban tomorrow RT @Miles11W: Vonn Bell is on his way back home. Not staying for the Michigan game.
@Derek11W Vonn Bell not attending the basketball game is no big deal. It's not a sudden turn of events. It's the way it was planned.
@Derek11W 2014 Lima (OH) DB Darius West visiting #OhioState today for junior day visit. Checking out the hoops game vs Michigan.
@VdatDudee I would say the Ohio State visit was an A they really got my family to buy in what they are building
Malik McDowell, Lawrence Marshall & DeShone Kizer unofficially visits Michigan State
@jcshurburtt Coach of Vonn Bell says it will go until signing day
@AllenTrieu #Nebraska offers Crete-Monee (Ill.) junior linebacker Nyles Morgan:
@Miles11W Vonn Bell will take his last two visits (Bama and Tenn) and will announce his decision on February 6th (NSD) at 9 AM at his high school.
@Miles11W 2014 LB Dante Booker Jr. is at the game.
@cjhunt78 At this Michigan and Ohio St basketball game!!
@Derek11W Was just told OSU will be at Cass Tech and Southfield H.S. tomorrow. Southfield is home to new 2014 DE offer Lawrence Marshall.
ESPN $ - Coach reflects on Vonn Bell's OSU visit '13 GA DB Vonn Bell
Interview with Vonn's Coach....says that Vonn's dad told him that the visit was great and all their questions were answered. Also says Vonn had a great conversation with Coach Meyer towards the end of the visit and that Vonn has a great relationship with Coach Meyer.
ESPN $ Four-star WR gives visit a '10' '13 FL WR James Clark
After returning from his Nebraska visit, received a call from Coach Hinton to see if he was interested in Ohio State. Unsure if he'll visit.
247 $ Webb talks Ohio State commitment '14 MI DB Damon Webb
By Wiltfong... Michigan was never his leader, and he's done with visits. Meyer will visit him at school tomorrow.
Christopher Worley's pledge Friday gives Ohio State three linebackers in a row for the 2013 class. Welcome to Across The Field, a weekly feature on BuckeyeNation where we point you to noteworthy Buckeyes coverage here and elsewhere. Think something should be included? Send it to
espnkendrick@gmail.com
.
BuckeyeNation Week in Review
Commit No. 22 is on board as Christopher Worley committed on Friday from the OSU pipeline of Cleveland's Glenville High.
Worley should fit the mold, writes Brad Bournival, and it fits the trend of how Urban Meyer finishes recruiting classes.
Ohio State was the only unbeaten team in the country this season, but that doesn't mean Meyer believes the Buckeyes would beat Alabama, writes Austin Ward.
That said, Meyer doesn't mind being stuck with a favorite label in 2013, writes Brian Bennett. They are fourth in the Way-Too-Early Top 25.
The Buckeyes' No. 3 final AP ranking did give Meyer a nice bonus.
Having Jordan Hall back after a medical redshirt should help, too.
Ohio State's best commitment might one received from All-American cornerback Bradley Roby, who is returning.
Along with Worley, several top 2014 prospects and a couple of key seniors are in Columbus this weekend on visits.
The commitments of LBs Worley, Mike Mitchell and Trey Johnson shouldn't affect the 2014 LB class.
The Buckeyes are still in the mix for a couple of linemen in this class. Among them is Cal pledge Cameron Hunt.
Ohio State finished ahead of Michigan in the final ESPN class rankings.
A 2014 Watch List OT got an Ohio State offer, as did a Michigan defensive end.
LB Airus Moore of Beavercreek, Ohio, is planning a visit.
Several of the 2014 prospects, including several of the 14 players from Georgia with offers, are coming to Columbus next month.
Ward made some record resolutions for returning Buckeyes, including Braxton Miller, Corey Brown, Ryan Shazier and Devin Smith.
Two walk-ons will be adding depth at fullback.
WR Thaddeus Snodgrass seemed ready to commit in the fall, but had second thoughts.
For now, Ohio State is on the outside of the race for a top 2014 player.
2014 running back prospect Matt Domer of Chicago "grew up loving the Buckeyes."
Some NCAA legislation could impact recruiting, and coaches are wary of the potential changes.
An ESPN 60 junior basketball prospect has Ohio State in his top six.
Football
Basketball
The Gang's All Here
As he made the rounds of his future home, Ohio State recruit Ezekiel Elliott had a video made of his visit that was posted on YouTube.
Captured in the video is an impassioned locker-room speech to recruits by Buckeyes cornerbacks coach Kerry Coombs.
"I promise you this," Coombs barks. "When I lay my head on the pillow at night, I ask myself one question — coach Meyer requires it: Did you beat Alabama's corners coach today? If the answer is yes, good. Get up tomorrow and continue. If the answer is no, you've got to ask yourself, 'Why not?'
"Because that's who we're chasing. We want to be the best in the country. We want to be 'the team.' We will be the team that everybody else says, 'I've got to be like this,' and you're going to be a part of it."
So as Ohio State heads into the final stretch before national signing day on Feb. 6, its mission is clear. Although Michigan is the Buckeyes' main rival, Alabama is its standard.
"Right now, Michigan is not at the pinnacle of college football, and that's all Urban Meyer cares about," ESPN national recruiting director Tom Luginbill said. "He's been there and knows what it takes to get there."
To measure up to the Crimson Tide, the Buckeyes need to assemble multiple top recruiting classes. Last year, Meyer closed strong in his first two months on the job and upgraded what had looked to be a mediocre group of newcomers. Last weekend, the Buckeyes got commitments from two top linebackers — Trey Johnson and Mike Mitchell — but lost out on receiver James Quick, who picked hometown Louisville.
With less than a month to go, the Buckeyes aren't finished building on what already is ESPN's fourth-ranked class behind Florida, Alabama and Notre Dame. They still could add a few more recruits that might bump them even higher.
cont...