Eli Apple
Joey Bosa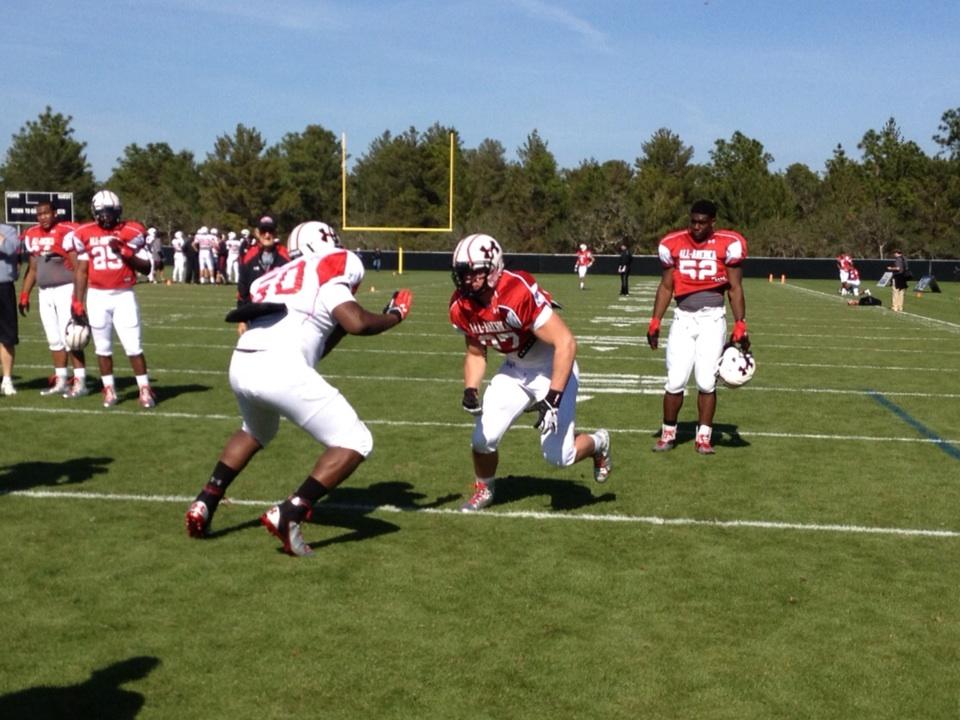 Shane Morris and Joey Bosa being friendly, for now
Trey Johnson
Scout$--UA Game: Vonn Bell '13 GA DB Vonn Bell
Vonn says he likes tOSU, Alabama, and Tennessee and the official visits will decide everything. He mentions great relationships with Coaches Meyer and Saban.
Scout$--Smith Won't Rush Decision '14 KS OL Braden Smith
Braden says there are too many variables right now to even consider narrowing a list. He is looking for academics, tradition, culture, and atmosphere. Finally, he looks forward to competition and earning playing time but understands that may also mean a redshirt if deserved.
Rivals$--Elliott is ready to go '13 MO RB Ezekiel Elliott
Zeke is excited to compete against future teammates and says he is going to work on Mike Mitchell.
Scout $ - VIDEO: 2014 Nicholson talks five '14 PA S Montae Nicholson
By Kenney....Up to 12 offers with the most recent being Maryland. Says Michigan, Pitt, WVU, Ohio State & Penn State stand out right now. Talks about his interest in each and says he likes the coaching staff at Ohio State.
Scout $ - USAAAB: Quick Ready to Decide '13 KY WR James Quick
Video by Trieu....Recaps the first day of practice & says he will announce his decision during the game. Says he hasn't made up his mind yet, but it's down to Louisville, Ohio State & Oregon
Scout $ - USAAAB: Gibson Getting Closer '13 OH WR Shelton Gibson
Video by Trieu.....Plans on deciding after his two remaining officials (Ohio State & Tennessee). Talks about his interest in Ohio State, Kentucky, West Virginia & Tennessee.
Scout $ - UA Game: Buckeye Recruiting Day One
Video by The Bank & Amy Campbell....Breakdown of how the commits & OSU prospects performed on Day 1. Great day for Conley & Baugh.
A weekend full of recruiting news has today's State Secrets jammed-pack with the latest updates on Ohio State recruiting, including the newest information on Vonn Bell, James Quick and other top prospects.
It's time to settle some rumors down, ladies and gentlemen. Yesterday, word got out that '13 WR James Quick was favoring Ohio State and that Quick would choose the Buckeyes over Louisville on Saturday, the 5th of January. While Quick is in fact making his choice between Ohio State and Louisville on Saturday, it's unclear whether or not Quick was just pulling some legs when he told reporters that Ohio State was in the lead:
@bgpsych2 He told two of our guys OSU leads. He told me nobody leads. Get ready for six days of suspense on this one.

— Marc Givler (@MarcGivlerBG) December 31, 2012
For now, we'll take Marc's word for it, as he's one of the more trusted Ohio State-related news guys out there. Be sure to keep your eyes peeled for any more information regarding Quick, because I'm sure there will be plenty of it.
It's not a secret that Ohio State and Coach Meyer have been putting on a full assault to try to get '13 S Vonn Bell to commit to the Buckeyes. Bell's commitment would give Ohio State a little breathing room in the secondary, where the Buckeyes are currently thin. Bill Greene, another trusted source, announced that he was ready to put Ohio State as the favorite to land Bell. The Buckeyes have trailed Alabama up to this point, but now things are looking up for the end of the 2013 class:
After talking to people at Under Armour I'm ready to put Ohio State as the favorite to land five-star safety Vonn Bell.

— Bill Greene (@BillBankGreene) December 30, 2012
4 star #Rivals250 WR Tony Stevens said he will pick from Ohio State, Florida State & Texas A&M at the #ArmyBowl ($) ow.ly/grmum

— Rivals.com (@Rivals) December 31, 2012
Staying on the topic of the class of 2013, Ohio State was recently named a finalist in '13 WR Tony Stevens' top three schools, including Florida State and Texas A&M. Not much attention has been put on Stevens, at least, not as much as '13 WR James Quick or '13 WR Shelton Gibson but don't be surprised to see Stevens seriously think about becoming a Buckeye.
'14 DT Elisha Shaw has picked up an offer (Two weeks ago) from Ohio State after a disappointing junior year where he was kept off of the field due to being academically ineligible. Without getting a Shelton Gibson flash, Shaw has already soothed the minds of Buckeye fans by stating that his grade situation is now under control. The 4-star defensive tackles holds offers from Alabama, Georgia, Ohio State and Florida State.
Two weeks ago '14 QB Deshaun Watson wrapped up his junior campaign with the Red Elephants by earning a state title over Ware County, 49-13. He also became the all-time leading passer in Georgia state history on his way to finishing the season a champion.While he is committed to Clemson, Watson makes it no secret that he is very interested in the Ohio State Buckeyes. Watson currently has Ohio State trailing Clemson but is still open to being recruited.
Finally, '14 ATH Myles Autry named the Ohio State Buckeyes his leader on December 28th. This comes despite having over 20 scholarship offers from other schools including Florida, Florida State, Georgia, South Carolina and Oklahoma. Standing 5'9", 175-pounds, Autry, who plays running back and returner for a Norcross team that just won a state title in Georgia's largest classification, says the Buckeyes are his clear-cut favorite. He plans to visit Columbus sometime in 2013, but didn't specify where. We'll be sure to keep an eye on this kid in the future.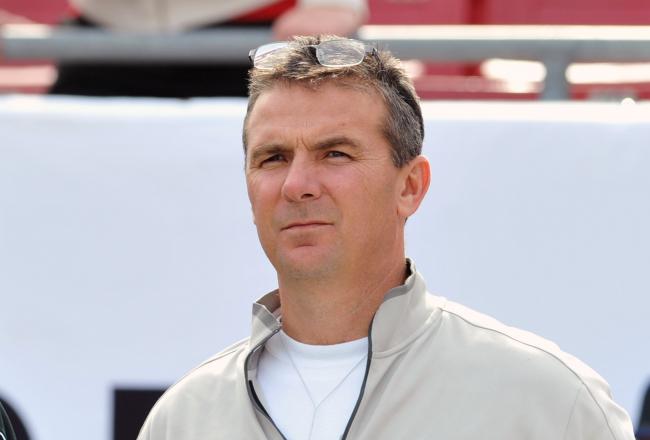 The Ohio State Buckeyes have been named the front-runners for 5-star safety Vonn Bell, according to Scout.com's recruiting guru Bill Greene. Greene, who is in Orlando all week for the Under Armour All-America Game, tweeted earlier that he considers Ohio State the favorite.
After talking to people at Under Armour I'm ready to put Ohio State as the favorite to land five-star safety Vonn Bell.

— Bill Greene (@BillBankGreene) December 30, 2012
ESPN's Kipp Adams has has stated that Bell's three favorites seem to be Ohio State, Alabama and Tennessee. A commitment from Bell would be huge for Ohio State because he could be a threat on either side of the ball.
Though he would likely stay at safety, anything can happen once he steps on campus, and coach Urban Meyer is looking for playmakers like Bell. Bell's high school film speaks for itself.
At 6'1'', 190 pounds, the super-athletic Bell is also a feared hitter. Impact plays will be made wherever he lines up on the field.
Bell, who is from Rossville, Ga., has no set decision date and has visits lined up all the way until national signing day.
With an official visit to Ohio State set for Jan. 11, reported by Miles Joseph of ElevenWarriors, one has to wonder if Bell will pull the trigger and commit when he steps foot on campus. With Nick Saban competing for the highly touted safety, though, this recruitment has to be considered far from over.
January will certainly be an interesting month for Ohio State recruiting, as Buckeyes recruiting analyst Marc Givler of Rivals.com recently tweeted, "I have more than a hunch at this point that #OhioState is going to finish very, very strong between now and NSD. Big week coming..."
I have more than a hunch at this point that #OhioState is going to finish very, very strong between now and NSD. Big week coming. #buckeyes

— Marc Givler (@MarcGivlerBG) December 30, 2012
To Buckeyes fans, that has to be music to the ears. Ohio State has reached out to many top prospects such as Mike Mitchell, James Quick, Shelton Gibson and Trey Johnson.
Commitments could start to be pledged as the high school All-Star games kick off. With Urban Meyer as a coach, anyone could be a target for the Buckeyes as he continues to build his empire in the Big Ten.
You can watch Vonn Bell play in the Under Armour All-America game on Friday, Jan. 4 at 5 p.m. ET on ESPN.
Heading into the new year and offseason workouts, BuckeyeNation will look at some holes left by the departing Ohio State veterans and potential candidates to fill them.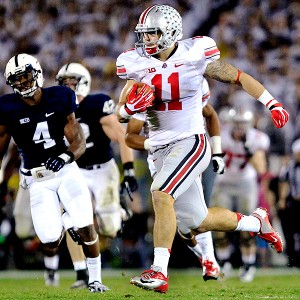 Who: The transformation into the ultimate mismatch didn't quite materialize after Jake Stoneburner moved from tight end to wide receiver, and he wasn't able to equal his dynamic red-zone production from his junior season during his senior campaign with Ohio State. But while Stoneburner went through some rough patches and perhaps didn't give the Buckeyes everything they might have hoped for after moving him around the formation, he was still dangerous at times as a target with 16 catches and four touchdowns and leaves a 6-foot-5 hole to fill on the perimeter. And even when his own statistics weren't all that impressive, Stoneburner still found ways to make an impact by throwing around his 245-pound frame and improving as a run-blocker to help the Buckeyes explode on the ground.
By the numbers: Not exactly known for his speed, Stoneburner still tied for the longest reception of the season after darting down the middle of the field for a 72-yard touchdown that effectively sealed a road victory at Penn State in October. That huge strike offered a reminder of the big-play ability Stoneburner brought to the position, which prompted the move in the first place. It was maybe also somewhat bittersweet for the Buckeyes, who might have liked to see it more often -- that dash against the Nittany Lions represented 27 percent of his yardage for the season.
Job description: The Buckeyes need somebody capable of stressing coverage in the middle of the field, keeping defenses honest against both the threat of the run and allowing Devin Smith and Corey "Philly" Brown room to operate on the outside. Ohio State had few problems putting up points and obviously finished with a perfect record, but the offense could potentially become even more prolific if it can tap into some space across the middle of the field with a big, fearless target who can offer a reliable set of hands for quarterback Braxton Miller and the ability after that to do something extra with the football in his grasp.
Top candidates: Given his responsibilities previously when exclusively at tight end or the diverse package of duties he had as a senior, it might take a combination of guys to fill Stoneburner's void. At tight end, the Buckeyes already know what they have in Nick Vannett and Jeff Heuerman and have plenty to feel good about there. Chris Fields flashed in a limited role as Stoneburner's official backup at the "H" wide receiver, but Michael Thomas could be an option to watch after breaking into the rotation more regularly at the end of his freshman season. The rising sophomore has a good relationship with Miller and the kind of size at 6-foot-2 that combines with impressive athleticism to make for a difficult defensive assignment, which gives him a shot at becoming the No. 3 option statistically.
One to watch: Evan Spencer won't exactly be emerging from nowhere after finishing fourth on the team with 12 catches during the perfect season, particularly after finishing strong down the stretch with the majority of his production coming in the final five games. That late burst offered a glimpse at the kind of weapon Spencer could be in the passing game, and while he obviously doesn't have the same body type as Stoneburner, he should still be able at 6-foot-2 and 205 pounds to chip in some blocks for the run game and win his share of matchups after another offseason to build his game.
The athletic linebacker will announce his decision on Saturday between Ohio State, Oregon, and Texas A&M.
SAN ANTONIO, Tex. -- Down to three finalists, 2013 Plano (Tex.) Prestonwood Christian linebacker Mike Mitchell is ready to make his long-awaited decision during the US Army All-American game on Saturday at the Alamodome.
After the second practice on Monday for Mitchell's West team, he was all smiles when asked about the experience of playing alongside some of the top recruits in the country.
"It's awesome, everything is so big here and it's a really big honor," said the 6-4, 225-pound linebacker.
Ohio State, Oregon, and Texas A&M are the finalists for Mitchell. Oklahoma had been a team in which Mitchell was interested, and vice versa, but the Sooners recently took commitments from two in-state linebackers and have shut down recruiting at the position.
And is Oregon really heavily in the mix, though, as Mitchell hasn't made it out to Eugene to visit and will obviously make his decision before having a chance to do so? It's not unheard of for prospects to commit sight unseen, but it is definitely rare at this stage of the process.
That leaves the Aggies and Buckeyes as the two serious contenders for the services of the consensus four-star prospect who tests as well as any player in the country in the 2013 class.
Mitchell shared his thoughts on A&M.
"The coaches, I know them really well, since they've been with me from the start, so I have a good relationship with them," he said. "They're probably the closest school, so they're the only school that I have left that's in Texas, so that's another big plus."
Will that impact his decision?
"No, not impact, but it would be nice to stay in state."
Of course, Mitchell doesn't have extremely deep ties to the state of Texas. He grew up in Florida as a Gator fan, part of the appeal of Ohio State now that Urban Meyer is the head coach in Columbus.
"I felt really good going there, I felt like I would fit in going there," said Mitchell. "I've had a really good relationship with coach Meyer and my position coach and everybody else there. It's a good opportunity to go in there and fight for a starting job, because they're pretty thin at linebacker."
The Buckeyes lose starter Storm Klein and Etienne Sabino at linebacker, and while leading tackler Ryan Shazier is just a sophomore at the weakside spot, only only Shazier and Sabino finished among the top 13 tacklers overall for Ohio State. They clearly need some help and, from the sound of it, the appeal of early playing time is a significant one.
"I think I would be able to compete for early playing time," Mitchell said.
Finally getting to meet his childhood idol helped cap off the official visit to Ohio State for Mitchell.
"Yeah, that's the first time that I actually met him. It was awesome, I watched him when I was little with Tim Tebow and the Gators and all that, so I've always loved him and have always been a big fan."
Conventional wisdom has held for some time that Mitchell nearly committed to the Buckeyes back in the summer before he had even visited, so choosing Texas A&M over Ohio State on Saturday would be something of an upset.
Cam Burrows is a man of few words, preferring to let what he does on the field do the talking for him. That said, Burrows, who was Ohio State's first commit of the 2013 class on Jan. 19, has been all about recruiting others.

He's headed to Friday's Under Armour Game with the idea of grabbing more future Buckeyes. Burrows picked up his Under Armour jersey on Oct. 17 along with future Michigan linebacker and high school teammate Mike McCray II. As a senior, Burrows showed what a lockdown corner he was when the 6-foot, 203-pound cornerback made 39 tackles, broke up 14 passes and had a fumble recovery.

With Gareon Conley joining the team on Dec. 7 many talked about moving Burrows over to safety to make room for Conley, a two-way star out of Massillon, Ohio.
Why is the secondary primary for Ohio State in the recruiting class of 2013?

Just look at the names.

Eli Apple (Voorhees, N.J./Eastern) leads the way as the third-best cover corner in the nation and is ranked No. 6 overall in the ESPN 150.
ATLANTA -- Running back Nick Chubb (Cedartown, Ga./Cedartown) walked off the field Monday at Grady High School at the conclusion of the Georgia Junior Bowl game surrounded by his family. Well-wishers called out to him and congratulated him on his performance. More than one person congratulated him on his most recent scholarship offer -- from the University of Georgia -- that Chubb picked up before the game.

"It was a real good day," Chubb said. "I am blessed. Georgia said they were going to offer me but they can't make it official until they figure out the 2013 class and all that stuff and then they will offer me. But he said I have an offer from them. I felt better when he said, 'I am going to give it to you.'"

"He" in this case is Bulldogs' running backs coach Bryan McClendon, whose tenure at Georgia has been successful in recruiting such highly coveted tailbacks as Isaiah Crowell, Todd Gurley and Keith Marshall.
SAN ANTONIO -- ESPN 150 outside linebacker Mike Mitchell (Plano, Texas/Prestonwood Christian) isn't big on speaking publicly. He'd rather let his game do the talking -- and it speaks volumes.

On Monday, the 6-foot-5, 222-pound linebacker officially confirmed that he will announce his college plans during Saturday's U.S. Army All-American Bowl. Oregon, Texas A&M and Ohio State are his three finalists.

Mitchell said all three schools -- and even a fourth, Oklahoma -- had their positive qualities throughout his recruiting process. It was a feeling of comfort, however, that seemed to win him over.