Zeke on his OV
Under Armour game approaching
Keith Niebuhr‏@Niebuhr247 A lot -- and I mean a LOT -- of top 2014 Georgia kids are talking about #OhioState these days. Bunch will visit there in 2013
Keith Niebuhr‏@Niebuhr247 4-star 2014 ATH Myles Autry of Norcross (Ga.) says #OhioState is his leader: http://ow.ly/gpjHn
Keith Niebuhr‏@Niebuhr247 Myles Autry, Raekwon McMillan, Deshaun Watson, Demarre Kitt & Nick Ruffin plan to visit the #Buckeyes together next spring
@ChadSimmons_: #OhioState leads for 2 of the best in GA - LB Raekwon McMillan @Kwon_daTRUTH & ATH Myles Autry @KingAutry_23.
Alabama offers Andrew Williams
BSnowScout Brian Snow Ohio State is here for Jaquan Lyle joining Tenn and G'town
Scout$--Braden Smith Talks Recruiting '14 KS OL Braden Smith
Braden is not focused on recruiting at all. He bench presses 475 and squats 525.
Scout$--Florida commit schedules other visit '13 FL LB James Hearns
James says he is solid to Florida but still wants to visit tOSU on 1/11 to make sure of his decision.
BN$--Timmons To Finally Get OSU Offer? '13 KY ATH Ryan Timmons
Ryan says Coach Hinton told him to be patient until he visits on 1/11. Ryan is only considering tOSU, Arkansas, Illinois, and Kentucky.
BN$--Bucks Make Big Jump With 4-Star WR '14 GA WR Demarre Kitt
Demarre now says tOSU and Clemson are tied as leaders. He will visit Columbus 2/10 and has bonded with Deshaun Watson.
Rivals$--Hobby sees Williams '14 GA DE Andrew Williams
Andrew says Clemson, Florida, South Carolina, Ohio State and FSU are all even. He will visit Columbus this spring.
Scout$--Evans: 'I'm not committed to any school.' '14 WI DL Craig Evans
Craig says he is officially reopening his recruitment, has not heard from any of Wisconsin's new coaches, and is open to all schools.
A pair of '13 linebackers that plan on deciding soon have Ohio State fans buzzing with excitement as Urban Meyer and his staff continue their hard work in the class of 2013, but also are paying close attention to where they stand in 2014.
Ohio State fans might still be riding a big high after the Christmas day commitment from '14 OL Marcelys Jones but don't expect them to come down anytime soon. A pair of 2013 linebackers have long been targeted by head coach Urban Meyer and their decisions are only a week away. '13 LB Mike Mitchell and '13 LB Trey Johnson both have Ohio State high on their lists and both are announcing sometime next week.
Mitchell, who has narrowed his long list of scholarship offers down to Ohio State, Texas A&M, Oklahoma, Florida State and Oregon, made an official visit to Ohio State earlier this month. It is the only official visit he has been on and most recruiting experts like the Buckeyes' chances of landing him. According to Mitchell's father (Ken Mitchell) Mike might just be announcing his intentions following the U.S. Army All-American Bowl on January 5th. Nothing is set in stone as of yet, but there's a high probability that his choice will be made after the game.
Johnson is a former Auburn commitment but is no longer considering the Tigers. Johnson is planning on having four hats, one being Ohio State's logo, on a table and will pick from those four schools after the Under Armour All-American Game. Those aforementioned schools are Ohio State, Tennessee, Florida and Penn State.
With most of the attention on the class of 2013 finishing strongly (as it should be) don't think for a second that Coach Meyer isn't already lining up the dominoes for another top five class. '14 WR Demarre Kitt recently let it be known that he is not set on going to Clemson as previously thought. In fact, Kitt mentioned that Ohio State was a co-leader along with Clemson for his services. The 6'1", 182-pound receiver runs a 4.53 40-yard dash and could provide some excellent speed and talent in the receiving core.
Along the same lines, Ohio State's number one quarterback target, '14 QB Deshaun Watson (who is currently committed to Clemson), might play a large role in where Kitt goes and vice versa. Watson has been quoted saying that if Kitt for some reason starts looking hard at Ohio State, Watson would follow his interests.
Ohio State offered another class of 2014 recruit, this time coming in the form of '14 S Jamal Adams. Adams' 12th offer came after speaking with Buckeyes offensive coordinator Tom Herman. Adams adds the Ohio State offer with ones from Florida, Notre Dame, Oklahoma, Texas, Texas A&M and other top BCS-conference schools.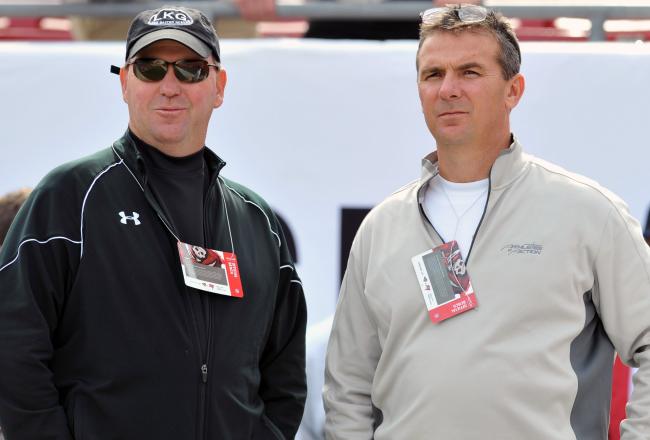 Ohio State has only a few scholarships left to give out for the 2013 recruiting class, but the Buckeyes would love to add commitments from blue-chipper LB Mike Mitchell and S Vonn Bell to their class.
OSU has 19 verbal commits in the class of 2013, with a bulk of its defensive talent coming on the lines and at the corner position.
However, the weaknesses of the Buckeye defense last season came from the middle of the back seven, namely the linebackers and safeties. Both starting safeties are back next year in Christian Bryant and C.J. Barnett. Unfortunately, they were each inconsistent throughout the year and there isn't much quality depth behind them.
At the linebacker position, Ryan Shazier is the only returning starter from the end of the season. The rest of the depth at the position is unproven and lacks talent.
For those reasons, OSU pretty much needs to sign both Mitchell and Bell to add significant talent to its roster.
The good news for the Buckeyes is that Mitchell has been a Buckeye lean for a while and is favored to commit to OSU when he makes his declaration at the U.S. Army All-American Bowl.
Former Auburn commit Trey Johnson will make his declaration at the Under Armour All-America Game the day before, and OSU is among the favorites.
Bell's recruiting saga is a tad more complicated than that, and is actually just beginning more or less.
He had shut off most of his recruiting to focus on his high school team's (Ridgeland H.S., Rossville, Geor.) playoff run, which ended in a loss in the AAAA State Championship Game.
With things opened back up, Bell will make three official visits following the dead period to OSU, Alabama and Tennessee before making his decision.
Bell comes to Columbus on Jan. 11, which means that Urban Meyer, who was at Bell's championship game, will get the first chance to put the full-court press on.
Alabama, as always, will be tough to deal with in recruiting, especially if the Tide beat Notre Dame in the national championship game. However, the real unknown is the effect that new Tennessee head coach Butch Jones will have.
Jones needs that signature signing in recruiting to create some excitement going into the 2013 season at UT, and Bell is that kind of player.
Meyer will have to do his best work in order to pull such a great player like Bell out of the south, something the Buckeyes have historically had problems doing.
Despite all the great talent OSU has already reeled in in its 2013 class, Mitchell and Bell are without a doubt must-get players. That doesn't mean it will get them, but it will need to do everything within the rules to pull both players.
Getting one is necessary.
Getting both is icing on the cake.
Urban Meyer was hired in late November of 2012. That left him with three months to go out and recruit the nation's top players.
Amazingly, he was able to bring in a handful of highly-touted prospects as well as keep the players already committed to Ohio State.
That success was partially due to the trials the Penn State program was going through—several of the late additions to Ohio State's class were Penn State commits or Penn State leans.
Due to the fact that Meyer and his coaching staff have had an entire year to recruit the 2013 class, don't expect a flurry of commits like last December and January.
But there are still several high-profile recruits Buckeye fans should keep an eye on.
The Buckeyes are in on other recruits like Cleveland Glenville's Christopher Worley and several others, but the following five are the keys to closing out the 2013 class with a bang.
cont...
Heading into the new year and offseason workouts, BuckeyeNation will look at some holes left by the departing Ohio State veterans and potential candidates to fill them.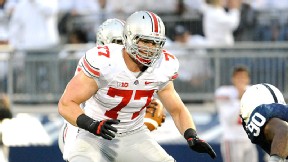 RIGHT TACKLE
Who: Ohio State was unsettled even midway through training camp as it looked to fill the last available spot on the offensive line, but it clearly found a winner after Reid Fragel nudged ahead in the position battle and never looked back. The converted tight end bulked up his body and soaked up the technique at right tackle, and his nasty blocking in the run game and reliable work in protection provided an invaluable boost for the spread offense in Urban Meyer's first season. It stands to reason that Fragel could have been even more special as a lineman if he'd been able to spend more than one year there, but that development will now come after a likely selection in the NFL draft this spring.
By the numbers: The Buckeyes featured a power rushing attack before Meyer arrived, but he took it to an even higher level with his spread offense thanks to the physical blocking he got from all five spots up front -- including the somewhat surprising work done by Fragel sealing the edge or pancaking linebackers at the second level. Ohio State averaged 191 yards per game on the ground the season before Meyer arrived, and despite his spread reputation, he backed up his repeated claims that a rushing attack really makes it hum by bumping that number up to 242 behind Fragel and his big buddies.
Job description: The Buckeyes will be returning four experienced starters on the line, so the new member is going to have plenty of assistance as he breaks into the rotation. With Corey Linsley and Jack Mewhort back, for example, Ohio State certainly isn't going to need somebody to come in and try to be a leader. What it will need is an athletic player capable of keeping Braxton Miller clean in the pocket and displaying enough mobility and strength to keep up with a rushing attack that will essentially return completely intact. The only thing missing is a right tackle, and the spotlight will be on the guy filling Fragel's big shoes.
Top candidates: The job was nearly Taylor Decker's in training camp, though the true freshman ultimately came up short in his tight battle with the veteran, physically-developed Fragel. The edge Decker did have back in August was that he's a natural lineman who was more technically sound as a blocker, and with another offseason to build his body, the future is bright for the rising sophomore heading into spring practice and a training camp where he's likely to be the clear favorite to join the first unit.
One to watch: The Buckeyes kept Kyle Dodson stashed away on the bench for a season after his high-profile recruitment and decision to sign with Meyer a year ago, but he'll have a chance to show he's ready to put his considerable athleticism and talent on display after being slowed by a shoulder surgery that set back his growth initially. Decker has a head start, of course, but a healthy and energized Dodson should at least be able to provide some depth up front.
The class of 2013 U.S. Army All-Americans will fly into San Antonio on Sunday to begin a week of preparation for the premier national high school all-star football game held on Saturday, January 5th. Ohio State cornerback commit Eli Apple is of course among the participants and the nation's No. 28 overall prospect spent this past Thursday in suburban Baltimore, Maryland working out with the Next Level Nation group to help get ready for the stiff competition he will face in San Antonio.

Apple has long worked with Next Level Nation co-founder and defensive backs guru Cory Robinson and credits Robinson for helping him develop into the prospect that he has become today.

"He has meant a great deal to my game," explained Apple. "He can relate to us about a lot of different things. That is the great thing about Cory, I can talk to him about anything with football, socially, or personally. You can tell that he loves the game and that he loves to coach. He's a very smart guy and I can't say enough about him."

Robinson and Next Level Nation have helped develop numerous Division I prospects recently, mostly coming from the Baltimore area, though NLN's reach is expanding as word is spreading quickly about their workouts. Apple is following the lead of several other NLN alumni in hoping to come back and help out the next wave of outstanding prospects.

"I felt like I had to come back here and just try and give back a little," he said. "It was also nice seeing some of the guys, some of the alumni that are now at Penn State and places like that, just guys that have worked out here in the past that I sort of picked up some things from, just some footwork stuff and tips."

Apple used the workout as a chance to hone his skills before heading to the Army Bowl and was able to compete against and alongside current Penn State players such as DaQuan Davis and Trevor Williams, both guys that came up through the NLN program. Apple will fly down to San Antonio on Sunday morning and is very much looking forward to the experience.

"I'm just looking to have fun," he said. "It's going to be some great competition with the receivers down there. Guys like Torii Hunter Jr. and I know Ricky Seals-Jones is going to be there too but I don't know if he's playing because of his knee but I'm just looking forward to the great competition."

While down there, Apple will also get to put on his recruiting hat as he hopes to help the Ohio State recruiting efforts for four-star prospects James Quick and Mike Mitchell. Both players are expected to make January 5th announcements during the game.

"I just wish them luck," Apple explained. "I know they are both going to do great in college. James Quick is a really good receiver, I've seen his highlight tape and he's also a really cool dude. Mike Mitchell, it's the same thing. I would love to play alongside both of them at the next level."
A quick note: These rankings are not set in stone just yet. We still have All-Star games, more senior film, etc., so what you see is our staff's changes up to this point. There will be a couple more changes before we lock them in a couple weeks before Signing Day.
Mr. Five-Star Crete-Monee wide receiver Laquon Treadwell was moved to 5-stars after a big senior season. He helped his team to a state title and facing double coverage nearly every week, he still went out and dominated. He has it all: the ball skills, run after the catch ability and he's physical and willing to block. If anyone had questioned his competition level, he answered those questions at The Opening and other summer events where he was his best against the nation's best.
New 4-Stars
Three new four-stars in Ohio. Cincinnati Moeller linebacker and Michigan State commit Shane Jones, Pickerington Central defensive back and Northwestern commit Godwin Igwebuike and New Albany safety and Ohio State commit Darron Lee joined the ranks.
We have three people on the ground in Ohio and all of them raved about Godwin Igwebuike and Shane Jones, those two were unanimous decisions. Lee was a guy Dave Berk got to see more of than anyone else and he said he was one of the most impressive kids he saw all season.
"Darron Lee has a great physical frame, he's explosive, has untapped potential, and his best football ahead of him," Berk said. "Shane Jones excels going laterally, he's tough, and can move inside or play outside. Godwin Igwebuike is very physical, he's not afraid to come up and hit you and it'll be interesting to see where his future is. I think he's a safety but he can also be a running back. He could be a dominant physical presence at safety."
The thing about all three is that they had big years against great competition as well. Jones and Moeller played a murderer's row of opponents and he came up big each and every week. Lee quarterbacked his team deep into the playoffs and impressed us in a losing effort against Trotwood-Madison, one of the state's most talented teams.
Going Up
Gareon Conley - CB, Massillon (Ohio)
The Ohio State commit is a long, athletic cover man who could play receiver in college too. Had a great senior year.
Jon Reschke - LB, Birmingham (Mich.)
Reschke, a Michigan State commit moved up 50 spots in the Scout 300. He had a big senior year. He has gotten bigger, but still faster and has a great nose for the ball. He's exactly what you want in a middle linebacker.
Mitch Trubisky - QB, Mentor (Ohio)
A North Carolina commit, Trubisky had a tremendous year and had several big outings in the playoffs. He's athletic, can throw on the move and showed more efficiency as a senior.
Taco Charlton - DE, Pickerington (Ohio)
Considered more potential than production going into this year, he had great camp performances, but we wanted to see him do it with pads on, which he did. Ceiling is very high.
Da'Mario Jones - WR, Westland (Mich.)
Michigan commit moved up over 20 spots at his position after a big senior year where he returned kicks and played running back in addition to receiver. Big, athletic, good after the catch and a diamond in the rough.
Tracy Sprinkle - DE, Elyria (Ohio)
Buckeye commit was the defensive player of the year in his home state. Inside-outside guy who is going to get bigger and likely be an interior guy in college, but really took it up a notch as a senior.
Alex Gall - OG, Cincinnati (Ohio)
Impressed us this year with his strong, consistent play and especially his battle with 4-star USC commit Jason Hatcher, where Gall had one of his best performances.
Jack Keeler - OT, Barrington (Ill.)
Can play inside or outside, has a tremendous frame and the Wisconsin commit played very well as a senior where he took over as leader on the offensive line.
Kyle Kempt - QB, Massillon (Ohio)
Kempt really surprised us with his great play as a senior, so much so, that he moved up nearly 30 spots at his position. He has great size and was very accurate as a senior, and did well in an offense where he was asked to throw the ball quite a bit.
Josh Jones - S, Walled Lake (Mich.)
Illinois commit is big, fast and physical. Could be an early impact kind of guy.
Chase Dutra - S, Brownsburg (Ind.)
Indiana commit had a really nice year. He plays full speed all the time and isn't afraid to throw his body around. Physical and willing to hit.
New 3-Stars
CB Marcus McShepard (Cleveland Hts., OH) - Northwestern
CB Heath Harding (Dayton, OH) - Miami (Ohio)
DE Deshai Powell (Indianapolis, IN) - Eastern Michigan
DE Jordan Watson (Chicago, IL) - San Diego State
OLB Chris Wipson (Plymouth, MN) - Minnesota
OT Josh Bass (Battle Creek, MI) - Eastern Michigan
OT Haris Vrabac (Warren, MI) - Ball State
RB Devon Sanders (Chicago, IL) - Uncommitted
S Matt Hubley (Waukesha, WI) - Wisconsin
WR Joe Morrow (Chicago, IL) - San Diego State
WR Jamarl Eiland (Plymouth, MI) - Buffalo
Rivals.com national analyst Mike Farrell is never shy to express his opinion on everything from commitments to rankings to how on-field performance affects recruiting. In this weekly feature -- Inside the Mind of Mike -- the most experienced analyst in the industry gives some of his thoughts on the events of the past week.
Deep Thoughts
The decision of Robert Foster to choose Alabama over Pitt might not be surprising to those simply looking at things from the outside. After all, why would a Rivals100 prospect reject the Crimson Tide and an opportunity to play for national titles and head off to the NFL like everyone else in the program to play for a team that went 6-6 in the Big East and is playing in the BBVA Compass Bowl?
How did Bama sway Monaca's own Robert Foster?
But Foster hails from Western Pennsylvania, his family initially preferred him to stay close to home and he was a long-time lean to the Panthers. That's why it is a surprise, and another example of Alabama's unmatched national recruiting power, that Foster decided to head South. Now the Tide has two more hurdles to overcome. First, they have to hold onto the four-star between now and Signing Day as Pitt won't stop recruiting him and there will be more pressure to stay local as the day approaches. Second, Foster has to qualify, as there have been some academic question marks.
If he doesn't, he will be recruited all over again next year. However, getting this far is a testament to the recruiting job of Mike Groh and Lance Thompson. Thompson was the lead recruiter on Foster, but Groh played perhaps an even bigger role here as the wide receiver coach and the guy who won over Foster's mom. Oh yeah, Nick Saban had something to do with it as well.
Maryland landed a big prize, not literally but figuratively, when cornerback Will Likely from Florida chose the Terps over LSU and Florida State. Now before Tiger and 'Noles fans start freaking out, I know neither school had a committable offer out to the 5-foot-7 cornerback, but he's still a four-star talent and despite his lack of size he will be an impact player for Randy Edsall and company. Likely is extremely talented and if he were 5-foot-11, we could be talking about a five-star. We'll see if his height is a hindrance at the next level.
The Vols are focusing on the future which is a good thing and the new staff has done an excellent job making ground with the class of 2014. The state of Tennessee is loaded next year and an early commitment from defensive back Vic Wharton is a great start. Butch Jones has put together a solid staff and the early returns are impressive in the 2013 class as well as next year.
cont...
ATLANTA -- The first day of practice was underway Friday for the Rising Seniors Junior Bowl, and the East Team took some time to install the playbook and get warmed up to contact after being out of pads for a few weeks following the end of their junior seasons.

The most-heralded prospect in the event made his presence known early on, while Ohio State coach Urban Meyer is doing his best to dip into the talent-rich Peach State for the 2014 recruiting cycle.

Buckeyes lead for hard-hitting LB McMillan