Newly Offered: Jamal Adams Highlights
Updated Joey Bosa Highlights
BN $ - Will Johnson Grab Ohio State Hat? '13 GA LB Trey Johnson
Will announce between Tennessee, Ohio State, Florida and Penn State...Coach Meyer is planning to visit after the dead period.
BN $ - 4-Star Mitchell Nears Announcement '13 TX LB Mike Mitchell
By BK...his father says it is not 100% but he is pretty sure his son will announce on 1/5 at the US Army All-American Bowl.
The dead period stays... well, dead, but two former Urban Meyer targets at Florida are suddenly free agents.
We're all still recovering from the collective high of the surprise Marcelys Jones commitment Christmas day. But as we carry on through the dead period (which as a reminder is a time when the coaches are limited to but phone contact once weekly and in-person contact is prohibited though recruits are still able to attend open to the public practices under their own volition), that doesn't mean Urban Meyer and his staff still aren't busy plotting the future of the Ohio State football program.
The latest news isn't even related to a class of 2013 or class of 2014 prospect, but instead a former class of 2011 member. De'Ante Saunders (nicknamed "Pop") was a 3-star signee for Will Muschamp's inaugural class at Florida (though was recruited before that by Urban Meyer and his staff). It was rumored about two weeks ago that Saunders was on his way out of Florida, but little about them passed the sniff test.
Well as it turns out, where that was smoke (albeit pretty superficial smoke), there is in fact now fire. Saunders was granted his release from Florida several days ago:
Whether the Ohio State bits were shots in the dark or not remains to be seen. The only school Saunders has admitted publicly to having prospective interest in is that of former Florida defensive coordinator Charlie Strong and Louisville. We'll have to stay tuned to see if the Buckeyes enter in to the picture at all (or if Meyer is even interested for that matter).
But that's not the only Florida Gator leaving the program nor the only one interested in (potentially) reuniting with Urban Meyer. Redshirt junior OT Matt Patchan, who started eight games in 2011, is also leaving Muschamp's team. He apparently is considering both Ohio State as well as his former position coach, Steve Addazio, and Boston College. Patchan missed the Gator Bowl against Ohio State in early 2012 with a pectoral injury. He suffered another pec injury in preseason and didn't suit up for the Gators this past season.
Patchan signed with the Gators way back when in 2008 and was originally a consensus five star talent before a bevy of injuries curtailed his career at Florida. Before he ever even suited up at UF, in May of 2008, Patchan was shot in the shoulder. He was evidently but a bystander in the incident and made a full recovery, but couldn't catch a break there after as injury after injury curtailed his development. He even saw time his freshman and sophomore years at defensive tackle after being converted over from the offense (making one start at the position in '08).
Meanwhile, the class of Ohio State 2013 (or, 2012 depending on how Meyer and co. want to back count things) is getting closer and closer to have its inception on the Buckeyes' central Ohio campus. OSU's five early enrollee's are all wrapping up their last weeks at home and preparing to make the transition to college life:
Those were DE Tracy Sprinkle, DE Tyquan Lewis, DB Cam Burrows, DB Eli Apple, and QB J.T. Barrett. Of the group, Sprinkle, Lewis, Burrows, and Apple are expected to room together. Barrett is enrolling early to rehab a torn ACL and torn lateral meniscus, and is widely expected to redshirt the 2013 season (not that there was a particular need for a true freshman signal caller on the depth chart with both Braxton Miller and Purdue game hero Kenny Guiton both back).
But some of those future Buckeyes have unfinished business before they kick things into overdrive and move in to their dorms January 6th, 2013. Barrett will be in attendance (though unable to play due to the aforementioned injury) at the Semper Fidelis All-American Bowl Friday evening while Burrows will be suiting up to play in the Under Armour All-America Game the same night. Eli Apple will play his final game as a high schooler Saturday afternoon in the US Army All-American Bowl in San Antonio, Texas.
Finally, it sounds like Urban Meyer and Luke Fickell have some unfinished business with the class of 2013:
Tony Gerdeman

@GerdOzone Urban Meyer on 97.1 calls linebacker a "major league concern" for 2013. Said they are recruiting like maniacs at the position.
While it's unlikely the Buckeyes get anyone who can start from day one, 2013 LB Mike Mitchell might be about as close as they come. '13 LB Trey Johnson, a slight Buckeye lean, might also not be far off. Christopher Worley, a Glenville teammate and friend of Marcelys Jones, could be another prospective LB commit. And then if you look ahead to the class of 2014, you've got Raekwon McMillan, Clifton Garrett, and Dante Booker as prospective Buckeyes as well.
De'Ante Saunders seems headed for Louisville. (US Presswire)
While Florida is preparing for its Sugar Bowl date against Louisville, two members of the team are getting ready to find new homes, with one of them reportedly headed to Louisville.
Safety De'Ante Saunders and offensive lineman Matt Patchan will be concluding their college careers elsewhere. While the school hasn't officially announced either move, both players told the Gainesville Sun of their decisions.
Saunders told the paper that he was released from his scholarship a few days ago.
"It's been a long time coming," Saunders said. "Nothing against Florida or coach Muschamp, but I just needed a fresh start. The top school I'm considering right now is Louisville."
Saunders was a member of Will Muschamp's first recruiting class at Florida and has started 16 games in his first two years at the school. Saunders started seven games in 2012 but was suspended for the final two games of the season for a "violation of team rules." He was to be held out of the Sugar Bowl as well.
As for Patchan, the Gainesville Sun reports that he'll wind up at either Ohio State or Boston College. Urban Meyer and Steve Addazio, the current head coaches at the schools, helped recruit Patchan to Florida.
Unfortunately for Patchan, his career at Florida has been one filled with injuries. He started 11 games as a true freshman in 2008 as a defensive lineman, but a leg injury late in the year kept him out of the BCS title game. An ACL injury cost him most of 2009 and all of 2010 before a back injury kept him out of Florida's Gator Bowl win against Ohio State last season. Patchan then missed the entire 2012 season after suffering a strained pectoral muscle before the season and never dressed for a game.
Redshirt junior offensive lineman Matt Patchan had earned his degree and done everything he could at Florida to get on the field. Now, he'll head elsewhere for a fresh start.
Matt Patchan's career has been one of the most star-crossed careers in recent Florida football history — and now, mercifully, it has come to an end, with Patchan telling Pat Dooley of The Gainesville Sun that he will transfer.
Patchan, a redshirt junior and part of Urban Meyer's recruiting class of 2008, saw action in 27 games in his Florida career on both the offensive and defensive line, and made eight starts, most recently against Florida State in 2011 at the end of seven straight starts at right tackle. Patchan also played defense in his true freshman year in 2008, starting at defensive tackle against Kentucky and recording a sack against Arkansas.
But while some players are injury-plagued, Patchan practically had the plague throughout his five seasons in Gainesville, suffering a season-ending knee injury in 2009 and missing the entire 2010 and 2012 seasons due to injury, and sustained an accidental gunshot wound in 2008, leading fans to wonder if he would ever be truly healthy at UF.
Dooley reports that Patchan already has his transfer destinations picked out: Patchan will either reunite with Meyer at Ohio State or with his former Florida offensive line coach Steve Addazio, who Patchan once called "quite the culinary artist" after he helped out in the kitchen on an in-home recruiting visit, at Boston College. With a degree in anthropology in hand and a year of eligibility left, Patchan will be able to play right away at either school by enrolling as a graduate student.
Patchan's transfer minimally impacts Florida's depth at offensive line: Chaz Green entered 2012 with more starts than Patchan despite having one non-redshirt season of play to Patchan's three, and Kyle Koehne also started games at RT this year. Incoming transfers Tyler Moore and Max Garcia have both played the position before, and JUCO recruit Trenton Brown might compete for time there in 2013. Had Patchan stayed and stayed healthy, he might not have seen the field anyway in his sixth season as a Gator.
Patchan's transfer is the third in just under two weeks for Florida, following De'Ante Saunders' release to transfer being reported earlier on Wednesday and Willie Bailey's decision to transfer being reported on December 14. Those three bits of attrition bring Florida's expected available scholarship total for 2013 to 24 without factoring in Sharrif Floyd's all-but-official departure for the NFL, which should free up a 25th scholarship, and the decisions Dominique Easley, Matt Elam, Jelani Jenkins, and Jordan Reed could still make to go pro. And Florida currently has 25 recruits committed in its Class of 2013.
As always, we wish Patchan well in his post-Florida career. He'll still be a Gator to most of us, and most of you didn't have him in a class where he played iPad games instead of listening to the professor. In fairness, if I had an iPad, I might have done the same.
Ohio State could become a major player in the recruiting process for 4-star running back Ryan Timmons, but they have yet to make an offer.
Urban Meyer and his staff would be wise to make that offer very soon, and they've got the perfect opportunity to do just that. Timmons has an official visit scheduled to Ohio State on January 11, and according to a report from Brad Bournival of ESPN.com, the Buckeyes can move up his interest list if they make an offer:
If Ohio State coach Urban Meyer is listening, it won't take much to become one of the favorites for an ESPN 300 athlete who already has an official visit lined up for Jan. 11.

At least that's what Ryan Timmons (Frankfort, Ky./Franklin County) said Monday when asked for his favorites.

"Once Ohio State offers, it'll probably be Kentucky and Ohio State," he said.
If Ohio State was to make an offer, this would essentially become a win-win for both parties involved.
Timmons is obviously very interested in the Buckeyes, to the point where they are still in his top four despite not making an offer to him just yet. In fact, 247Sports lists Ohio State as the favorite on his interest list, followed by Illinois and Kentucky—who both have made offers.
Here's what the 4-star had to say about Ohio State, per Bournival's report:
"They win. Coach Meyer is a great coach. The guys he coaches can play at the next level. I think there isn't a reason I shouldn't be there if I work hard with the coaches they have. How they want to use me is how I've been playing my entire high school career. It's at the slot and then into the backfield. It's something I already have a jump on."
Which former Meyer player does that last description remind you of?
If you're thinking of Percy Harvin, you are correct.
Timmons is 5'11'', 180 pounds and runs a 4.40 40 according to 247Sports. Harvin checked in at 6'1'', 188 pounds and ran a 4.4 40 according to Rivals back as a recruit in the 2006 class. They are in no way carbon copies of each other, but their playing styles are comparable.
Timmons can play as a traditional running back, but he can also line up in the slot and be used in both the running and passing game.
He fits Meyer's scheme perfectly, and he'd offer Ohio State a ton of potential.
Timmons feels strongly about Ohio State and would be a very intriguing recruit to bring aboard. At this point, all Meyer has to do is make him an offer and Ohio State would become a major option for the 4-star running back.
Making that offer during his upcoming official visit to OSU would be a smart move by Meyer.
We chat with 2014 IL OL Denzel Ward about being a Michigan commit, Ohio State's offer, and the entire recruiting process.
The Ohio State-Michigan rivalry's become quite the site for recruiting battles in the last year. Brady Hoke's ending of Ohio State's long winning streak first took things to the next level and Ohio State's subsequent hiring of Urban Meyer has only helped further serve to make things even more intense.
Just last month we saw DB/WR Gareon Conley exemplify the struggle between the two schools for some of the elite players nationally and OL David Dawson's de-commitment (and later recommitment) has additionally showcased how tooth-and-nail things can be.
Earlier in December OL Denzel Ward (from Chicago, IL), a 2014 Michigan commit, was offered by Mike Vrabel and the Buckeyes. We chatted with Denzel to get the lowdown on how his recruiting process has been going and what it's been like to be in the middle of one of the most storied rivalries in all of sports.
cont...
We chat with 2014 NC tight end Jeb Blazevich about his recently named top six, including Ohio State, the offer he has from the Buckeyes, and the recruiting process itself.
One of the first recruits in the class of 2014 to receive an offer from Ohio State was 4-star tight end Jeb Blazevich. Coach Meyer made it very clear early on that Blazevich was high on his recruiting board. The 6'5", 230-pound recruit caught 32 passes in his sophomore year for 513 yards and six touchdowns. While Blazevich down plays his performance this season, he did help his high school reach the state championship game. Blazevich actually ended up winning the championship game with his team and was a large part of their success.
Coach Meyer isn't the only one after Blazevich's talents. His impressive list of scholarship offers shows what major coaches think about the junior tight end. As far as the offers themselves, LSU, Florida, North Carolina, Michigan, South Carolina, Maryland and Virginia all gave an offer to Blazevich.
Now, Blazevich has narrowed his choices down to Alabama, Ohio State, Notre Dame, Clemson, Ole Miss and Georgia. With his recent announcing of those six, we talked with Blazevich about the schools he favors and what his thoughts are on Coach Meyer and the Buckeyes as a whole.
cont...
In yet another Q&A for Buckeye Empire this week, I spoke with the 2014 4-star, 6-3 205-pound OLB Kyle Berger out of St. Ignatius High School (Cleveland, OH). According to 247sports.com's 2014 class analysis, Kyle has a 90 overall rating, is ranked the 22nd outside linebacker in the country, and the 19th best overall player in Ohio. 247sports also lists Kyle as recording 44 tackles for a loss and 10 sacks in his junior season. Aside from the plethora of football-related attention from college coaches, Kyle proved to be a genuinely great guy in our interview and seems destined for success wherever he decides to play in college. Get to know this potential Buckeye and exciting 2014 recruit here:
cont...
All the signs are right for Tracy Sprinkle.
Sprinkle stopped by Elyria High to say his good-byes on Dec. 21.
On Jan. 6 he will leave for Ohio State. On Jan. 7 he will begin taking classes. On Jan. 8 he will begin weight room workouts with his future teammates. By August he hopes to have a spot on the roster secured.
As an off-the-field mirror to his playing style, things will move fast for Sprinkle, who has been chosen as The Plain Dealer's Football Defensive Player of the Year.
"They told me they recruit players to play, not to redshirt," Sprinkle said of his discussions with the OSU coaching staff. "I take that as a good sign. Plus, they wanted me there early. That's another good sign."
Sprinkle, a 6-foot-5, 256-pound defensive end who, in 10 games, used his agility and quickness to record 19 sacks and 11 other tackles for lost yardage, admitted it will be difficult to put Elyria in his rear view mirror. He intends to return often.
cont...
Heading into the new year and offseason workouts, BuckeyeNation will look at some holes left by the departing Ohio State veterans and potential candidates to fill them.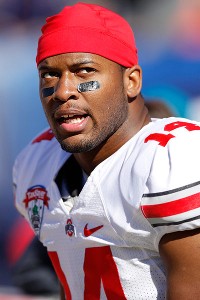 LINEBACKERS
Who: Neither senior was able to give a full season at linebacker, though it was an injury for one that helped open the door for the other to prove he was equally skilled on the defensive side of the ball after establishing himself as perhaps the best fullback in the Big Ten before that. After how much Etienne Sabino and Zach Boren offered the Buckeyes in what amounted to half of a year each, there's no question Urban Meyer would give plenty to have them back for one more run with the program -- particularly given the lingering depth concerns at the position. Boren was a natural at middle linebacker and provided invaluable leadership during a rocky defensive stretch in the middle of the season. Sabino blossomed as his career with the Buckeyes wound down, giving nearly every column on the stats sheet before a broken leg interrupted his last season. Both leave plenty of responsibilities behind, both on and off the field.
By the numbers: Given a full slate at linebacker, Boren might have been able to give leading tackler Ryan Shazier at least a run for his money on top of the defensive leaderboard. The playmaking sophomore finished 44 tackles clear of anybody else on the roster during his breakout campaign, but Boren was on pace to join him and hit 100 tackles given the rate he was piling up hits during the second half of the season -- which at least would have trimmed Shazier's margin down to 15.
Job description: The Buckeyes have a head start thanks to Shazier's emergence on the outside and the fact that he'll be back as a junior next fall, but there are two gigs available next to him -- and the auditions for them figure to be the most closely watched of any vacant positions during spring practice and training camp. Defensive coordinator Luke Fickell needs a hard-hitting presence in the middle with a high football IQ to complement the physical skills, a role Boren filled perfectly after picking it up on the fly in the middle of the season. Opposite Shazier, the Buckeyes will be looking for somebody with good lateral quickness, great awareness and the ability to diagnose plays and finish when they come his way.
Top candidates: There are still a couple high-profile recruits on Ohio State's board heading into the homestretch before national signing day, but Meyer made signing linebackers a huge emphasis last year and appears to have enough options on campus already to pick up the slack. The Buckeyes rolled out four of those true freshmen for limited action on defense or more substantial time on special teams during their unbeaten season, and that early experience will be a benefit heading into the offseason and 15 critical spring practices. Jamal Marcus, David Perkins, Camren Williams and Joshua Perry are all knocking on the door, and the opportunity to walk through and play substantial roles is there for the taking.
One to watch: Sabino might be the perfect example to prove that a junior season isn't exactly a make-or-break moment in a career, but given the enormous expectations and the slim production so far, Curtis Grant is probably facing one of those pivotal points for the Buckeyes. Ohio State was planning on the former top-flight recruit manning the middle heading into his sophomore campaign last fall, but that quickly fizzled and he finished with just 8 tackles in 8 games. There's not much question that Grant has the physical tools, but it's time for him to put them to better use. If he can, the Buckeyes can turn a position that has some uncertainty right now into a legitimate strength.
Ohio State swung and missed with two-time Michigan pledge David Dawson (Detroit/Cass Tech). Ditto for UCLA commit Kenny Lacy (Phoenix, Ariz./Mountain Pointe).

Next up are possibly California commit Cameron Hunt (Corona, Calif./Centennial), Tennessee pledge Dan Skipper (Arvada, Colo./Ralston Valley) or possibly even Dylan Wiesman (Cincinnati/Colerain).

It's not like the Buckeyes aren't trying to shore up the trenches on the offensive line in the recruiting class of 2013. With only Evan Lisle (Centerville, Ohio/Centerville) and Tim Gardner (Indianapolis/Lawrence Central) as offensive linemen coming in as fresh faces next season, Ohio State is still looking.
The first commit in any recruiting class is always big.

Ohio State's coaches want to build a strong relationship and hope that player will be the mouthpiece for an entire year or maybe more.

In the class of 2013 it was Cam Burrows (Trotwood, Ohio/Trotwood-Madison). What followed was an Ohio State secondary with the potential to be incredible.
Until a couple of weeks ago, the Oregon Ducks had been looking at three offensive linemen in order to round out their class with one or two more players at that position. Then two new recruits came into the picture and received offers almost immediately.

Both of the new offers were big, as one led to a commitment and the other has one of the top players in the West seriously considering the Ducks.

California commit and Under Armour All-American OL Cameron Hunt (Corona, Calif./Centennial) recently began to explore other options after Cal had a coaching change. Hunt remains committed to the Bears but is giving a good look to three other programs. Nebraska, Michigan and Oregon all offered the ESPN 300 prospect within days of Jeff Tedford being let go. Ohio State head coach Urban Meyer also stopped by the week before Hunt and his Centennial squad took on Concord (Calif.) De La Salle in the state championship game.
ESPN Watch List safety Jamal Adams (Carrollton, Texas/Hebron) has a dozen offers, and every offer makes him smile, but even he had to admit there was something a little different after picking up an offer from Ohio State on Thursday.

Adams' 12th offer came after speaking with Buckeyes offensive coordinator Tom Herman. Adams adds the Ohio State offer with ones from Florida, Notre Dame, Oklahoma, Texas, Texas A&M and several other heavyweight programs.

"It's big," Adams said of his latest offer. "It's a big program, like Florida or Alabama, and it's a great D-1 school that I'm very interested in. I think it can put me where my dreams want me to go."
ATLANTA, Ga. -- Georgia safety commit Nick Glass (Suwanee, Ga./Peachtree Ridge) was worried when the Bulldogs picked up their fifth safety commit for the Class of 2013. An 2014 ESPN Watch List member, Glass decided that he should see what other programs had to offer. The blood was in the water.

"Ohio State was coming by what seemed like every day," Glass said. "UCLA brought their entire coaching staff. I talked with Coach [Tommy] Thigpen of Tennessee right after that. South Carolina picked up their recruitment very heavily. Florida State and Clemson also stepped up their recruiting of me. Alabama came by a lot too. They don't have safeties at all. They have one committed, but he weighs 170 and they say the chances of him moving down to corner are heavy. They told me they need somebody big who can tackle and cover. They have really picked it up and I talk to them a lot and I am really going to look into Alabama."

Glass reopened his recruitment two weeks ago but maintains that he is still committed to Georgia, for now.
In the AAAAA state championship game against Ware County, quarterback Deshaun Watson (Gainesville, Ga./Gainesville) put the finishing touches on a season for the ages, throwing for 305 yards and accounting for five touchdowns to secure the first state championship in school history.

Several college coaches were on the sideline to see Watson's performance, including representatives from Alabama, Georgia, Clemson, Vanderbilt, Ohio State, UNC, Tennessee and FSU. Knowing the Bulldogs' offensive coordinator saw him perform well brought an added sense of encouragement.