BN $ - Blazevich Talks Final Choices '14 NC TE Jeb Blazevich
By BK...down to Alabama, Notre Dame, Georgia, Clemson, Ohio State and Ole Miss and talks about each school...hopes to visit each school again this spring and decide before his senior season.
As if the commitment from Marcelys Jones on Christmas day wasn't enough, we're bringing you the latest up to date news on Ohio State recruiting with current commits, potential future commitments in the class of 2014 and much more.
After the news of '14 OL Marcelys Jones committing to Ohio State hit the Internet yesterday, Buckeye Nation as a whole caught a small glimpse at the potential of the 2014 recruiting class. Coach Meyer and his staff have worked diligently to prepare themselves for National Signing Day, which is right around the corner. Although their focus is on finishing the class of 2013 strong, that doesn't mean they can't take a peek or two into future classes.
It has become something of a common theme among recruits that commit somewhere to try and convince other great recruits to attend the same school with them. That much was evident by the newest Buckeye commit yesterday, when Jones tweeted that he was talking with '14 LB Raekwon McMillan. We can only presume it had something to do with attending Ohio State.
McMillan seemed pretty enthusiastic about the whole situation, tweeting that he hadn't met Jones yet:
McMillan actually ended up winning the defensive player of the year in Region 3-AAAA in the state of Georgia. I can honestly say that this kid has a bright future no matter where he goes, which makes him even more of a priority to Coach Meyer and his staff.
Finally, Football season is drawing closer to an end. With big events such as the Super Bowl and BCS National Championship Game yet to be played, fans can rest assured that they still have ample time to adjust. Of course, high school players miss playing the game already, but never fear, there are showcase games all around the country where the best athletes can compete. One of the first of these showcases is the Next Level Nation Underclassmen Showcase being held on Wednesday, December 26th in Baltimore, Maryland.
The event will feature some of the top young prospects in the country, and some of them even being recruited by Ohio State or will be recruited at some point later on. In fact, Ohio State class of 2013 commit Eli Apple will be participating in the event before he heads off to San Antonio, Texas for the U.S. Army All-American Bowl. The Next Level Nation Underclassmen Showcase also includes class of 2015 corner Dionte Austin.
The 5'10", 165-pound sophomore camped at Ohio State over the summer and really got some high praise from his performance. Austin holds early offers from Boston College, Connecticut, and Toledo, and is a Maryland prospect to keep an eye on.
Here's a belated Christmas gift from YouTube, Joey Bosa highlights. Let's be honest, it was at the top of your list this year. (Included in yesterday's post of Quick Bits)
The four star Chicago, IL product offensive lineman chatted with us about Ohio State and the recruiting process overall.
While all the focus (and justifiably so) right now is on the forthcoming Ohio State class of 2013, as we enter into the home stretch of the dead period and continue the final descent towards National Signing Day '13, it's worth remembering that the end of one recruiting period is just the lead in to another. Accordingly, Urban Meyer and his staff can never stop looking forward. While some in the class of 2013 will make an impact this coming season, looking even further ahead can reveal a longer term road map for the future of a program.
To try and get a feel for what some of the prospective guys that might just make up that future, we chatted with 2014 Chicago, Illinois product, Jamarco Jones. Jones is rated as a 4-star OL by the 247Composite rating and has also received offers from the likes of Florida, Illinois, Michigan, Iowa, and just about the rest of the Big Ten. Jones recently took an unofficial visit to Ohio State and took in the Buckeyes' 26-21 victory over Michigan. While it's still rather early in his recruiting process, he could have some additional future trips to Columbus in store.
cont...
This Urban Meyer guy just never stops. His recruiting dead periods make other coaches' recruiting periods seem sporific.
Unlike many past Cleveland-Glenville commits, Marcelys Jones committed to the 2014 class before some have even offered up their 2013 pledges. Coach Ted Ginn Sr. usually wants his players to think through thoroughly this decision but for Jones, it was clear the decision he wanted to make. His cousin, Donovan Munger, committed just a few weeks before but Marcelys indicated that his cousin's commitment did not influence him. the-Ozone's Tony Gerdeman wrote that Ohio State has signed a player from Cleveland-Glenville in every class since 2002 with the exception of 2011, which they did receive a commitment from Cardale Jones. Marcelys Jones insures that 2014 is accounted for and the Buckeyes are awaiting Christopher Worley's final decision for 2013. It looks like the C-G pipeline will continue to flow down to Columbus for a while. Jones also indicated that the class behind him at C-G is loaded with D-1 talent that he hopes will join him at OSU. He took time to give us the inside scoop.
cont...
After Marcelys Jones called Ohio State coach Urban Meyer on Christmas morning and became the first commitment to the 2014 recruiting class, the rest of the day was kind of downhill.
"The best thing I got for Christmas? Committing to the Buckeyes," said the high-school junior, a blue-chip offensive line prospect from Cleveland Glenville. "This is probably going to be one of my best Christmases ever."
If Meyer agreed, he wasn't allowed to say. NCAA rules forbid coaches from commenting on recruits before they sign a national letter of intent, and that is more than a year away for the 6-foot-5, 325-pound Jones.
But he doesn't plan to change his mind. His high-school coach, Ted Ginn, demands his players be sure before making a decision public, and then they must stick to it, even if it comes early in the process.
"He has always said to be a man of your word," Jones said. "One of the things he teaches you coming through the Glenville program is don't ever say you're going to do something and then don't do it."
Jones is only halfway through his junior year in high school, but he already is rated the 97th-best overall prospect in the nation by 247sports.com. He received offers from several schools, narrowed it to a top two of Ohio State and UCLA, then picked the Buckeyes.
"I am going with my gut, and my gut feeling is Ohio State is the place for me," Jones said.
One of just four prospects in Ohio who have been offered by OSU thus far for the 2014 class, Jones had wanted to commit earlier but was told by Meyer to make sure he was 100 percent sold.
"I thought about them a lot," Jones said. "Then I got up this morning and needed to relieve some stress, so I called coach Meyer and became a Buckeye."
cont...
Ohio State has received its first commitment for the class of 2014 in junior offensive lineman Marcelys Jones.
Urban Meyer and the Buckeyes are certainly starting off on the right foot in regards to the 2014 recruiting class, as Jones projects to be a very talented player at the college level.
Brad Bournival of ESPN.com reports on the commitment:
Urban Meyer's 2012 Christmas got a whole lot nicer Tuesday morning when Marcelys Jones(Cleveland/Glenville) committed to Ohio State.

In doing so, the 6-foot-4, 325-pound offensive tackle became the first commitment in the class of 2014 for the Buckeyes.
Jones is 6'5'', 325 pounds (as a junior remember) and he's the No. 2 ranked guard in the class of 2014, according to the 247Sports Composite Rankings. Both ESPN and Scout.com have Jones listed as an offensive tackle.
He's obviously a big lineman, and the fact that he's ranked as both a tackle and a guard point to him being a very versatile lineman. Bournival also reports that Jones isn't sure if he'll stay on offense at the college level, which is yet another indication of the skill set that the 2014 recruit will be bringing to the Buckeyes.
Remember, he's only a junior, so there's reason to believe that he'll get even better with the experience gained from playing his senior year as well. Either way, the Buckeyes received the commitment of a very talented football player.
Jones is also going to be a recruit who helps out on the recruiting trail as well, according to his quotes via Bournival's report:
"I'm going to get some more 2014 guys to commit to Ohio State. I can't wait to go to work at O-State. It's one of the best schools. We'll be contending in BCS bowls. I wanted to go where I knew I could win."
That's quite a statement of confidence in the Buckeyes, and in general, it's a statement to the college football world. Jones is one of the better recruits in the 2014 class, so by saying that, he's letting other big-time recruits know that Ohio State is the place to be if they want to play for a contender.
Meyer proved as much by going 12-0 in his first season as Ohio State's head coach, but this is just another reminder of the potential his program has.
Finally, Jones' commitment helps maintain the pipeline Ohio State has established with Glenville High School. Bournival reports that Jones is now the 19th Glenville player to commit to Ohio State since 2002, so the fact that he's the Buckeyes first 2014 commitment becomes even more significant.
Overall, Jones will be bringing a lot to the Buckeyes.
He's the first, elite 2014 recruit to commit to Ohio State, but he won't be the last.
Ohio State Recruiting- The Gift That Keeps On Giving.
This morning, Glenville Offensive Lineman Marcelys Jones called Coach Meyer and became the first member of Ohio State's 2014 recruiting class. Most scouting services have him ranked as a four star recruit.
The 6'4″ junior weighs in at 32o pounds, so I'm guessing that he didn't fit under the tree. Jones played offensive tackle for Coach Ginn, but some are projecting him inside when he reaches Columbus. Jones is the cousin of 2013 commit Donovan Munger.
cont...
COLUMBUS, Ohio -- Heading into the new year and offseason workouts, BuckeyeNation will look at some holes left by the departing Ohio State veterans and potential candidates to fill them, continuing today in the trenches.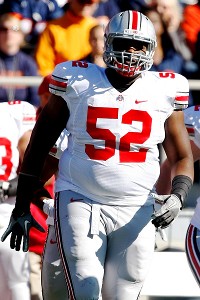 DEFENSIVE TACKLE
Who: The Buckeyes might have held out some slim hope that Johnathan Hankins would return for another year and a chance to compete for a championship, but with his stock already so high, that always was going to be a bonus and not an expectation heading into Urban Meyer's second season with the program. Hankins didn't post the gaudiest numbers during his junior campaign, but his ability to impact the game went well beyond statistics as he occupied multiple blockers, ate up space in the middle of the defensive line and swallowed up any running backs that happened to venture his way as he solidified his NFL stock while the Buckeyes went undefeated.
By the numbers: While for the most part the work Hankins did to anchor the defensive line was hard to quantify in the box score, the junior still finished fifth on the team with 55 tackles. There wasn't much flashy about his approach and he didn't finish many plays in the backfield with just 4 tackles for a loss, but it was a rare sight to see Hankins lose an individual matchup and he simply had to be accounted for by the opposing offensive line on every snap.
Job description: Massive linemen with the ability to move as well as Hankins are few and far between, which is why he's so coveted by professional scouts and why the Buckeyes would have obviously loved to get another year out of him. And while there's nobody that quite fits the 6-foot-3, 322-pound mold physically, there are a handful of guys that come close and will have the chance to pick up where Hankins left off. Ohio State needs somebody capable of handling double-teams on the interior, a tenacious competitor who won't give ground against the rush and somebody capable of collapsing the pocket up the middle in the passing game. The Buckeyes don't necessarily need somebody to stuff the stats sheet individually -- just a player capable of putting others in prime spots to make a play.
Top candidate: The loss of nose tackle Garrett Goebel is significant for the Buckeyes as well, who will be remaking the entire defensive line and will have to identify which pieces fit best in the two interior spots during spring practice and training camp in the fall. Rising sophomore Tommy Schutt appears to be the favorite at this point to build on his early success, particularly given his athleticism and a 6-foot-2, 295-pound body that has plenty of time to be be developed in offseason workouts. Even if he only had limited opportunities to show what he could do last season, Schutt earned some valuable experience and could potentially form a partnership with junior Michael Bennett, who appears to be a likely candidate to play on the interior next season as well.
One to watch: Joel Hale put himself in position to contribute with hard work in practice and the kind of size that can't be taught, and while his chances to impact the game didn't come around all that often either, the rising junior certainly didn't do anything that would rule him out of a more prominent role moving forward. Appearing in seven games, Hale made 6 tackles and was credited with a quarterback hurry while coming off the bench -- and if he can develop his body and his technique a bit more during the offseason program, he might find himself contending for a more regular spot in the rotation.
Alex Anzalone (Wyomissing, Pa./Wyomissing) and Lewis Neal (Wilson, N.C./James B. Hunt) gave their decommitments to Ohio State and left for what they hope are greener pastures at Notre Dame and LSU, respectively.

Texas A&M signee Tommy Sanders (Cordele, Ga./Butler Community College) could have been a Buckeye, but many believe the numbers game in regards to the NCAA sanctions kept him from becoming a linebacker at Ohio State.

So why have the Buckeyes slow-played a position that looks like a desperate need?
As of this moment, we sit smack dab in the middle of a dead period that lasts through Jan. 3, 2013. While it's considered "dead," it really isn't at all.

It's a time when coaches aren't allowed to meet recruits in-person whether on campus or off. Prospects can still visit bowl practices, but only if those practices are open to the public. They still can receive calls from coaches once a week.

While Ohio State really never stops the recruiting process -- the Buckeyes have amped up efforts with no bowl game -- it does slow down a bit during the holiday season.