This is supposed to be a dead period in recruiting but it has been anything but dead. Coaches are allowed one contact per week and Urban Meyer has been contacting. Chris Worley, Braxton Berrios, and Jeb Blazevich all tweeted that they had phone conversations with the head coach.
The Oregon Ducks look like they could become Peking Duck by the NCAA, opening up the possibility of current commit—TX Speedster WR Dontre Wilson— to Ohio State and Chip Kelly doing his impression of Pete Carroll and jumping ship to the NFL.
One time OSU target—WR Robert Foster out of PA— stunned all the experts and picked Alabama. OSU cooled on Foster after his visit in the Fall.
Though it is a "dead period" Ohio State added two more preferred walk-ons in long snapper Nick Sharick out of Worthington, OH and just before he roasts by an open fire— LB Jake Chestnut from West Chester, OH. This Urban Meyer guy does not know how to quit. I thought he was suppose to slow down. Better revisit this pink contract or better not burn out. Ohio State has added 5 preferred walk-ons in all, most of them shunning scholarships from MAC type schools to come to OSU.
Verlon Reed announced that he would leave the team, which leaves Ohio State with 2 open scholarships but do not be surprised if 2-4 more spots open up. Look for the 2013 class to have 22-24 scholarship athletes and counting preferred walk-ons, 27-29. In this issue of the recruiting rundown, I will discuss Ohio State's remaining targets and their likelihood to end up Buckeye.
cont...
With only one day away from Christmas, we're bringing you some presents early with the latest news and updates on Ohio State recruiting over this past weekend.
To start the day off, we'd like to give our congratulations to 2013 all-everything running back Ezekiel Elliott on his outstanding season. Elliott and his team, the Bombers, have had a tremendous amount of success the past three seasons. Burroughs won 40 games and lost just four, but three of those came in the Missouri Class 3 championship game. Elliott was at his best at the Edward Jones Dome in late November.
Elliott rushed 18 times for 218 yards and two touchdowns, caught five passes for 72 yards and returned four kids for another 129 yards, including an 84-yard return for a touchdown. He finished his senior season with 2,153 yards rushing, 2,533 total yards, 3,022 all-purpose yards and 50 touchdowns. It appears Coach Meyer may have found a perfect fit for Ohio State:
"He's just a phenomenal player," Burroughs coach Gus Frerotte said following the Bombers' 35-22 loss to Maryville in the state title game. "A great mind for the sport. He really carried our team in a lot of these games. He wanted to put us on his back, and he did that quite a few games, and he hasn't let us down yet."
2014 OL Demetrius Knox committed to Texas not too long ago but on Saturday he tweeted he still wants to take some visits to Columbus to see the Buckeyes. As of now, Knox remains committed but there's always a chance he could be swayed from his decision.
There are some incredible highlights of ATH Jalen Hurd, one of the top prospects in the class of 2014
If that doesn't get you pumped up, maybe the chance of landing 2013 WR James Quick will get your blood pressure going. Quick, who is deciding between in-state school Louisville and Ohio State, was recently named Kentucky's Mr. Football. Here is Quick's head coach on his player:
"He just has this passion to compete," Trinity coach Bob Beatty said. "My philosophy is, if you're good enough, you're good enough. His speed was great, he was a sponge for knowledge and it was an everyday process. Each year, he used that speed to get better and of course he has big receiving skills."
COLUMBUS, Ohio -- Heading into the new year and offseason workouts, BuckeyeNation will look at some holes left by the departing Ohio State veterans and potential candidates to fill them, starting today in the secondary.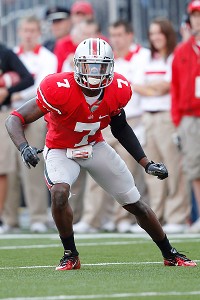 Who: Inconsistent heading into his last season with the Buckeyes, Travis Howard turned in his most productive campaign from start to finish and formed one of the best partnerships in the country at cornerback opposite Bradley Roby. Howard wasn't perfect by any stretch and dealt with injuries throughout the season, but his experience and knack for big plays will be tough to replace.
By the numbers: While Roby received the majority of the attention and accolades for his eye-popping number of passes defended, it was Howard who actually led the Buckeyes and the Big Ten in interceptions on the way to a perfect record.The senior also blocked a punt that led to a touchdown and recovered a fumble, giving Ohio State the kind of takeaway help it had emphasized heading into the year.
Job description: Assuming Roby elects to return, the Buckeyes are going to need to find a complementary piece to put on the other side of the field -- one who will likely face more throws his way than the average cornerback with teams likely to take their chances avoiding Roby, a potential first-round NFL pick down the road. Ohio State was at its best defensively late in the season when it dialed up its pressure packages and played more man coverage in the back end, trusting Roby and Howard to regularly come out on top in their matchups. The next starter will have to be capable of doing the same thing.
Top candidate: The Buckeyes have already had a chance to get a look at what Doran Grant can do in live action, and the early returns were positive for the rising junior. Inserted for an entire game with Roby injured against UAB in September, Grant stuffed the stats sheet in virtually every column with seven tackles, a sack, a fumble recovery and an interception that helped the Buckeyes overcome a sluggish performance on offense and finish up its nonconference slate unbeaten. Grant should have the first crack at getting back in the starting lineup on a full-time basis.
One to watch: Ohio State is putting together perhaps the best collection of secondary talent in the entire nation as it works on the 2013 recruiting class, but there are already some guys on campus that could make a push for more playing time after spending time on special teams as true freshmen. Armani Reeves impressed with his athleticism and work ethic during his first season with the program, and he could benefit from a big offseason.
If Ohio State coach Urban Meyer is listening, it won't take much to become one of the favorites for an ESPN 300 athlete who already has an official visit lined up for Jan. 11.

At least that's what Ryan Timmons (Frankfort, Ky./Franklin County) said Monday when asked for his favorites.
The holiday season is upon us and there are a few gifts Ohio State Buckeyes fans are hoping land in their laps soon.

From a recruiting perspective, some of them could be here as quickly as the first week of January, while others will take some time before they arrive.

Here's a look at some of the most coveted names among the 2013 and 2014 recruiting classes, as Ohio State enthusiasts look for Urban Meyer to close out his second recruiting class with a bang before starting 2014.
Ohio State didn't get another commit out of the class of 2013, but that didn't mean the Buckeyes went into the dead period without continuing to amp up efforts to land some big names.

From recruits scheduling visits to others setting announcement dates, here's a look at how things shook out last week.

Ohio State began the week just hours after hearing Mike Mitchell (Plano, Texas/Prestonwood Christian) and Trey Johnson (Lawrenceville, Ga./Central Gwinnett) were set to announce their college choices at their respective all-star games. The Buckeyes also found out Orlando Brown Jr. (Duluth, Ga./Peachtree Ridge) put them in his top eight.