Spoke w/ B.Vernon OL Dorian Johnson for recruiting story in tomorrow's P-G.One of his comments: "Pitt is still my top school." #Pitt

— Mike White (@mwhiteburgh) November 9, 2012
Dorian Johnson also told Mike White today that Pitt is his current leader.

— Chris Dokish (@ChrisDokish) November 9, 2012
#OhioState Offensive Line coach Ed Warriner will be at Lancaster tomorrow to check on Kyle Trout @trout75

— 11W Recruiting (@11WRecruiting) November 9, 2012
Da'Shawn Hand to visit Ohio State (FREE,MOBILE) bit.ly/PHlLBP via @bucknuts1

— JC Shurburtt (@jcshurburtt) November 8, 2012
2013 LB Skai Moore will visit the #Wisconsin #Badgers and #OSU #Buckeyes before a final decision recruiting.scout.com/2/1237815.html #rutgers #vanderbil

— Amy Campbell (@MsAmyCampbell) November 8, 2012
OSU's Luke Fickell and possibly Urban Meyer expected to stop at Central Gwinnett High Friday to check on Trey Johnson.ohiostate.247sports.com/Board/120/Ohio…

— Bill Kurelic (@Bill_Kurelic) November 9, 2012
@beaschler Mike McCraytried to visit OSU but the coaches sniffed it out.

— Tom Armetta (@tomarmetta) November 3, 2012
Ohio State Came By Today ! #GoBuckeyes

— Myles Autry (@KingAutry_23) November 8, 2012
BN $ - Will Wait For Snodgrass Continue? '14 OH WR Thaddeus Snodgrass
By BK...his coach says a decision won't come any time soon, likely not until at least January or NLOID 2013...Thad favors OSU and ND.
Scout $ - Snodgrass Enjoys Buckeye Visit '14 OH WR Thaddeus Snodgrass
By Berk...was at OSU on Wednesday...enjoyed spending time with Coach Meyer.
Scout $ - Watkins Enjoys Buckeye Visit '14 OH ATH Dareian Watkins
By The Bank...met Braxton and spent time with Coach Meyer...OSU likes him at either WR or ATH...high on OSU and will visit Michigan this weekend...also plans to visit Wisconsin and NC State this fall.
Rivals $ - Elite junior Tabor has top five; Terps make the cut '14 DC CB Jalen Tabor
Talks a lot about his favorites (Tennessee and Maryland, both of whom he has visited) and also offers some comments on the rest of his top five, which include OSU, Alabama and Florida.
Scout $ - Jones Expecting More Offers '14 OH OL Marcelys Jones
By The Bank...thinks he did well this year but knows he can improve...OSU and Indiana are offers he knows about but Coach Ginn says he has others...will be at Cincinnati this weekend and OSU for The Game...talks about Coach Meyer visiting Glenville earlier this week.
BN$--Will Two Bosa's Be Buckeyes? '16 FL DE Nic Bosa
Nic says he loves tOSU but it is way too early for him to think about a decision.
Rivals$--Haden getting looks '14 DC RB Jonathan Haden
Jonathan is very high on tOSU and UNC.
Rivals$--Checking in on dual-threat Ulmer '14 DC QB William Ulmer
William says he is being recruited hard by UNC. He definitely wants to play in a spread offense.
Rivals$--Watkins meets with Meyer '14 OH ATH Dareian Watkins
Dareian says he enjoyed meeting with Coach Meyer and Coach Smith. He is very interested in tOSU.
Rivals$--Timmons to visit Ohio State '13 KY ATH Ryan Timmons
Ryan enjoyed an official to Purdue and is looking forward to his December tOSU official. He speaks with tOSU every Thursday.
The first time around, Dorian Johnson enjoyed all the attention he got from colleges early on during the recruiting process.
But as the interest and competition picked up, the experience became less fun and more a distraction for Belle Vernon Area's 6-6, 290-pound tackle.
He committed early to Penn State, hoping to put an end to the process so he could concentrate on his senior season at BVA. However, he decommited just before the season began after NCAA sanctions were announced against the university in the wake of the Jerry Sandusky case.
When Johnson announced he was again back on the open market, he said he would delay all recruiting talk until after BVA's season ended.
The Leps' campaign came to a heartbreaking finish last week with a 17-16 loss to Central Valley in the first round of the WPIAL Class AAA playoffs.
True to his word, Johnson did not talk about recruiting during the season so as not to be distracted.
Now, he is getting back into it.
Only this time, he is using knowledge gained from the first experience.
"I think I'm going to do it a little differently, be a little more laid back and only deal with the schools I'm really interested in," Johnson said.
Those schools are Pitt, Ohio State and Virginia Tech.
Johnson has scheduled recruiting visits to Pitt (Nov. 16) and Ohio State (Dec. 7).
While he has yet to schedule a visit to Virginia Tech, he said he will do so once he talks with the Hokies' coaches.
Although he is not close to making a final decision, Johnson admitted Pitt is the leading candidate among the three.
"I would say right now it's Pitt, Ohio State, then Virginia Tech," he said.
It certainly doesn't hurt the Panthers' chances that Pitt's offensive coordinator is Joe Rudolph, a BVA graduate and a standout lineman when he played there.
Looking back on his senior season, Johnson admitted that while the year didn't go like he had hoped, it was a good experience.
"I wanted us to do better, but I was really happy with how we played our last game (against Central Valley)," he said. "We finally came together as a team and played hard together. Overall, I had fun with the season."
ORLANDO -- Johnny Townsend has had a senior season to remember. Now, he says all that's left is to with the 60th anniversary of the 'Battle for the Barrel' against Edgewater this Friday.
"This is the biggest game of the season," said Townsend. "Ever since I've been here at Boone I have not had a chance to win the barrel so this being my senior season I'm gonna play my heart out. I'm going to trying my best to win it back."
Even though the 5-4 Braves did not earn a trip to the state playoffs Townsend has had several successes on and off the field.
The fall campaign started off with a bang when Urban Meyer offered the Boone punter a football scholarship to play at Ohio State. Townsend, who averages 44 yards per punt, began focusing on his specialist duties just two years ago.
The good fortune continued for the Braves senior when he was invited to the 2013 U.S. Army All-American Bowl, named to the First Team All-District and voted Boone's Homecoming King all in the same week.
Townsend will spend a week in San Antonio, Texas to play in the 2013 Army Bowl on Jan. 5. Winter Park's Asiantii Woulard, who is committed to USF, is the second player in Central Florida selected to play in the game.
Ensworth student Michael Buttarazzi was watching a Nebraska football game on TV last year when he noticed some Cornhusker fans wearing corn suits.
That gave him an idea. Ensworth's star player is Corn Elder, so maybe Buttarazzi and his friends could wear corn suits to the Tigers' home games.
"We had been trying to figure out something fun to do at the games," Buttarazzi said. "In the past, we hadn't been very original, but when we saw the corn suits we thought that would be perfect."
But there was one problem.
"I looked on the Internet, and (the suits) were kind of expensive — anywhere from $50 to $100 — so I just did some searching and found ($20) corn hats that looked better than the suits," said Peter Spruill, one of Buttarazzi's classmates.
And the cornmen were born. Spruill, Buttarazzi, Hutt Cooke, Jack Nesbitt and Wyatt McClellan wear foam corn hats in support of Elder at the Tigers' games. All five are juniors.
"Most people love the hats," Buttarazzi said. "At the Brentwood Academy game I had a little kid come up to me and ask me for the hat, and he just ran off with it. The hats are about two feet long. It's tough to wear around in the car. It's always hitting people."
Elder has nine major college offers, including Nebraska. He has rushed for 5,954 career yards and 74 touchdowns entering Friday's Division II-AA quarterfinal against McCallie (5-5). Ensworth (10-0) is ranked 14th nationally by USA TODAY.
"It's an honor to have people at our school do stuff like that, and it's good to see," said Elder, whose first name is Cornelius. "I guess everybody likes it, and they get a good laugh out of it."
Elder is taking his first official visit to UCLA next weekend and plans to take his second official visit to Ohio State in December. He hasn't decided where to take his last three visits, but said he's still interested in Nebraska.
"I don't really have a list, but I've been talking to (Nebraska) so they're still in the running," Elder said.
cont...
One of the biggest recruiting battles brewing as the 2013 recruiting cycle begins to hit it's peak, is one that seemingly came out of nowhere. After a long commitment to Michigan, CB Gareon Conley (Massillon, Ohio/Washington) has said publicly in recent weeks that Oregon is his favorite school. While it is not uncommon for a recruit to talk about a favorite school, it doesn't always mean that school is the best fit for him.

The No. 62 player in the latest edition of the ESPN 150 took a risk by openly discussing his desire to visit Oregon, Cincinnati and most recently, Ohio State. Michigan head coach Brady Hoke has been pretty firm in his rule that if a recruit takes a visit to another school while he is committed to Michigan, his commitment is no longer recognized.

Conley has spoken to the Michigan staff since the rival Buckeyes offered the 6-foot-1, 180-pounder two weeks ago. After expressing his desire to do so, he was told by the Michigan staff that if he chose to visit Oregon and Ohio State, he would no longer be considered a Wolverines' commit.
cont...
Aside from the handful of offers Ohio State coaches made this week, they checked in on more than a few commits and targets.

Among them were ESPN Watch List wide receivers Dominique Booth (Indianapolis/Pike) and Austin Roberts (Carmel Ind./Carmel) and ESPN 150 running back Cornelius Elder (Nashville, Tenn./The Ensworth School). Buckeyes commit and offensive tackle Tim Gardner (Indianapolis/Lawrence Central) was also paid a visit.

Ohio State talked to coaches about ESPN Watch List juniors like cornerback Jabrill Peppers (Paramus, N.J./Paramus) and defensive end Da'Shawn Hand (Woodbridge, Va./Woodbridge) as well as Hand's teammate Marcus Boone -- a 2014 running back.
cont...
MASSILLON Gareon Conley started this season as a player opposing offenses had to account for on every play. The Massillon senior had earned, rightfully so, a reputation as one of the top cornerbacks in Ohio based on his play last season.

That remains the case for Tiger opponents throughout Conley's senior season. But he also has become the one player opposing defenses have made sure to locate every time Massillon lines up offensively.

As the season has progressed, those defenses have done a variety of things to attempt to take Conley's abilities — especially on the deep pass — away. And it has been met with varying degrees of success, at least when Conley's numbers are counted.

Only twice this season has he not caught at least two passes in a game — a one-catch effort in a one-half win at Maumee, and a no-catch performance in a game the Tigers really didn't need him against Canadian foe Pauline Johnson Collegiate. He also has caught touchdowns in eight of Massillon's 11 games to date.

"Obviously, Gareon attracts some attention — a little bit," offensive coordinator Badre Bardawil said this week as the Tigers prepare for Saturday's Division I regional semifinal against McKinley at Kent State. "It's just a matter of, once again, being smart. Not being stubborn. Really, I try to identify how defenses are trying to take away what you do best and being patient and trying to find holes."
cont...
They are the best of the best. The players wanted by every program and destined to make a big impact at the college level and beyond. Rivals.com has identified the first five-star prospects for the 2014 class and is unveiling them this week. Ten prospects have been awarded five-stars but are not ranked at this time and we will profile two each day. One of today's five-stars is Beaumont (Texas) Ozen cornerback Tony Brown.

Tony Brown, CB, Beaumont (Texas) Ozen
Attributes: 6-1, 185, 4.4 40
Top Schools: Alabama, LSU, USC, Texas, Oregon, Ohio State, Notre Dame, Miami, Florida State, Florida, Auburn, Mississippi State, Texas A&M, Oklahoma, Texas Tech, Oklahoma State, Hawaii, Stanford
THE BROWN FILE
Scouting Report: Tony Brown has all the physical attributes one looks for in a cornerback. He has elite level speed, fluid hips, the size to cover big receivers and a long wingspan that allows him to make up ground and make a play when all else fails. While he can play safety, he is also an exceptional cornerback. He is a weapon off the edge on the blitz and is just as comfortable in zone coverage as he is in man-to-man. He is a supremely confident defender who has shown the ability to shut down his side of the field.
Analyst's Take: "Everywhere Brown went this summer, and he was at just about every major event he could attend, he excelled. At 6-foot-1, 185 pounds, Brown is one of the bigger defensive backs in the 2014 class, his 4.4 speed has been verified on the track making him one of the fastest prospects in the country, and this summer he showed supreme confidence by going against anyone and everyone who wanted a piece of him. He may have been beaten at times but he came back stronger and with a mission on his mind. In addition to having supreme coverage skills, elite recovery speed and the ball skills to make a play when the ball did come his way, he is also a physical corner. He does not shy away from contact and at his size can also play either safety position if needed." -- Jason Howell, Southwest Analyst, Rivals.com
Why He's A Five-Star: "Brown is a big, physical cornerback who excels in playing tight to the line of scrimmage, getting an initial bump on receivers to slow them off the line and then has the speed and length to run with them. For a tall, long cornerback he has excellent body control and agility and he uses his long frame and arms to make plays on the ball. Brown has good closing speed, loose hips and he loves to challenge receivers. His competitive nature can't be taught." -- Mike Farrell, National Analyst, Rivals.com
His Coach Says: "He understands the scheme of things and gives you a good presence off the edge as far as putting pressure on the quarterback. Also you can utilize him in pass defense as far as man coverage. He has good cover skills. As most people have seen he has college size already. He is all of 6-1 and some change and has a good body build and is very strong. His speed, I think he was a regional finalist in the hurdles in track last year. Utilizing his speed in the secondary has been an asset." -- Beaumont Ozen head coach Jeff Nelson
Odds And Ends: Brown registered 95 tackles, an INT, and 14 PBUs as a freshman and recorded 96 tackles, 3 INT, 16 PBU, and a fumble recovery as a sophomore. ... His sister, Bealoved Brown, is a highly recruited track athlete, and his father Tony Brown played college football at Purdue and Texas Tech.
NFL Player Comparison: Nnamdi Asomugha, CB, Philadelphia Eagles
At 6-foot-4 and 260 pounds, Joey Bosa of Fort Lauderdale (Fla.) St. Thomas Aquinas is hard to miss in offseason combines. Put the Ohio State commit in front of a trembling offensive lineman and the defensive tackle comes into his own.
Most often the best player in high school camps, the senior could be one of the best in St. Thomas Aquinas history. At least according to Raiders coach Rocco Casullo, who is no stranger to having All-Americans.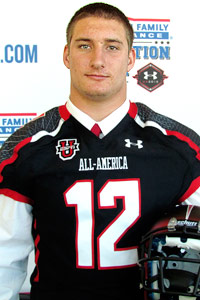 "We've had some All-Americans in the past and it's quite an accomplishment," Casullo said. "If you look at the defensive line position, Geno Atkins is one of the most recognized names to come out of St. Thomas Aquinas and now he's starting for the Cincinnati Bengals.
"I think Joey is one of the more complete defensive linemen to ever come out of here as far as size, strength and his work ethic. He's pretty special."
And on Thursday, the No. 46 overall prospect in the ESPN 150 received his jersey as part of the American Family Insurance Selection Tour for the 2013 Under Armour All-America Game, which will take place in St. Petersburg, Fla., at 5 p.m. ET on ESPN.
He did it in front of a select gathering and accepted his jersey with a mountain of humility.
"You look at all the awesome players that are in college now that played in this and it's great," Bosa said. "I know former teammates that I played with that were in this game. It's just an honor to be recognized as an All-American. I'm super excited to play in it. It'll be a real test of how good I really am."
Being around the best is nothing new for Bosa as his father John was a first-round pick by the Miami Dolphins at defensive end in the 1987 NFL draft. Throw in his brother Nick, who already has an Ohio State offer as a freshman, and Bosa is all about the game. It's a family the senior defensive tackle embraces and feels no pressure from as he continues to hone his trade.
"It's good to have someone who played at the highest level being my dad," Bosa said. "I can ask him questions to make me better.
"It helps a lot. I have great coaching here at school, but I can go home and he can critique me on things that maybe my coaches missed."
cont...
Mikel Horton (West Chester, Oh./Lakota West) received his first scholarship offer last week from Indiana, and he has his sights on receiving additional offers from Big Ten football programs.
He is interested in learning more about the Hoosiers, but right now he is unsure what the team has to offer him.
"I'm very interested in Indiana," he said. "I know the coaching staff, but not as strongly as I need to. I just got the offer, so I need to learn more about Indiana first."
When asked about Michigan State, Horton said the Spartans are in fact recruiting him.
"I've been shown a little interest from Michigan State, "Horton said. "I've heard from coach Harlon Barnett and I've been getting some letters, but hopefully during my senior year they come up with an offer."
Horton is 6-foot-1 and 228 pounds running back who has the frame of a larger-sized running back. Michigan State utilizes power backs with the same body type as he has, and that has caught his eye.
"They like the big-back sets like what they do with Le'Veon Bell, which is something I like," he said.
However, a team's preference in running back size is not the only thing he is interested in when it comes to where he will play in 2014.
"I'm looking for a winning team with good chemistry and a good offensive line," he said. "I'm looking to go to a school where they run the ball 70 percent of the time."
Based on the way Horton talks, it sounds like he is most interested in Ohio State. He will take his second visit to Columbus in a few weeks for the Michigan game. The new regime at Ohio State has done a tremendous job turning things around. It may be too hard for other Big Ten and Midwest schools to out-recruit the Buckeyes for Horton's signature on a letter of intent.
"I like Ohio State a lot because I'm an Ohio kid. The atmosphere and the team are outrageous. Urban Meyer is one of the best coaches, from my perspective, in the NCAA," he said.
His current list of top schools includes Ohio State, Wisconsin, Michigan State, Cincinnati, West Virginia and Indiana. He plans to take official visits to Virginia, Indiana and Michigan State this winter, and these visits will play an integral part when making his final decision before his senior year.
"I hope to have my school selected before the start of my senior year," he said. "I'd like to get the stress and the pressure out of the way, so I can concentrate on my season and my school work."