Galion (2014) WR/ATH Dareian Watkins will not be attending Ohio State this weekend as originally planned
Tennessee offers Orlando Brown
Rivals$--Worley shines in loss '13 OH LB/S Chris Worley
Chris says he will be in Columbus this weekend and numerous schools have been in contact but tOSU is the only school with whom he communicates.
BN $ - Timmons Closing In On OSU Offer? '13 KY ATH Ryan Timmons
By BK...coming up this weekend for the game...Coach Hinton has told him they are close to offering...also looking at Arkansas, Kentucky, West Virginia, Illinois and Purdue (all offered).
Rivals $ - 2014 star eager to visit Ohio State '14 TN DB Todd Kelly Jr
By Givler...talks to Coach Withers frequently to catch up...looking forward to visiting OSU and says he is interested in Tennessee like he is interested in any other school that is recruiting him.
24/7 $ - Webb Talks Early Leaders '14 MI DB Damon Webb
Was at MSU/OSU last weekend...current top 5 is LSU, Michigan State, Ohio State, Michigan, West Virginia...says he is open minded and not a Michigan lean just because he is from Cass Tech.
For the latest Recruit Talk, I got a chance to speak with the 2014 5-star, 6-3 235-pound LB Raekwon McMillan out of Liberty County High School (Hinesville, GA). According to 247Sports, Raekwon has a 98 overall rating, is ranked the 15th overall best player in the country, the 2nd inside linebacker in the country, and the best overall player in his home state of Georgia. MaxPreps has Raekwon at 79 total tackles (15.8 tackles/game), 7.0 total sacks (1.2 sacks/game), 5 total caused fumbles, 150 total rushing yards (5.77 yards/carry), 6 total touchdowns (9.2 points/game), and 5 total pancake blocks through 5 games in his junior season.

Aside from all the on-the-field accolades, Raekwon proved to be a very impressive young man in our interview and has an extremely bright future ahead of him. Get to know this juggernaut 2014 recruit here:

How's your junior season at Liberty County going so far?

We're 4-1 and we're doing good. I'm just getting ready to play this Friday against Glenn Hills. I have 79 tackles and 7 sacks so far.

MaxPreps reports that you are also running the ball a decent amount for your team and have scored at least one touchdown in your past 4 games. What's your favorite part about playing offense? Are you thinking about playing running back in college?

When I'm playing offense, if there's anyone in front of me, I just run right through them. My favorite part is just running through any defenders in my way. I think I'm just going to play linebacker in college [laughter].
cont...
This past Monday, Nashville product Cornelius Elder tweeted that he had just gotten off the phone with Ohio State head coach Urban Meyer. This was a surprise for quite a few Buckeye fans for multiple reasons.
First, Elder hadn't been heard of much in a recruiting sense for OSU as of late. There was never a question of whether or not he was capable of playing for the Buckeyes because I think most of us agree that he would fit very well into the Buckeye's spread-option attack. The reason we haven't really heard much of him is because of my second point. He had been rumored to be interested in attending college to play basketball where he also excels.
If you watch Elder's highlights, you'll see that the 4* Athlete is a playmaker. He plays safety, wide receiver, and running back and does well at all three positions. In high school ball, athletes of this caliber often play all over the field because of their superior ability; but it takes a special athlete to be equally talented at many different positions. Elder lays out receivers and picks-off QB's. He also can run passes down as well as make plays with the ball in his hands. He's a smooth runner and could play any of these three positions in college.
His Tweet started a rush of Buckeye fan interest as we all started to wonder where things stood between Elder and the Buckeyes. I had the chance to catch up with him, and here's what was said:
cont...
Prestonwood Christian Academy senior Mike Mitchell has been selected to participate in the 2013 U.S. Army All-American Bowl.
The bowl's selection tour will visit the Prestonwood campus on Oct. 10 to make the selection official. Prestonwood will honor Mitchell before his teammates, classmates and family members during an assembly in the student learning center.

Mitchell, a 6-foot-4, 216-pound four-star recruit who is currently ranked No. 18 in the state by ESPN for the Class of 2013, has been a standout linebacker for the Lions this season while also chipping in as the team's primary kickoff returner.
The U.S. Army All-American Bowl will take place on Jan. 5 at noon from the Alamodome and will be televised live on NBC.
Evans football coach Chip Gierke was greeted this morning when he started work with a phone call from Florida State offensive line coach Rick Trickett, the recruiter for the Seminoles in the Orlando area.
Reports surfaced late Wednesday night that top receiver Tony Stevens had decommitted from his commitment to the Seminoles, and Trickett wondered what was up, having yet to discuss the situation with Stevens. Coaches are currently not allowed personal calls to potential recruits, but they can call their high school coaches and players can call them.
"Coach Trickett called me and that was the first that I had heard of it," said Gierke, who then caught up to Stevens to discuss the situation."Tony told me that he wanted to take his other visits and I asked him if that's what he thought decommitting means, and he said, 'Yes.'
"We're a day away from a very important district football game tomorrow night and so I asked Tony if he could table it and we would discuss it with his mother this weekend."
Gierke said he was not sure how solid FSU's scholarship offer was to Stevens at this time. Stevens committed to the Seminoles on Feb. 25, along with teammate LB Ro'Derrick Hoskins, during an FSU junior-day event.
Another teammate, WR Dominic Walker, decommitted from his pledge to Vanderbilt earlier this week after taking a trip to Nebraska.
cont...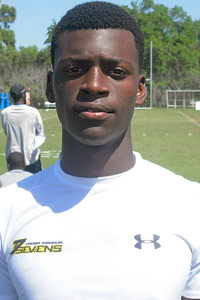 ESPN 300 wide receiver commitment Tony Stevens (Orlando, Fla./Evans) said he has decommitted from Florida State late Wednesday night.

The 6-foot-4, 184-pound prospect had been committed to the Seminoles since February 25 before making an announcement on his personal Twitter account.

"I'm decommitting from Florida State," he said.

The Seminoles, it seems, aren't even in his top five any longer.

Stevens later said that Ohio State, Georgia, Louisville, USF and USC are his top schools. He did indicate in August that he was likely going to take other official visits.

"I'm going to take all of my visits because it's my senior year," Stevens said earlier. "I know I'm going to visit Ohio State, FSU, Louisville, South Carolina and USF ... but I'm still solid to Florida State."

That's obviously not the case now.

ESPN ranks Stevens as the No. 22 receiver in the class of 2013 and is the No. 35 player in Florida.
ESPN 300 wide receiver Tony Stevens decommitted from Florida State on Wednesday. Devon Allen (Phoenix/Brophy) wiped Ohio State from his top three last week.

To say the least the 2013 recruiting class for the Buckeyes has gotten interesting since the last time we visited the wide receiver spot. With that in mind, here's a look at the top five seniors -- in order -- at the position in terms of where Ohio State might stand.

1. Tony Stevens (Orlando, Fla./Evans): Ranked 22nd at his position and 173rd overall, Stevens becomes the frontrunner in the class. He announced a top five of Ohio State, Georgia, Louisville, USF and USC on his official Twitter account. Future Seminole Levonte Whitfield (Orlando, Fla./Jones) went to his official Twitter account to say he thinks Stevens will be a Buckeye, adding, "That's where I would go if I was him."
cont...
Saturday's home game against Nebraska isn't just a chance to impress the pollsters as much as it is an opportunity to grab the attention of some of the biggest recruits for Ohio State.

The list for the primetime game against the Cornhuskers reads like a who's who of candidates for the Buckeyes starting with former Penn State commit Dorian Johnson (Belle Vernon, Pa./Belle Vernon). No. 27 in the ESPN 150, the second-ranked offensive tackle leads the list of headliners planning to attend and is followed by James Quick (Louisville, Ky./Trinity) at wide receiver.

Both have Ohio State in their top three. Johnson rounds out his list with Pitt and Virginia Tech, while Quick (No. 57) comes in with Louisville and Oregon.
cont...