Commitments
Denzel Ward commits to Michigan (Yet another OL for scUM)
Visitors
Game Stats
Purdue Game Attendees
2013 ATH Cornelius Elder (Nashville, TN)
2014 WR Thaddeus Snodgrass (Springfield, OH)
2014 OL Quenton Nelson (Red Bank, NJ)
2014 DT Phillip Carson (Elkhart, IN)
2014 LB Davonte James (Springfield, OH)
2014 LB Will White (Detroit, MI)
2014 DB Alonzo Saxton (Columbus, OH)
2014 DB Darius West (Lima, OH)
2015 ATH Eric Glover-Williams (Canton, OH)
Summaries
Scout $ - Soph Enjoys First Buckeye Game '15 OH ATH Eric Glover-Williams
By The Bank....Really liked the atmosphere & can see himself at Ohio State on either side of the ball. Doesn't have any other visits planned this year, but plans on visiting Oregon, West Virginia, Michigan & Michigan State next year.
MAPLEWOOD • John Burroughs football coach Gus Frerotte had one question for his team at the conclusion of the Bombers' 34-6 win at Maplewood-Richmond Heights on Friday night.
"Who thinks we can get better?" he asked them.
The undefeated Burroughs squad answered resoundingly that, yes, they can get better. And that's a scary thought.
John Burroughs (8-0) is the No. 1 team in the STLhighschoolsports.com small-schools rankings and the top-ranked team in Class 3. Maplewood (7-2) is ranked third among area small schools and is second in Class 2.
"Maplewood is one of the best small school teams in the area," standout running back Ezekiel Elliott said. "I think this is a game a lot of people were waiting to see. It's a game we've waited for the last few years. I think we made a big statement."
It was, in the end, no contest.
An Ohio State recruit, Elliott rushed for 205 yards and a touchdown on 28 carries and scored on a kick return, giving him 72 touchdowns since the beginning of last season. Wide receiver-defensive back Foye Oluokun caught a touchdown pass and returned a fumble for a score. Quarterback Nick Duncan directed the offense and also scored a touchdown.
And the defense, which entered the night allowing 10 points per game, surrendered just six against a usually high-powered Blue Devils squad that had been averaging 32.4 points per contest.
"Our defense was top notch," Frerotte said. "We plugged two new (offensive) tackles in this week, because two guys got hurt. Ezekiel is running through tackles. We just decided to keep pounding the ball. We kind of wore them out a little bit, I think, and we just kept running right at them. Our special teams set the tone every week."
cont...
VOORHEES — Annie Apple wore on her face the smile of a happy mother.
And why not?
Apple and her husband Tim couldn't help but show their pride Friday over their son Eli Woodard accepting his jersey, acknowledging him as a member of the 2013 U.S. Army All-American Bowl.
The jersey was awarded in front of Woodard's family, including his parents and his sister Jordan, teammates, coaches and friends in a ceremony at Eastern High School where Woodard is a corner back/receiver on the school's football team.
"(For Woodard) to be honored by the military, the U.S. Army, is just an extraordinary honor," said Annie Apple. "These are people who lay their lives on the line every day for us to enjoy this great country.
"To honor Eli with all the attributes it takes to be a U.S. Army All-American, it means a lot. I'm blessed that they were interested him, that he displayed the characteristics that met the criteria to be considered an All-American.''
Woodard, who has committed to Ohio State, is one of only 90 seniors in the country to be selected to play in the Jan. 5 game, which will be played at the Alamo Dome in San Antonio, Tex. He will be joined there by Timber Creek defensive lineman Greg Webb, a University of North Carolina recruit.
A number of future NFL players have taken part in the game, including current Eagles DeSean Jackson and LeSean McCoy, as well as last year's No. 1 draft pick Andrew Luck, the current quarterback for the Colts.
cont...
There's a chance Mike McCray II will be wearing some Ohio State gear in the near future. A year ago, that would have been expected. After all, his father was a linebacker on Ohio State and McCray always rooted for the Buckeyes growing up.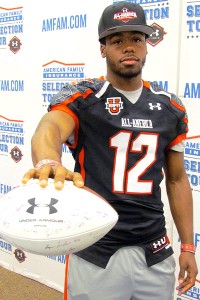 But that was before he switched allegiance to the enemy after committing to Michigan in March. So when the two Big Ten schools link up for "The Game" on Nov. 24, McCray will be rooting against Ohio State for the first time.
If Michigan loses, though, McCray will be forced to wear Buckeyes colors the following Monday at school. That's the terms of the friendly bet McCray has with Cam Burrows, his Trotwood-Madison (Trotwood, Ohio) teammate and fellow ESPN 150 recruit -- and an Ohio State commitment.
Although the two were friendly Wednesday when they each received their jersey for the 2013 Under Armour All-America Game as part of the American Family Insurance Selection Tour, the teammates will be on opposite sides next month with a little wager on the line.
If the Wolverines win, Burrows, the first commitment of the Buckeyes' 2013 class, will have to wear a Michigan shirt.
"I'll probably buy one that makes fun of Ohio State," said McCray, who added he had to convince a "scared" Burrows to accept the deal.
Burrows is not too worried, though.
Ohio State is undefeated and has won eight of the last 11 games against Michigan (the 2010 win was vacated).
cont...