DE Tyquan Lewis of NC says he definitely plans to early enroll. Decision soon between Ohio State, North Carolina or LSU
2014 Detroit DE Malik McDowell looking at visits to Michigan, Michigan State & Notre Dame this fall
3 teams stand out for 2014 4-star WR Trevion Thompson Ohio State, Clemson & Florida
Deshaun Watson named Preseason Class AAAAA All-State by the AJC
The 2013 class is one of the strongest in Illinois in recent memory. There are 12 prospects rated as four-star recruits from the state in 2013, which matches combined total from 2011 and 2012. Although the top two spots in Illinois are occupied by skill positions players -- WR Laquon Treadwell (Crete, Ill./Crete-Monee) and RB Ty Isaac (Joliet, Ill./Joliet Catholic) -- six of the top 10 players in the state can be found along the lines. That isn't much of a surprise as the Midwest is known for producing the big boys. Five offensive tackles are found among the top 10 players in Illinois, and another offensive lineman guard Kyle Bosch (Wheaton, Ill./St. Francis) -- comes in at No. 6 in the state. Overall, the top part of the state's 2013 class is heavy on the offense as 12 of the top 14 prospects could all play on that side of the ball.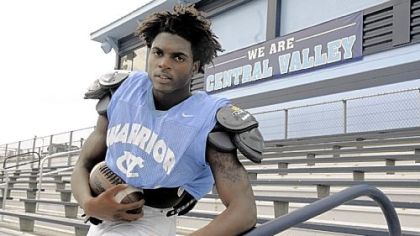 THE SCOOP
Foster is one of the most highly-touted receivers in the WPIAL in a long time. He is ranked the No. 2 receiver in the country by Scout.com, while SuperPrep magazine and Rivals.com rank him No. 4. Scout.com ranks him the No. 16 player overall in the country. Last year he caught 37 passes for 584 yards and scored 12 touchdowns. He's also extremely fast and an excellent safety and kick returner. Foster attended Monaca as a freshman before the school closed and merged with Center to form Central Valley.
COLLEGE TALK
Foster has scholarship offers from colleges across the country. One college coach said "he has speed like receivers in Florida and Texas." Earlier this summer, Foster narrowed his list of colleges to seven -- Pitt, Alabama, Ohio State, Michigan, Michigan State, Oregon and Southern California. He insists he has no favorite and isn't close to making a decision.
Your coach [Mark Lyons] said he thinks you might be even a little faster than a year ago. How could you get much faster? I was out here [at Central Valley's stadium] almost every day in the summer with our receivers coach [Adam Caltury]. He just pushed me through the summer and it was hot this summer. So I feel like I have more stamina and can run better this year.
You'll probably get double-teamed a lot this year, won't you? I'm expecting it, but like the coaches say to me, I'm a playmaker and I have to be able to make plays and use the gifts I have.
Will you guys be more of a throwing team this year? I think so. Our quarterback [Nathan Climo] is a very good athlete. He can throw the ball. I think he has potential to make plays, too.
Tell me something fun you did this summer? I worked hard and worked out on the field [laugh]. Anything to do with football was fun. We were down here at 4 o'clock almost every day in the summer -- fighting, sweating, bleeding, everything.
What are the two tattoos on your arm? From [Bible] verses. I'm very religious. My mom lives in Philadelphia and I made a commitment to my mom that I was going to always go to church, regardless. If it wasn't for church, I probably wouldn't still be alive. I made a commitment to my mom and God to be faithful.
You have some crazy 'tweets' on Twitter every now and then, don't you? I got into some real bad trouble with a few of them. I learned, though. I learned that you have to watch what you say on Twitter.
People might be surprised to know that you ... I'm a drummer. I play the drums at my church [Greater Faith Family Worship].
I've heard you don't really like being interviewed, do you? No. I don't really like the media. I just don't like the attention. I feel like there are a lot of other athletes in this world who can do the things I do. Someone can do the exact same stuff as me, so I don't pay a lot of attention to the hype. God gave everyone a gift, so just use it.
If you don't like being interviewed, then why are you doing this interview? Because you're here [laugh]. You call me on the phone, I probably won't talk. But you're here, so ...
No. 1 Vonn Bell
Schools recruiting: He's trimmed the huge list of possibilities to Alabama, Clemson, Georgia, Ohio State, Tennessee, Texas and Vanderbilt.
Why do you wear the No. 7?
"In the Biblical sense, the No. 7 means completion."
Vonn Bell admits that the first time he talked to a big-time college football coach was a bit indimidating.
Since that day in early January when Georgia coach Mark Richt called to offer a scholarship to Bell, the Ridgeland High School safety prospect -- he's top 20 in the nation in more than one scouting service -- has become so comfortable talking to Nick Saban, Urban Myer et al that he's now the one asking questions.
"Vonn and his family have done a tremendous job throughout this process," Ridgeland coach Mark Mariakis said. "As part of the last piece of the puzzle, so to speak, they asked each of the schools remaining on his list three questions."
The questions were simple, but the Bells made it known they don't want promises the schools can't keep. Two of the questions were non-football related. The first was about each school's education program and how it could help Vonn reach his goal of becoming a college coach someday.
The second was about each school's timeline for graduation and what the plan would be if Vonn got off track. The third was about how quickly he could get on the field and what the school's plan was for him as a football player.
"The more I talk to the coaches, the better idea I get of the entire picture," said Bell, who recently returned from an AAU basketball tournament in Las Vegas with his Nashville Celtics teammates. "It's tough because you have to think about everything, like playing time, education and being away from my family. There's a lot to go over."
Despite rumors to the contrary, Bell hasn't made up his mind just yet, though a further trimming of his current list of seven schools -- Alabama, Clemson, Georgia, Ohio State, Tennessee, Texas and Vanderbilt -- is, he said, coming soon. Several Internet sites, including Scout.com, lists Ohio State as the favorite, though it's well known that Bell has grown up a Volunteers fan.
"I'm honestly still looking at the process," the Under Armour All-American said. "Anything is possible, and I'm beginning to see the light at the end of the road. Telling the ones that I don't choose will probably be one of the toughest things I do in my life, because this is one of the biggest decisions of my life. It's going to be tough.
However it ends, the past eight months have changed Bell's life forever.
"It's built my confidence being able to talk to big-time coaches like Nick Saban and Urban Meyer, and to be able to build relationships with them is one of the great things about this," Bell said. "Every kid has a dream in this game of football to play college ball and maybe make the NFL. That's definitely a dream of mine."