Scout $ - Damon Webb Has First Offer
By Trieu....Offered by Toledo. Will camp at West Virginia, Alabama, Michigan, Ohio State, Wisconsin & Notre Dame.
BN $ - Florida DB Wants Shot To Be Buckeye (Adrian Baker)
By BK...coming to camp because he wants to earn an offer...current offers from Wisconsin, Nebraska, Penn State, Illinois, Oklahoma, South Florida, Central Florida, Tennessee, West Virginia, Vanderbilt and Boston College.
Scout $ - Early offers for '14 south Florida WR (Adly Enoicy)
By Newberg.....Claims offers from Miami, South Carolina, Florida, Florida State, Vanderbilt & USC. Will camp at Ohio State & possibly Alabama.
Michael Ferns is fond of Ohio State and the 2014 recruit showed it Wednesday by making his second unofficial visit to Columbus.

An inside linebacker for St. Clairsville, Ohio, Ferns walked away impressed.

"We weren't looking so much into the sports side this time," Ferns said. "With the offer, we made a trip back.

"It was just a better trip overall. Now, I know more of the staff. It was more personable. I enjoyed this trip a lot more than last time. They really opened up to me. I want to go into the medical field, so they took me over there for a bit. I got to talk to Coach [Urban] Meyer. It was more down to earth. It was just enjoyable overall."

The 6-foot-3, 215-pound Ferns indicated he will wait until the end of summer to narrow his list down, but for now Ferns has unofficial visits planned to Penn State this weekend and Michigan the following weekend.

It will be trip No. 2 to Penn State for Ferns and trip No. 1 to Michigan.

"I'm expecting more of the private deal that I got Wednesday," Ferns said. "It's more sitting down with the coaches and really getting to see the academic part of it. I feel like these next two trips will focus on that."
This is part 2 of our interview with Billy Price. If you missed part 1, read it here.
He just returned from the state track meet, where he threw discus and shot put. He has next year to compete in the state track meet again and after interviewing him, I have no doubt he will do well, as he is very goal-driven person.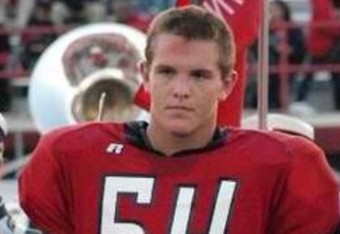 You mentioned that it was a relief to get the recruiting process out of the way, yet recruits like to stretch out the process. What are your thoughts on this?
BP: It was very stressful for me. I am glad it is out of the way. It took a lot of my time that I am glad to have back. I am sure there are people out there that like the attention, but it was a big-time commitment for me, and I wanted to be involved with other things like my family.
I do think those who draw it out can be distracted during the season. I had a friend who was being recruited by top-level schools, and he told me it was hard for him to play on Fridays because his attention was diverted to his visits on Saturday. I am glad it is over for me so I can focus on the season.
Who would you say is the leader or is emerging as the leader of the 2013 class?
After being coached for years in the NFL, Mike Vrabel has the task of coaching one of the best D-lines in the B1G.
Scott Boehm/Getty Images
BP: Cameron Burrows! He is the one texting us and communicating with us about things. He is encouraging the class as well as working on trying to recruit others to come to Ohio State.
Anyone that you are working on in the 2013 class?
BP: Not right now. I worked hard on recruiting Evan Lisle and Joey Bosa, but my time is really limited. I have two younger siblings that are involved in sports. I try to be there for them. I try to work a job to earn money so I do not burden my family with any needs I may have.
My two younger siblings are also involved in athletics, and I want to be part of their life while I am here. If I had more time, I would be working on others like Cameron is, but due to family responsibilities, I am not able to spend as much time as I would like.
Outside of Ohio State, what other schools came at you?
BP: Early on, Michigan and Michigan State. Ohio State did not recruit me hard until Coach Meyer took over. Oregon and Alabama also recruited me.
Since Michigan recruited you before Ohio State, what was it about OSU that separated them from TSUN?
BP: There was nothing personal against schools like UM, MSU, Notre Dame, etc. I just felt more comfortable at Ohio State. Also, one of my goals was to earn an Ohio State scholarship. The overall feel of the city, campus, coaches, administration and academics gave me a better feel than Michigan and other schools.
A coach cannot be the reason one commits to a school. There has to be the overall feeling of the school itself. No person is bigger than Ohio State.
What will your major be?
BP: Kinesiology
Thank you, Billy, for this two-part interview. We look forward to your career.
The Buckeyes are looking to take three offensive linemen in the 2013 class, and have only landed one commitment so far, in Centerville (OH) tackle, Evan Lisle. With players like Ethan Pocic deciding to go elsewhere, the staff has started to look at Ohio offensive line prospects to fill the last spot or two. Chargin Falls (OH) offensive tackle, Sam Coverdale is one of these linemen that have recently emerged on the Buckeye recruiting radar. Coverdale plans on camping at Ohio State Sunday, and believes he could earn an offer from the Buckeyes. I will be hearing from Sam Sunday after he camps, so make sure to check back for updates on rising 2013 offensive tackle, Sam Coverdale.
Camps: Ohio State, Stanford, and Vandy.
Potential offer: "I think I have a very good chance to earn one, I will need to work hard and show my competitiveness to earn it."
Has visited Northwestern twice, Virginia, and Wake Forest. Hasn't been to Ohio State for a "recruiting visit," but has been to many games.
Visit: "I want to go around, and see a couple of the things I haven't seen yet, like the academic side of things, I've already seen most of the campus though."
What he's hearing from OSU: "Coach Warriner really likes my game, and said they'll offer the guys they like most. He also told me I'm near the top of their board, and have a good chance at earning an offer."
If he got the offer?: "It would be huge. I grew up a Buckeye fan, and it would be cool to get an offer from the biggest school in the state."
Factors: "Education is probably the biggest factor. Other important things are football, coaching stability will be very big, I have had three different coaches in high school, and also facilities."
Schools standing out (that have offered): Northwestern, Virginia, and Arizona State. If Ohio State or Stanford offered, they would be "at or near the top of my list."
Wants to decide before senior season, but if he isn't ready, he'll push it back.
Strengths: footwork and size.
Improvements: Explosiveness and strength.
Free time: "I like to hang out with the football guys, I also play basketball, so I hang out with those guys too."
Goals: "We want to make it as far as we can in states, I may even play some defense, which should be interesting."