Buckeye commits Ezekiel Elliott and Jayme Thompson at the NFTC camp in Champaign trying to earn invites to The Opening
Jayme Thompson killing it at Nike Camp in Illinois today. Great showing so far
Clifton Garrett looking really sharp so far at Illinois Nike Camp
Dareian Watkins unofficially visits Toledo
D'Andre Payne unofficially visits Virginia
Orlando Brown Jr. says he's on his way to

Alabama

today for a visit

NFTC

coaches are raving about Laquon Treadwell saying he does everything at an elite level as well as being a natural leader
Derrick Green said he will narrow his list down to about 10 schools at the Rivals100 Five Star Challenge (June 22-24th)
Ezekiel Elliott has earned an invite to The Opening & ESPN Gridiron Kings
Ezekiel Elliott recieved RB MVP honors at the NFTC today
Demarcus Walker will visit

Tennessee

tomorrow, LSU sometime in July

Bama

hasn't given up on Henry Poggi
Scout $ - Jimmy Byrne Approaching Recruitment with Open Mind
From the Michigan site.....Visiting Michigan today, Notre Dame on June 16th & Ohio State on the 21st & 22nd for camp. Would like to decide before his senior year.
ANGOLA, Ind. -- Long rumored to be a heavy Notre Dame lean, four-star outside linebacker Jaylon Smith (Fort Wayne, Ind./Bishop Luers) ended all speculation with a pledge to the Fighting Irish on Saturday at the inaugural R.A.S Football Camp hosted by Dallas Cowboys linebacker Anthony Spencer at Trine University.

The 6-foot-3, 215-pound Smith is ranked No. 46 in the ESPN 150 and is the top prospect in Indiana. He reported offers from Alabama, Florida, Illinois, Indiana, Iowa, Michigan , Michigan State, Nebraska, Oklahoma, Mississippi, Purdue, Tennessee, Texas A&M and USC.

"Every (Notre Dame) coach has the same stand character wise," Smith said. "Other coaches tell you what you want to hear, and I saw that with my brother."

Smith is Notre Dame's top 2013 commit, its third commit in the ESPN 150 and its 13th overall.
COLUMBUS — Saving his legs was essential for Middletown's Jalin Marshall on Saturday during the Division I boys state high school track meet.
He was in the big school long jump — which went off at noon — followed by the high jump at 3 p.m. in Ohio State's Jesse Owens Stadium.
"I wanted to pop a good one my first try in the long jump so I could take a minimum amount of attempts," he said "I wanted to have as fresh a set of legs as possible for the high jump.
"That takes a lot more out you than the long jump."
Marshall, a junior, took care of business quickly going 
23-feet, 3/4 inches on his first attempt. It was good enough to earn him a state title in the event.
In the high jump, he cleared the bar at 6-6, ending up in a tie for fourth place.
"I feel good about the day with a gold medal and a fourth place" he said "I was here last year and didn't even make the finals in the high jump."
Barrett will have one more football season before he signs with Ohio State.
As a junior, he led the Raiders four rounds deep into the Class 4A playoffs by throwing for 1,604 yards and 14 touchdowns and passing for 1,515 yards and nine TDs.
Those skills attracted just about every college recruiter in the country. Barrett said he considered offers from LSU, Nebraska, Baylor and Texas Tech before committing to the Buckeyes.
He will be taking at least one prestigious "Nicky" with him to Ohio.
Barrett also was Rider's best basketball player, averaging 15 points a game.
Ezekiel Elliott did it all in Champaign, earning an Opening invite and MVP honors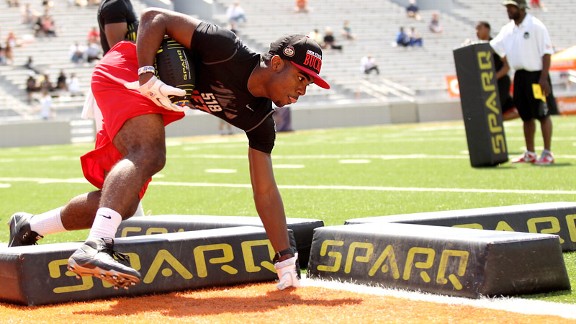 CHAMPAIGN, Ill. -- There is no lack of confidence in Ezekiel Elliott (St. Louis/Burroughs), but even he has to admit he exceeded his expectations just a little.
Competing at the Nike Football Training Camp on Sunday at Memorial Stadium in Champaign, Ill., the Class of 2013 running back walked away with the trifecta: The Opening invite, Champion Gridiron Kings 7-on-7 team invite and the positional MVP.
"Ever since I was a little man playing football -- I played since I was 7 and my dad played Division I -- playing Division I was one of my goals," Elliott said, "so I kind of expected it. But I have to say I did exceed some of them. I really didn't think I'd be leaving here with an invitation to both The Opening and Gridiron Kings and running back MVP."
Sunday's success took Elliott by surprise somewhat because of the position he was in just one year ago. As a sophomore, Elliott missed the entire season because of a broken collarbone. While many top prospects rack up offers by the end of their sophomore seasons, Elliott entered his junior campaign without any offers or serious looks.
By February, Elliott had roughly 20 offers, and on April 1 he committed to Ohio State.
"Last year, I wasn't on anyone's radar," said Elliott, who was participating in his first camp of any kind. "I had a big junior year and then I came out here and I competed. It's exciting that last year no one would have thought I'd gotten an invite to The Opening and Gridiron Kings."
The 6-foot, 200-pound four-star prospect will be joined at The Opening by some of his future Ohio State teammates. Marcus Baugh, Cam Burrows, Jalin Marshall, Billy Price and Eli Woodard are also committed to the Buckeyes and have already received invites.
There was a lot of diversity in the five invites sent out Sunday. Four states are represented among the five. Elijah Daniel hails from Indiana, Ty Isaac and Laquon Treadwell are from Illinois, Jourdan Lewis is from Michigan, and Elliott plays his high school football in Missouri.
"I think it's great," Treadwell said. "It just shows that Illinois can compete with some of the best in the other states."
Top uncommitted Midwest prospect wants to compete
For the most sought-after prospects nationally, there is a contingent that believes going to a camp can only do damage.
Laquon Treadwell (Crete, Ill./Crete-Monee), the top uncommitted prospect in the Midwest, is not of that belief. Ranked No. 42 in the ESPN 150, Treadwell saw Sunday's NFTC as an opportunity to not only validate that ranking but also improve it.
"When you get to college, that's all you're doing is competing," the 6-foot-2, 190-pound receiver said. "Everybody is good, so you might as well come out and compete and get better at everything.
"There's great coaches out here, some from the NFL. You can always learn something."
Joined by some of the Midwest's top pass-catchers, Treadwell said he picked up a few skills from fellow players and the coaches that he can incorporate in his game.
"I picked up a bunch," he said. "Getting off the line and creating separation, and when to change speed once you make your break and everything."
Treadwell was exceptional in one-on-one drills. If he was not running past his defender, he was going up over him and grabbing the ball in the air. He beat Michigan commitment Jourdan Lewis for a ball toward the end of the camp.
Rhodes turning heads across Midwest camps
He was a relative unknown heading into the weekend. But by Sunday afternoon, Kierre Rhodes (St. Paul, Minn./Johnson) was the hot name among the defensive backs.
With a limited group of cornerbacks, Rhodes was taking repetitions continuously in 85-degree weather that offered no shade on a sunny, cloudless day. The weather or workload was not a factor for Rhodes as he starred at the position, giving Michigan commitment Jourdan Lewis a run for the positional MVP.
Making Rhodes' performance all the more surprising is that he competed in another all-day camp Saturday. Going up against a number of talented receivers such as Isaac Griffith at a camp in Angola, Ind., the day before, Rhodes won the defensive MVP over ESPN 150 linebacker Jaylon Smith and a host of other top Midwest prospects. Rhodes also did it in front of several college coaches in attendance.
Interest in the 5-foot-10, 170-pound Class of 2013 prospect is picking up as Indiana, Illinois, Minnesota, Purdue and Wisconsin are all inquiring.
Zeke and Mom