Da'Shawn Hand unofficially visits North Carolina, 'loved' his visit today
Derrick Green unofficially visits Penn State yesterday
Damian Prince confirms he will be at

OSU

this coming weekend
Detroit Cass Tech 2014 ATH Damon Webb will visit Michigan, Michigan St, Ohio St, Wisconsin, and Notre Dame all this week
2014 ATH Todd Kelly Jr was offered by

Louisville,

also has received an Under Armour Bowl invite. Already has Army invite

. Also set to visit Georgia this Saturday.
Milton (Fla.) WR Isaiah Jones has been invited to The Opening

Terps

commitment Derwin Gray is already trying to reel in other local standouts, including blue-chip WR Paul Harris
Chicago (IL) De La Salle's touted 2014 OT Jamarco Jones lands his latest offer from Indiana
OL Khaliel Rodgers pushing his decision back from June 30 to visit more schools. Rodgers said he might take visits to

Ohio State

,

West Virginia

and

Michigan

.
TE Jeb Blazevich confirms he will camp at

Ohio State

on Saturday
RB Mikel Horton says he cannot go to

OSU

camp this weekend due to an injured hamstring
2014 ATH Dareian Watkins banged his knee up in 7-on-7s this weekend. If knee sore he will compete at

OSU

camp as QB. If OK will play WR/DB
Lakota West offensive lineman Kyle Meadows visiting West Virginia today; plans to visit Kentucky
Christian Morris receives invitation to The Opening
According to his hs coach Paul Sutherland DT Michael Hill will narrow his list down to 2 or 3 schools next week.
LB prospect Raekwon McMillan from Hinesville (Ga.) has been planning a July trip to Ohio State - says it now may not happen this summer
Matt Wogan, kicker from Indian Trail (NC) Porter Ridge, picked up an offer from Oregon. Commitment could be on deck.
The

Badgers

jump on Clifton Garrett, offering the four-star LB today
Alabama offers 5-star 2014 LB Raekwon McMillan
Raekwon McMillan says he won't visit Texas this summer, but will next summer for sure.
2014 ATH Allen Lazard says he can no longer make it to

Ohio State

camp this weekend. Has a lot of interest in OSU.
2014 WR Josh Malone will visit 2 SEC schools in July

USC

is still number one for Maryland wide receiver Paul Harris. He will visit USC for a week around June 24
4-star DB Jalen Ramsey will visit Georgia Tech on Friday. Uphill battle but dad knows

Jackets

assistant Andy McCollum well
Facebook post of former

Ohio State

commit Lewis Neal: "Big week this week!! Grinding very hard then visiting

LSU
Scout $ - Byrne Impressed By Irish
Got to work one-on-one with the ND OL coach and was offered...says he was very impressed by Michigan and ND...will camp at OSU next.
Rivals $ - Hill cuts his list down to eight
By Noon...Clemson, South Carolina, Tennessee, Georgia Tech, Ohio State, Alabama, Florida and LSU...should have a final two or three next week.
With the Buckeyes losing out on many of their top 2013 offensive line targets, look for it to be the priority of the 2014 class. One of the top targets in 2014 is Chicago (IL) De La Salle offensive tackle, Jamarco Jones, who recently camped, and received an offer from the Buckeyes. The early offer the Buckeyes came in with definitely puts them firmly in the mix for Jamarco's services. Read on to find out how Jamarco's visit went, where the Buckeyes stand on Jamarco's list, and more! Keep checking back for updates on rising 2014 offensive tackle, Jamarco Jones, as we will be in touch throughout his recruitment.
Offers: Ohio State, Michigan, Michigan State, Illinois, Vanderbilt, and Toledo.
Recruitment: "Just a few months ago, I wasn't getting a ton of interest. Now things have really started to pick up. I need to stay humble, and focused throughout the process."
Camp: "It went really well. There were a lot of good players at the camp, and I think I performed well against them."
Visit: "I got to see the campus in general when I was there. There was a little bit of construction going on, but I was able to get a feel for the campus. It was really nice."
Offer: "I had a question for the coaches, so I called them on my way back home, and it was then they offered me."
Interest: "I'm very interested in Ohio State, they have a nice campus, and a great football
tradition."
Other visits: "I went to Michigan, and Michigan State this past weekend. Both of those visits went well, and they both offered me."
Leaders: "I don't really have any leaders right now, I'm just trying to get a feel for all of the schools interested in me. I'll have leaders later on, just not yet."
Factors: "Academics, football program, and somewhere I feel at home. Proximity to home will not be a very big factor for me."
Timetable: "Probably sometime during my senior season, I don't have a set timetable right now. It will be when one school feels like it's the right place for me."
Strengths: Pass blocking.
Improvements: Run blocking, and strength.
Goals: "As a team, our goal would of course be to win a state title. I'm not really in to the individual accolades."
With Derrick Green and Taquan Mizzell the only realistic targets left at the running back position in the 2013 class, it's time to take a look ahead to potential targets in the 2014 class. One potential target in the class is Chicago (IL) De La Salle running back, Mikale Wilbon. Wilbon is teammates with 2014 offensive tackle, Jamarco Jones, who the Buckeyes have already offered. Wilbon has yet to receive an offer from the Buckeyes, but one could be coming in the future, as Wilbon impressed the coaching staff at camp June 10th. Keep reading to find out how camp went for Mikale, his interest in Ohio State, and more! Keep checking back for updates on rising 2014 running back, Mikale Wilbon, as I will be in touch with him throughout his recruitment.
Recruitment: "It's going good. School ended a couple of weeks ago, so I'm going to have the chance to visit schools over the summer. A lot of coaches were at my school during the evaluation period, which was cool."
Teams interested: "There are a lot of schools showing interest right now. The main ones are Ohio State, Illinois, and Michigan State. I would really like to hear from Michigan, but I haven't heard from them yet."
Camp: "I did really good. I ran a 4.48 in the 40, which impressed Coach Drayton, he told me I had really good explosion. The told me they were going to start recruiting me, I gave Coach Vrabel my number, and I got his as well, so we're going to be in touch."
Visit?: "Coach Vrabel was going to give me a tour of campus, but I had already left Columbus. I plan on getting back to Columbus to check campus out as soon as I can."
Upcoming visits: "I plan on camping at Michigan State (camped there this past weekend), and Illinois soon. I'm also going to the National Underclassmen Combine in July."
No leaders.
Timetable: "Not soon, probably sometime during my senior season. I still have to think about, and see a lot of schools before I could even think about a decision."
Strengths: Speed, and elusiveness.
Goals: "My one goal would be to win a state championship. It doesn't matter what I do individually, as long as we win state."
The Buckeyes are still looking at multiple defenders that can play all over the field in the 2013 class. A couple of the bigger names are guys like Lewis Neal, Tyquan Lewis, Marcus Ball, and Darron Lee. One name Buckeye fans need to keep an eye on is Towson (MD) Calvert Hall, athlete Delando Johnson, who camped at Ohio State June 10th. Johnson is a name that has flown under the recruiting radar, and was recently rated a 4 star prospect by 24/7 Sports. Keep reading to find out how Johnson's camp experience went, when he will visit again, and more! Keep checking back for updates on rising 2013 athlete Delando Johnson, as we will be talking again after he visits.
Offers: Wake Forrest, Illinois, Boston College, East Carolina, Buffalo, Toledo, and Ohio.
Camp: "Going into camp, I wasn't very high on Ohio State's recruiting board, but I killed the camp. I worked out well at safety, in front of Urban Meyer, and also worked out at wide receiver, and did well there too."
Potential offer: "I talked to Coach Meyer, and he told me I was a beast. Coach Coombs will be keeping in touch with me too. I think they'll offer eventually, I think they want to build a relationship with me before they do."
Visit: "I got to see some of the campus, and I really liked it. I'm going to be back to Columbus Thursday with some underclassmen, and may camp again Saturday. On the visit, I want to check out the school more in-depth, and get to meet some of the current players."
If OSU offers: "I might commit."
Timetable (if no OSU offer): Signing day.
Leaders: "Of schools that have offered, I really like Wake, Illinois, and also ECU a lot. I don't really have any leaders though, I like all of my offers."
Factors:"A big program, with cool coaches, like Coach Meyer, and the Ohio State staff."
Near offers: "In addition to Ohio State, I think Penn State, and West Virginia may offer me soon."
Position: "Ohio State is looking at me as a strong safety right now, I may even play a little linebacker."
Strengths: Ball hawk/aggressive.
Improvements: Bigger, stronger, and faster.
Goals: "I've already accomplished most of the individual goals I had set, like getting offers from division I schools. Senior year, I want to win state, and be a leader for the underclassmen."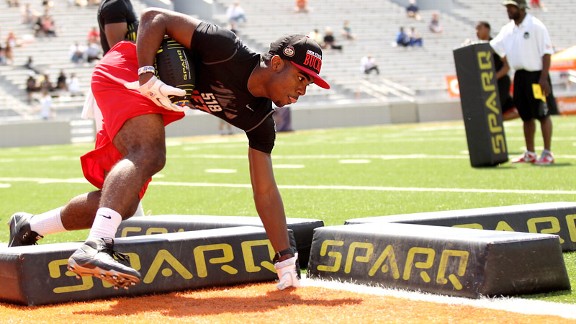 Tom Hauck/ESPNHSJohn Burroughs (St. Louis) running back and Ohio State commit Ezekiel Elliott earned one of five invitations to The Opening at the Champaign NFTC.
Ezekiel Elliott was a relative unknown heading into 2012.

Last season, the 6-foot, 200-pound running back rushed for 1,802 yards and 34 touchdowns on 211 carries (8.5 yards per carry) and scored 42 total touchdowns while leading John Burroughs (St. Louis) to a Class 3 state runner-up finish.

Yet, Elliott was barely a blip on the national radar. A big reason why is that Elliott had never attended a national combine or camp, choosing instead to focus on his other passion during the offseason — track.

But it all started to change this spring when Elliott began to receive serious football interest from big-time college programs. And on April 1, he committed to Ohio State over Missouri, where his dad played football and his mom ran track, and Notre Dame.

The No. 255 recruit in the ESPN 300, Elliott followed his commitment by attending his first major football camp, the Nike Football Training Camp in Champaign, Ill. There, Elliott was named running back MVP and earned invitations to both The Opening and Champion Gridiron Kings.

So what's this Buckeyes commit got planned for the rest of the summer? Get Familiar with Ezekiel Elliott.

ESPNHS: Why did you never attend a football camp before this spring?
Elliott: It's something I didn't think was very important. I could have went to some if I wasn't getting the looks I was getting. Also, I'm a track guy, so I'm competing at meets every weekend. I went to Champaign because of The Opening. I had seen it on TV and I was hearing about it from the other recruits. And then I heard from all the Ohio State guys who were going. It's a great chance to go out and compete. I'm not necessarily ranked among the top guys in the country. It's a great way to improve my ranking, compete and have fun.

ESPNHS: What did it feel like when you received The Opening invite?
Elliott: It felt great. Last summer, I wasn't on anybody's radar. To think in a year's time that I'd be invited to The Opening and Gridiron Kings is incredible. It just shows that hard work pays off.

ESPNHS: You ended up missing most of your sophomore year with a broken collarbone. How tough was that to deal with?
Elliott: I broke my collarbone during the fourth game of my sophomore year. I had eight touchdowns at that point. It was tough to have to watch. My guys did great and made it to the state championship. But it was tough not being able to be physically part of the games.

ESPNHS: Your team lost in the state final for the second straight year last fall. How much has that motivated you and your teammates this offseason?
Elliott: It was very heartbreaking. It's something I still think about every day. Now we know what it takes to get there and not get what we want. We just have to work hard, stay humble and stay motivated.

ESPNHS: You're also a track star. Are you planning on running track at Ohio State and why do you love running so much?
Elliott: Running track has been in the conversation. I'm going to try it my freshman year and see how it goes. I just love to compete. Track helps me stay in shape, and being a hurdler helps my flexibility and my hips. I just can't sit out a season. I also play basketball during the winter. I've been doing this since I was 7. I also run summer track and two-a-days start for football on Aug. 6. It just doesn't feel right for me not to be physically active.

ESPNHS: What led you to pick Ohio State on April Fool's Day?
Elliott: Nobody thought I was serious. I narrowed it down to three schools — Ohio State, Mizzou and Notre Dame. I visited each school twice. After I came back from the second visit at Ohio State, I sat down with my parents. It was tough. We wanted to wait it out, but it became overwhelming. When we came back from Ohio State, we talked about it and I woke up (the next day) and committed to Ohio State. I called coach (Urban) Meyer and told him I wanted to be a Buckeye. It felt great.

ESPNHS: How much did your parents help you through the process?
Elliott: I wouldn't be where I am without my mom. She drives me to every practice and every game. My dad has been there for me, too. My dad played football at Missouri and my mom ran track at Missouri, but they supported me in every decision I made. They both love Ohio State. They'll still be rooting me on. I credit everything I've accomplished to them. It's great to have two parents who support you. I'm grateful for everything they've done.

EZEKIEL ELLIOTT
School: John Burroughs (St. Louis)
Class: 2013
Position: Running back
HT: 6-0
WT: 200
College: Ohio State

FAVORITES
TV Show: "Criminal Minds"
Movie: "Air Bud"
Musical Artist: J. Cole
Athlete: Lolo Jones
Pro Team: Miami Heat
School Subject: Physics
Food: Fried chicken
ORLANDO -- Jones football and track star Levonte "Kermit" Whitfield is exploring his options. After decommitting from the University of Miami in March, the rising junior is enjoying the recruiting process. Whitfield is will take a visit to Columbus on Wednesday.
"Good coach coming back to teach the game he loves," Whitfield said of Buckeyes' first year head coach Urban Meyer. "I know he'll put the ball in my hands."
OSU is among the top six schools Whitfield is considering, others include Florida State, Miami, Florida, West Virginia and Clemson. Personal coach and trainer Ricky Argro said Whitfield's top two choices are Miami and Florida State.
"I want him honestly wherever he's comfortable," said Argro, who graduated from FSU in 2006. "It may not fit everyone else. I never push kids to FSU at all."
While the Tigers sprinter has made it known he would like the Noles to offer him, Whitfield has also been an avid Hurricanes fan all his life and his head football coached is a UM alum, Kenard Lang.
Richmond, Va.—One of the top running back prospects in the country, 6-0, 220 Derrick Green from Hermitage High, is rated as the No. 17 back in the country by Scout.com heading into the summer. With offers from coast to coast, and one of the more impressive lists of schools you will find anywhere, Green said right now he's still just having fun and not in a hurry to begin narrowing his list of potential college destinations.
"It's going pretty good right now," Green tells Inside The Auburn Tigers. "I'm just enjoying the process right now. I haven't narrowed anything down yet. I'm still just looking at everybody. They are all on an even playing field. I haven't dropped anyone yet."
One of the schools that Green is anxious to take a closer look at this summer is the Auburn Tigers. With an early offer from Gene Chizik's program and having the chance to build a relationship with the coaching staff and learn more about the university and team, Green said he's ready to see what Auburn is all about.
"I'm actually going to be there in July," Green said. "I'll just take an unofficial visit there. I like Coach (Curtis) Luper. He's just a great guy and we're building a relationship.
"I know it's a school that is going to run the ball and get the ball to its running backs," Green added. "I know the big thing is getting down there in July. They want to show me the campus and speak with the head coach (Gene Chizik)."
Derrick Green's combination of size, speed and on-the-field production have made him a popular recruit with college coaches.
Green is a bruising runner who Scout.com's Director of Scouting Scott Kennedy describes this way: "A powerful running back who can blow through arm tackles and typically takes more than one defender to bring him down, Green has surprisingly quick feet for his size. He can clear traffic between the tackles, not getting tripped up because of his good balance. Not a conventional breakaway threat because of raw speed, but gets his share of long runs after breaking tackles at the line of scrimmage."
Green said Auburn's search for bigger backs is exciting to hear. He also said that the history of Auburn's running backs, and how Luper's players have done, is something to think about as well.
"It definitely helps Auburn," he pointed out. "After college I would like to play in the NFL. Just look at the backs that he hass produced and he's got a list that goes on and on. You want to play for somebody that can get you to the next level."
With dozens of offers and still looking at them all, Green said when the time comes to make his decision he's got several things in mind that he's looking for to separate his eventual home.
"Academics is first and foremost," Green said. "The coaching staff and the atmosphere are also important to me. My relationship with the coaching staff will be big. Then it's just how I feel overall."