I obviously didn't see the that it was President Obama as the 2013 commencement speaker was already in Buckshots. I apologize to each and everyone of you! So I'll redo this as what do you think of Silverman's latest tOSU artwork?
Personally this picture took me back to my graduation and commencement speaker, as I believe there was a big name scheduled but was bumped (or passed on before confirming) for William H. "Bill" Hall, vice president for student affairs at The Ohio State University, who died just months later on November, 27th of that same year after an 11-month battle with cancer. This was a big deal for me and an even bigger deal for my dad (who graduated from The Ohio State University both with a bachelor degree and from dental school). This was a big moment I shared with my father and he still likes to reminisce about it to this day. I was happy that we had Hall speak and didn't get a big name for personal reasons, even though having someone like the President (who I think was rumored to be the speaker) that could have brought positive national light on the university. I thought this was a completely classy move by Ohio State and I'm glad they did it. This is why I started this thread. I wanted to know what everyone thought of Obama as a commencement speaker, especially compared to the one they had, if they had one. I personally think it can be great to have the President be the commencement speaker (no matter what party he represents), but I wouldn't have traded my commencement speaker for the President or anyone else. I know Buckshots covered Obama as the commencement speaker, but I don't think it covered past speakers, how he may compare to them and your guys personal experiences with commencement speakers or related matter. I apologize to all of you!!! I thought there could actually be a thread on commencement speakers that stayed on topic and conformed to 11W rules(even with Obama as the next speaker). Instead I offended you all so much that this thread was derailed faster then any Kate Upton photo I've ever posted and I was even called a troll a Mod! I apologize! This is a very personal subject to me and I actually thought I could get all of your guys opinion's and related personal stories. So I will just ask you guys what you think of Silverman's artwork instead:
President Obama will be the Class of 2013 Commencement Speaker.
The graduating class of 2013 is set to be the largest class in The Ohio State University's history.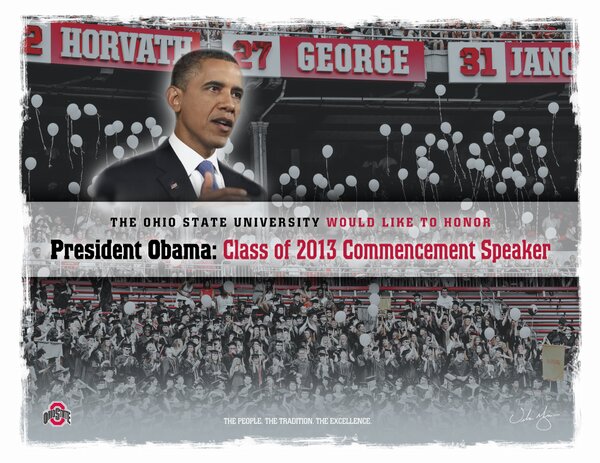 Click here for a full alphabetical list of past speakers.