*This is Andy Vance's series, just trying to fill in today*
Although there are still 28 days until the opening game against Buffalo, the 2013 season officially started for the Ohio State football team. Fall Camp opened this morning and the first steps of The Chase have been taken.
Warren Ball is the current Buckeye sporting the number 28. Will he continue the tradition of number 28 being a Wolverine slayer?
Throughout the years there have been at least 28 players to wear the number 28 during their playing days at Ohio State. Two of those players became captains.
In 1971, strong safety, Harry Howard became the first, and only, player to wear the number 28 as a captain. Howard was drafted by the Los Angeles Rams in the 9th round of the 1972 draft
William G. Hackett wore 28 as a freshman, but donned 96 when he played guard as a captain in 1945. Hackett earned All Big Ten and All American honors in 1944. Hackett was drafted by Green Bay in the 13th round of the 1945 draft
Maurice Hall earned Academic All Big Ten honors three times (2002-2004). In 2004 Hall set Ohio State's kick return record. After his playing days He could be seen on NBC 4 covering the Buckeyes. Today he is acting in various plays and tv roles.
Maurice Hall also made this game winning play against That Team in 2002: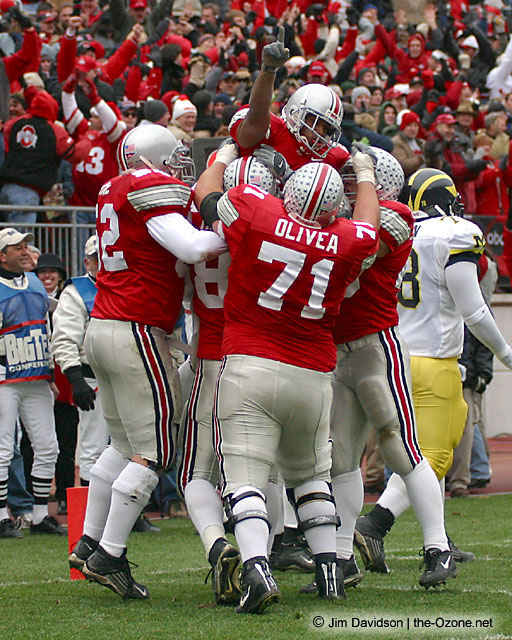 *Thanks to AWarren84 for the link to the photograph.
Video of Hall's run:
http://www.youtube.com/watch?v=l3fuLjd68So
Jonathan Wells donned 28 from 1998-2001.
"Wells played college football with the Ohio State Buckeyes. Despite starting only 15 of 45 career games, he carried 479 times for 2,381 yards and 27 TDs, ranking 13th on the school's all-time rushing yards list. He was drafted in the 2002 NFL Draft by the Houston Texans.
He is most remembered by Buckeye fans for his 129 yards rushing 3 touchdown performance against Michigan, to help the Buckeyes beat the 11th-ranked Wolverines 26–20 in Jim Tressel's first year as head coach. (2001 Season) His effort helped snap an Ohio State 6 game losing streak at Michigan Stadium, getting a win there for the first time since 1987. He was named the Ohio State Buckeye's 2001 Season MVP." Source
Beanie Wells 2006-2008
Christopher "Beanie" Wells came out of high school as a highly ranked running back. Beanie's career at Ohio State did not disappoint.
As a freshman Beanie rushed for 576 yards (5.5 ypc) and seven touchdowns. His most memorable carry of that season was his 52 yard touchdown on a late Saturday in November.
52 yard touchdown
http://www.youtube.com/watch?v=SBG_1Bd3e_I

In 2007 Beanie had the backfield all to himself and rushed for 1,609 yards (5.9 ypc) and 15 touchdowns. When playing TTUN Beanie saved his best for last. Wells gained 222 yards rushing and two touchdowns against the Wolverines. That total is more than any other Ohio State running back in The Game.
His 62 yard touchdown in 2007
http://www.youtube.com/watch?v=7ZmuBLYYjrc
2008 was Beanie's last season with Ohio State. Great expectations were placed on Wells going into the season, but a foot injury against Youngstown State placed him on the sidelines for three games. Beanie finished the season with 1,197 yards (5.8 ypc) and 8 touchdowns.
Again Beanie created nightmares for That Team. He rushed for 134 yards (including a 59 yard touchdown) on 15 carries as the Buckeyes won 42-7.
Beanie rushed for 412 yards (7.0 ypc) and four touchdowns in the three games he played against Michigan.
After the season Beanie was drafted with the 31st pick of the first round by the Arizona Cardinals. 2011 was his best season with the team when he rushed for 1,047 yards (4.3 ypc) and 10 touchdowns.
There you have it, number 28. The number I will always associate with great games against That Team.