One might be the loneliest number, but not for these former and current Buckeyes.
Throughout the years of Ohio State football, 23 players have worn the number 1.
Today's article will cover the careers of Tom Skladany, Mike Lanese, Daniel "Boom" Herron and Bradley Roby.
Players who wore No. 1 that you might have forgotten:
Gary Berry, Bobby Britton and Marcus Freeman
Current Buckeyes wearing No. 1:

Bradley Roby (CB) All-American
Dontre Wilson (RB/WR)


Could Dontre's nickname be the "Texas Tornado"?
CadizCard, a fellow coach and friend of mine, suggested it.
Honors and Awards won by the No. 1:
One Rhodes Scholar- Mike Lanese
Two All-Big Ten awards- Tom Skladany (1975 and 1976).
Two Academic All-American selections- Mike Lanese (1984 and 1985).
Three Captains- Tom Skladany (1976), Mike Lanese (1985) and Dan Herron (2011).
Four All-American honors- Tom Skladany (1974, 1975 and 1976) and Bradley Roby (2012)
Seven Academic All-Big Ten awards- Mike Lanese (1984 and 1985), Boom Herron (2008) and Marcus Freeman (2005, '06, '07, '08).
Today's Trivia Question:
What elementary school did Gary Berry attend?
Hints: The school is on Ohio State's campus, it is on fraternity/sorority row, it is an alternative school (good in Columbus) and starts with I and ends with an A.
Answer at the bottom of the article.
Tom Skladany (P/K) Captain and Three-Time All-American
Unfortunately I didn't get a chance to see Skladany play for the Buckeyes. He finished his Ohio State career the year I was born.
I think he might have been fairly good considering he was named an All-American three times and All-Big Ten twice.
Skladany was also the first specialist to be given a scholarship to Ohio State.
Fortunately the Buckeye Grove had this article on him:
"In this edition of Time and Change we have the chance to visit with the greatest combination punter/kicker in Ohio State history, Tom Skladany. Skladany was an All-American for the Buckeyes from 1974-1976 and played six years in the NFL for the Detroit Lions and Philadelphia Eagles.
During Skladany's career with the Buckeyes the team went a very impressive 40-2-5.
Skladany is also mentioned throughout the Ohio State record books in the top five of most kicking and punting categories but in my opinion the most impressive record that still stands is the longest field goal of 59 yards versus the University of Illinois in 1975."
Skladany then talked about how an NCAA rule change has changed field goal kicking:
"Certainly NCAA rules have affected special teams play over the years since Skladany played. One of those special teams' changes involves to placement of the ball after a missed field goal. Today, when a field goal is missed, the opposing team takes possession at the line of scrimmage where the kick was attempted. Back in Skladany's day, if the field goal was missed, the opposing team took possession of the ball on their own 20-yard-line.
Skladany believes that is why we aren't seeing longer field goals today.
"I had a 59-yarder that still stands today as the record for the longest field goal," Skladany said. Today they are scared to try them that long, unless there are only a few seconds on the clock. I guarantee you, we've had kids who could kick them from 63 or 64 yards, but they never got the chance".
Skladany then talked about his game-changing play in The Game in 1974:
""It was late in the fourth quarter and the score was close like most of the Ohio State Michigan games were back then. We were leading 14-12 and we had fourth down on our own seven-yard line. 90,000 people in the stadium were at fever pitch and I had to punt from eight yards deep in the end zone. If I have a bad punt, they would get a chance at a field goal to win the game. "I go into the game and I couldn't feel or hear a thing. I caught the snap, I made the punt and thought it might have been blocked because I didn't even feel it come off my foot. I didn't come to until I felt my team mates slapping me on my helmet and shoulder pads on the sideline.
"I had hit a 63 yarder and we went on to win the game. One of the writers wrote after the game that, 'Ohio State won 14-12, by two feet? Tom Klaban's (four field goals) and Tom Skladany's'." source/full article
From this year's Media Guide:
"OSU's most recent three-time All-American, Tom Skladany was a punter and kicker between
1973-76 and the first kicking specialist ever to receive a football scholarship at Ohio State. He
proved his worth immediately, landing the job as the Buckeyes' No. 1 punter as a freshman.
He also kicked off as a freshman and sophomore. As a junior and senior, he added PATs and
field goals to his list of responsibilities. Skladany averaged 45.6 yards per punt as a sophomore
and was named to the Football Writers All-America Team. He was a consensus All-America
choice the next two years, again leading the country in 1975 with a 46.7 average. As a senior,
he averaged 42.3 yards per kick and finished his career with a 42.7 average on 160 punts.
That's good for second on the all-time list, as is his yardage figure of 6,838. Skladany was co-captain
of the 1976 squad, the first specialist ever chosen as a Buckeye captain. The six-year
NFL veteran was a 1991 inductee to the Ohio State Athletics Hall of Fame."
Mike Lanese (WR) Captain
1982-1985
Mike Lanese's name only appears twice in the Ohio State record book for receiving. He ranks 13th all-time averaging 16.1 yards per reception and 23rd with 1,175 yards receiving.
So, why is he in this article besides the fact he was a captain of the 1985 team that defeated Pittsburgh 10-7?
He made one of the best catches in The Game. Not as amazing and clutch as Anthony Gonzalez', but close.
Here are Lanese's thoughts about The Game and his catch from The Ohio State Alumni Association Magazine:
"WHAT MAKES THE OHIO STATE-MICHIGAN RIVALRY SO SPECIAL?
I could probably cite several reasons, but the most important one revolves around a simple but accurate observation: familiarity breeds contempt. As a result of Michigan importing the majority of its coaching talent and culture from Ohio State, the Wolverine program looks and feels a lot like our program. Michigan also abducts most of its players from Ohio, so it's likely that many of the kids played with or against each other in high school and know each other pretty well. As with most great rivalries in any sport at any level, the more similar the teams and the more familiar the players, the more intense the emotions. Even in an off year, there's more emotion and pride in an Ohio State-Michigan game than in any other sporting event in the country. It is truly the greatest rivalry in sports. I guess I'd have to grudgingly admit that the guys with the odd-looking helmets have had something to do with that."
YOUR 17-YARD CATCH ON THIRD AND 14 AGAINST MICHIGAN IN 1984 IS STILL A PLAY MANY BUCKEYE FANS REMEMBER. WHAT DO YOU RECALL ABOUT THAT PLAY, AND DO YOU STILL HEAR ABOUT IT FROM FANS?
It's always a surprise to me, but I still get comments about it. At about this time every year-especially now that I live in the Columbus area-a few people stop me on the street or send an e-mail and congratulate me for the catch. I've always found it interesting that no one ever seems to remember that, before the catch, there was a fumble. With a few minutes left in the first half, I tried to return a punt and ended up fumbling the ball inside of our own 20 yard line. But as a result of the 17-yard catch in the second half, I was selected as the MVP of the game. Without the catch, I could have easily become the LVP. It's funny how a few rotations of the ball can end up determining how you're perceived by the public for years to come.
I wrote about the game and catch in some detail a few years ago for a chapter in a book called Game of My Life - Ohio State . I posted the chapter in a blog I write for Buckeye Legends." source/full article
Daniel "Boom" Herron (RB) Captain
2007-2010
Dan Herron was a fast and deceptively strong running back. He started his career behind Beanie Wells and Brandon Saine, but was the featured back his junior and senior season.
Herron, however, may be remembered as much for being apart of "Tat-Gate" as he will be remembered for his on-field performances.
"Herron spent five years at The Ohio State University. He was a four-time letterman.
In 2008 he struggled to get playing time over future NFL back Beanie Wells and again in 2009 splitting time with Brandon Saine in an offense heavily centered around the running talents of quarterback Terrelle Pryor.
In 2010, Herron delivered as the starter, totaling 1155 yards and 16 touchdowns. Later that year, just a week before the team's appearance in their bowl game, it became eminent that Herron, amongst other top Buckeye players were facing substantial NCAA sanctions.
On December 23, 2010 Herron and four other Ohio State players were suspended for the first five games of the 2011 season, but were still allowed to play in that year's Sugar Bowl, which they won 31-26 vs. Arkansas. Herron was said to have sold a jersey, pants, and shoes that he had previously worn in a game.
On October 3, 2011, in an unrelated story, Herron was suspended for one more week due to being overpaid during a summer job in the Cleveland area. Despite the six week suspension Dan Herron was elected a team captain by his teammates and went on to rush for 675 yards and three touchdowns the remainder of the season." source
Bradley Roby (CB) All-American
2010-Present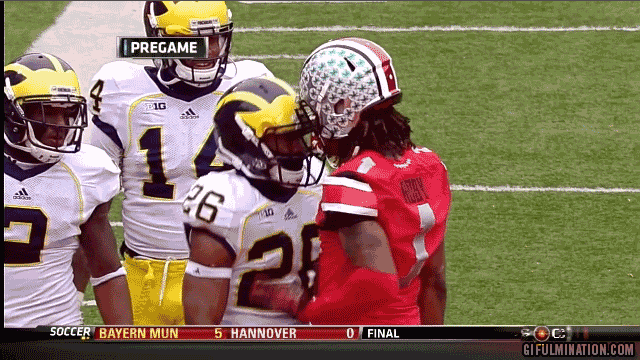 This should be Bradley Roby's last season with the Buckeyes.
Hopefully he will end his career celebrating with his teammates on the field after winning the National Championship.
The following is from this year's Media Guide:
"Ohio State Overview: 2012 first-team All-American (ESPN.com)
Bradley Roby is a talented, athletic and fast (consistent 4.3 40s)
cornerback who has started all 25 games the past two seasons...


expect this fourth-year junior, who has five career interceptions
in addition to 23 pass break-ups, to be one of the best, if not the
best, cornerback in the nation in 2013 …
Roby was a semifinalist for the Thorpe Award in 2012 when he led
the nation in passes defended with 19 (17 pass break-ups, which tied
the OSU single season record, and two interceptions) and 1.73 per game…


was named a second-team All-American by the Associated Press and
Walter Camp … a first-team all-Big Ten Conference performer by
both the coach and media polls...




Roby was the only defensive player in the nation last year to score
touchdowns three different ways (recovered a fumbled punt in the end zone
vs. Miami; he recovered a blocked punt in the end zone vs. Indiana;
and he intercepted a pass vs. Nebraska and returned it for a touchdown) …

he blocked a punt in the one-point win at Michigan State and he was third on
the team in tackles with 63."
Today's Trivia Question:
What elementary school did Gary Berry attend?
Hints: The school is on Ohio State's campus, it is on fraternity/sorority row, it is an alternative school (good in Columbus) and starts with I and ends with an A.
Answer: Indianola Alternative.
Gary Berry and Nick Goings were in the same class two grade levels below me.
For some reason their class always seemed to win the pick-up football games at recess.
Made me upset to lose back then, but now I'm okay with it.
Now let's watch the Buckeyes begin "The Chase" as Urban Meyer directs the way: