We Buckeye fans are a conflicted lot. We see our glasses as half-full or half-empty, rarely exhibiting a nuanced, even sensible perspective on our football team's chances of winning a game. Sometimes, we even see things both half-full and half-empty at the same time. That's why I've decided to predict every game this season with this mindset so as to not get too high or too low heading into the weekend.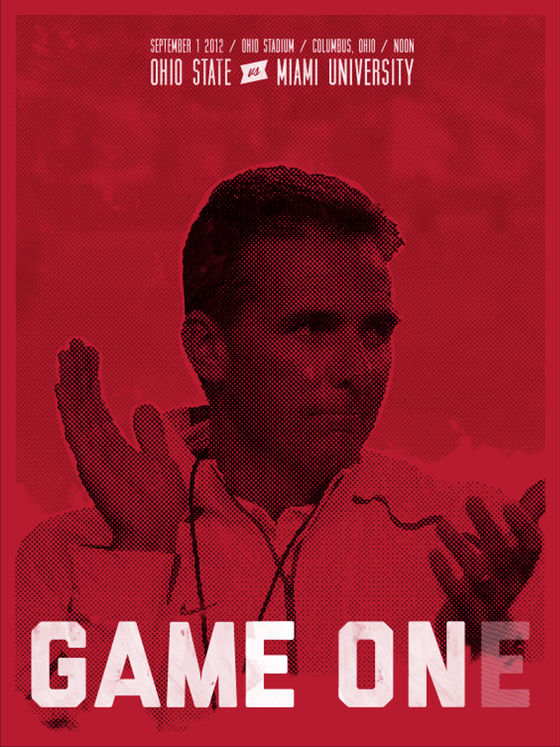 This week's opponent: University of Miami University Redskins RedHawks (of Ohio)
Half-Full Perspective: Buckeyes 73 RedHawks 0
Urban Renewal™ commences Saturday, y'all!
Johnny Simon and the defense crush a few popped collars en route to a shutout. Bros Fickell and Vrabel get so amped they rip off their coaches shirts to reveal matching Affliction t's and fresh tribal tats. The young pups all find their way onto to the field and each leave with at least a sack, forced fumble, or interception to their freshly-scribed resumes.
Despite passing for nearly 300 yards, Team Soc spends the entire game trying to make up for the record-tying 12 sacks the Bullets accumulate over the course of the afternoon. The RedHawks inverse last year's rushing average with an unheard of -74 yards rushing. Both Roby and Howard score pick-sixes in the rout.
On offense, all cylinders are clicking as Braxton rolls up over 200 yards passing on 17/23 passing, 100 yards rushing on only seven carries, and five touchdowns overall (3 through the air and 2 the hard way). It could have been worse, but Urban sits the sophomore at halftime, making room for Kenny G to do more of the same in the second half. Carlos "El Guapo" Hyde turns in a serviceable 17 for 150 afternoon with two scores of his own, but he's upstaged as freshman Bri'onte Dunn eclipses those numbers on four long touchdown runs covering 80, 64, 32, and 53 respectively.
The receivers even decide to show up. Corey Brown leads the way with 7/140 and two TD's - one on a punt return and the other through the air. Stoney, Thomas, Smith all gather in four or more catches on the day and a touchdown each.
Oh, and there wasn't one false start from the right tackle position. NOT ONE.
Half-Empty Perspective: Buckeyes 17 RedHawks 14
Urban Meyer is useless as the emotions of the day overwhelm him, making it impossible for him to coach or make any play calls. Every time the band bursts into "Hang On Sloopy", he has to run back into the locker room to compose himself. He eventually decides to call it a day midway through the second quarter, leaving the rest of the game to his assistants...
After giving up a quick touchdown on a broken play by Braxton Miller, the RedHawks regain their poise, turning the Buckeye offense away for a field goal in which Ohio State botches good field position with sloppy play, including a dropped pass which Corey Brown would have surely walked into the end zone. For the game, Miller goes an abysmal 7/25 for 104 yards and 13 yards on the ground thanks in large part to five sacks.
The defense is clueless as to how to stop a team that passes every down. Preps are flying all around to the tune of 400 yards passing. Somehow, the defense holds on for a 10-7 halftime lead.
Devastated after Nathan Williams is carted off the field with a reaggravated knee injury, the defense gives up a long touchdown on a wide receiver screen late in the third quarter. Ryan Shazier completely over-pursues as he has done all day and Miami looks to pull off their biggest upset since Ben Roethlisberger almost beat Iowa in 2003.
Luckily, Miami quarterback Zac Dysert throws it one-too-many times at WR Nick Harwell (10 catches for 240 yards) and Bradley Roby picks off the pass for the game-winning touchdown, causing him to start a controversy as to why he finished the day with more touchdowns than the entire receiving corps and the coaches still won't let him play offense.
Game of the Week that's not a Buckeyes game: Michigan vs. Alabama
Half-Full Perspective: Alabama 42 Michigan 37
Alabama shows that its defense is less game-ready than they suspected as they let Denard and the Wolverines jump out to a 24-10 halftime lead. Robinson gets away with a jump-ball touchdown to Roundtree just before the half, giving Wolverine nation hope that...er...Hoke is their savior.
Then, it all comes crashing to earth.
Alabama begins to impose its will on the thin Michigan front seven, running on nearly every down, slowly chipping away at Michigan's lead. Denard throws four second-half interceptions - all of the jump-ball variety - until the final one is returned for the deciding touchdown.
The game effectively ends Robinson's Heisman campaign while simultaneously causing great doubt in Alabama's ability to defend their national championship. Still, the game is an exciting, hot mess, sure to be replayed on ESPN for years to come.
Half-Empty Perspective: Michigan 17 Alabama 6
Alabama's defense is playing lights out, but they grow weary chasing Denard all game long as he scores both of Michigan's touchdowns with electrifying, Heisman-type ease. Robinson's game-winning run where he reverses the field three times and leaps over two 'Bama defenders at once is only overshadowed by a Michigan defense that stifles the Crimson Tide, making the game not as close as the score would indicate.
We are then made to listen to Michigan fans incessantly brag about this win for the rest of the season, regardless of the remaining outcomes.