Fellow members of Buckeye Nation,
I am honored to have a cyber presence in front of you today. As you know, Thee Ohio State University Buckeyes do not play an opponent this Saturday. But it is with great joy in my heart that I can say the game against Iowa is only 8 days away. Over the years, Iowa has suffered several defeats at the hands of the Buckeyes that would make the things that Craig James does with a hooker when he is really, really angry seem like child's play. On a side note, nobody stops at 5. James' right to F a trick up is akin to manifest destiny; it is his born right. Once you kill a hooker, you will not feel joy again unless you are killing a different hooker. Trust me, I'm in college and therefore super, super, super smart and I have the world figured out and being liberal is so boner-ific.
However, I digress. My purpose in addressing Buckeye Nation today is a simple one. I would like to devote this magnificent blog space and its comments to various commemorations of Ohio State's victories over Iowa. This can include clips from Youtube, pictures of Drew Tate crying, hot girls wearing Iowa gear looking sad, anything from the 2006 and 2005 games, any image or video of Drew Tate fuc*ing losing it, and other related mementos.
I hope that as you read this, you know that I am speaking to you not as your Supreme Leader and beloved dictator, but a fellow Buckeye. I will get the ball rolling with a few of my favorite moments. Now applaud, because the congressman who shows the least gratitude at my presence will be publicly shamed (maybe executed, but that's not really chic this fall and the Shah would never let me hear the end of it...) and most likely sent to a labor camp where they will live out their days painting winged maize and blue helmets.
Fellow Buckeyes, there is nothing more pleasing than watching Gonzo's catch and run from 2006, or any Drew Tate toddler impression. I hope you agree (because you won't like the alternative). Good day!
*BTW, is there anything more freaking annoying than somebody taking the announcers out of their highlight videos and replacing them with their own, typically awful, soundtrack? Musberger and Herbstreit are cool enough, we don't need Linkin f'ing park.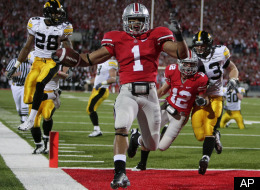 When was the last time Iowa played in the Rose Bowl again?????