A rather heated discussion here got me taking a hard look at Ohio State head basketball coach Thad Matta from a statistical standpoint. While I am one of an unpopular minority who thinks the obviously outstanding coach is still a work in progress - or at least, that his work at Ohio State is not yet complete - my comparison of Matta to four legendary coaches and four coaches of current Top 10 teams proved that he is, on paper, the real deal.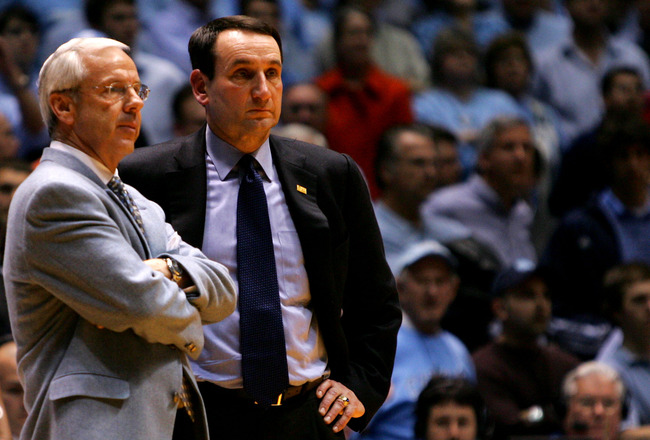 It seems to me that, if one wishes to be critical of Matta's efforts or results in his first eight seasons in Columbus (for purposes of analysis I'm doing all my stats on the 2004-2012 seasons, setting aside the current work-in-progress), there are only a few areas worth examining. I think recruiting is an obvious area of strength for Matta, as is conditioning and strength training. I've also been impressed with his development of his assistant coaches, as a number of them have gone on to be successful in their own right away from the Matta bench.
So what areas are worth looking at with a critical eye? There seem to be three fairly oft-repeated lines of critique from Buckeye Nation:
Game management/play calling (or lack thereof)
Player management/use of "the bench" (or lack thereof)
Failing to win "the big games"
There may be other issues folks have with Matta, as well, but these appear to be among those I hear most often. Examining the first of these three is beyond my interests and abilities as an analyst, so I'm going to leave that to folks who are better at "Xs and Os" to decipher, though I'll admit that at times during the second half of the Duke game earlier this season I was frustrated that our plan of attack appeared to be "run down the floor and take the first shot you can force" (yes, that's over-simplistic hyperbole, just let it go).
The second issue is another that I think is highly subjective. While certainly there are stats that one can use to gauge the efficacy of the sixth, seventh or eighth men off the bench, these are also tricky, because in those seasons where Matta was somewhat notorious for only playing five or six men, the minutes simply aren't there to tell if the bench-warmers (not including the walk-ons and Trillionaires, obviously) would have made a legitimate contribution. This is the subjectivity I was referring to, of course.
For someone who likes to put the data on the table and let the chips fall where they may, the third issue is one I can actually get my hands around. I went back and pulled the stats from the past eight seasons for the Buckeyes, as well as for four other coaches who have been outstanding this decade. Since the 2004-2005 season, six schools have won the NCAA Tournament:
North Carolina (2005 & 2009)
Florida (2006 & 2007)
Kansas (2008)
Duke (2010)
Connecticut (2011)
Kentucky (2012)
I selected those schools, excluding UK since John "I don't need no stinking rules" Calipari has not been at the tiller there since 2004, and compared their performance over the past eight seasons to that of the Buckeyes to see how big-time teams fared against top-shelf opponents, and indeed if Matta won or lost more or less than those marquee play callers. I pulled each team's record, including conference winning percentage, as well as each team's record against Top 25 teams, and teams with a Ratings Percentage Index (RPI) ranked in the Top 50.
Here's what I found:
| Coach, 2004-2012 | Record | Conference | vs Top 25 | vs RPI Top 50 | NCAA Tourney |
| --- | --- | --- | --- | --- | --- |
| Thad Matta, Ohio State | 221-65 (.773) | 98-40 (.710) | 37-44 (.457) | 72-54 (.571) | 14-6 (.700) |
| Mike Krzyzewski, Duke | 233-51 (.820) | 96-32 (.750) | 45-26 (.634) | 73-39 (.652) | 15-7 (.682) |
| Roy Williams, UNC | 238-57 (.807) | 97-31 (.758) | 45-29 (.608) | 75-41 (.647) | 25-6 (.806) |
| Bill Self, Kansas | 245-44 (.848) | 112-19 (.855) | 38-20 (.655) | 75-30 (.714) | 20-7 (.741) |
| Jim Calhoun, UCONN | 195-79 (.712) | 85-53 (.616) | 41-37 (.526) | 68-57 (.544) | 14-5 (.737) |
| Billy Donovan, Florida | 217-74 (.746) | 84-44 (.656) | 31-26 (.544) | 50-43 (.538) | 19-4 (.826) |
The first thing that jumps out at me is that Kansas coach Bill Self is in a league of his own, winning more conference games by far than the other comparison coaches, and in a conference with an RPI ranked in the Top 3 in six of the eight years studied. Further, he had the highest winning percentage versus ranked and top RPI opponents. While the Tobacco Road coaches played more ranked opponents than the Jayhawks over the eight-year period, Self's teams dominated their conference in a way neither UNC or Duke could claim (of course, they do have the distinction of beating up one another year in and year out).
As you would expect from coaches who have won multiple national titles, Roy Williams and Mike Krzyzewski put up jaw-dropping winning percentages, and they each win 6 of 10 games against ranked opponents.
While it will win me no friends among the "speak no ill of Matta" crowd, those who want to criticize him for failing to "win big games" have a leg to stand on, at least statistically speaking. Yes, his teams have won some big games, but versus ranked opponents he scored the lowest winning percentage of any of the coaches studied. His overall record, of course, is second only to the two legends coaching in the state of North Carolina and the aforementioned Self, but his record against teams with a strong RPI was significantly lower than that of those three rock stars.
I found the tournament records interesting. Certainly winning 7 of every 10 games you play should put you in contention to win titles, and Matta has been close on more than one occasion. Coach K's record over the past eight tournaments surprised me a little, but no one will be shocked if he adds six more victories this season. His lifetime tournament record, by the way, is 79-23 (.775), and if he does win the tournament this year, his winning percentage from 2004-2013 would be right at his lifetime average.
Speaking of lifetime tournament records, here's how these six stack up:
Matta: 16-9 (.640)
Krzyzewski: 79-23 (.775)
Williams: 58-19 (.753)
Self: 28-12 (.700)
Calhoun: 51-19 (.729)
Donovan: 25-9 (.735)
Again, I think these figures lend some credence to that niggling suspicion that Matta hasn't quite figured out how to close the deal. Win lots of games? Sure thing. Win as many of the big games as Hall of Famers like Coach K, Roy Williams and Jim Calhoun? Not even close.
Again, this is not to say that Matta is not a good coach, that he wasn't a good hire, that Ohio State isn't infinitely better for him being here than it was prior to his arrival, etc., etc., etc. What the numbers tell us though is that from a cold numbers standpoint, those who question "what next" with regards to our basketball program have a legitimate issue, and should not be dismissed out of hand as troll-hugging bastards who just want to see the world burn.
---
The irony of the recent discussions and heated exchanges about Matta's success is that while I was researching and writing this, Ohio State lost an embarrassing contest to the #11 Fighting Illini, and are now 0-3 against ranked opponents and 0-3 against teams in the Top 50 RPI. This season could mark the first time since the 2004-2005 season we have a legitimate concern that Matta will not win 20 games. Looking at the remaining schedule, if he does not beat any of the ranked opponents remaining in the conference (an admittedly worst-case scenario) and wins all of the contests against the unranked conference opponents (none of whom are in the Top 50 RPI), he will finish the regular season 19-11.
Based on his string of 20-win seasons, I don't think this worst-case scenario is likely to happen. Ohio State will top one of these ranked Big Ten opponents, probably during a home contest. How he performs in the post season, of course, would also affect that streak of 20-win efforts.
Will Matta win an NCAA Title during his tenure? I sure hope so. As well as he recruits, I believe it is possible. Is it time to put up a statue outside the Schott and declare him the greatest coach in the history of the University? Not yet... Someday, maybe, but not yet.