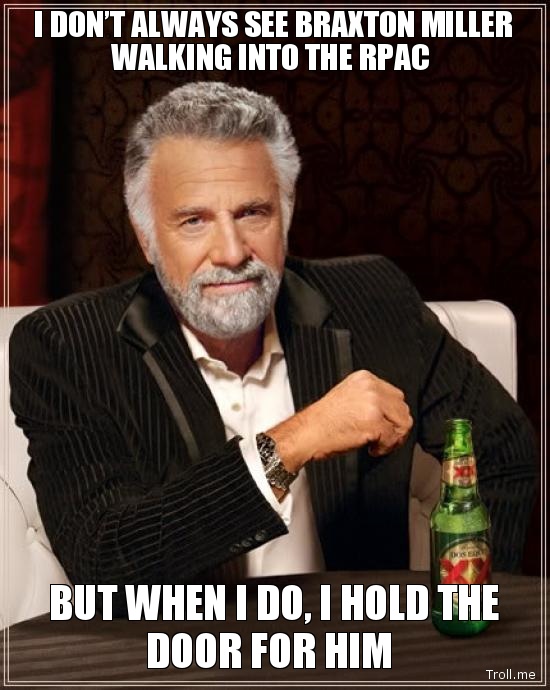 Braxton Miller is an exciting, electrifying quarterback. While Kenny Guiton was obviously the toast of olde Columbus town Saturday night, it is pretty clear that Miller is still the big man on campus.
That said, I'm trying to decide if the young stud is a victim of his own hype, or if he doesn't get enough respect... Let me explain.
On the one hand, commenters at Doug Lesmerises' QB comparison piece last week point out that Miller, unlike his play making predecessor, seems to have inspired those around him, perhaps accounting for that certain something - the intangibles, if you will - that this team seems to have in spades. In the same thread, however, fans pick apart the perceived weakness of Ohio State's strength of schedule, posing the argument that since the Buckeyes have beat up on a bunch of cupcakes and struggled against two teams from Indiana, Miller's stats don't mean a whole lot.
Then again, I say, just look at the stats... especially when compared to those of the current Heisman darling Colin Klein:
Klein (7 games): 551 rushing yards, 1,397 passing yards, 24 total touchdowns, 278.3 total yards per game
Miller (8 games): 959 rushing yards, 1,354 passing yards, 21 total touchdowns, 292.9 total yards per game
As ESPN's Brian Bennet notes, however, the big difference is that Klein's K-State has beaten more "quality" opponents. Nebraska and Michigan State don't cut the mustard as quality wins this year, with the heapings of B1G hate going around. Even so, sift the numbers a bit.
When it comes to rushing, Miller has the clear edge at 199.9 119.9 (#chubbyfingers) yards per game - Klein's feet have accounted for only 78.7. On passing, on the other hand, Klein gets the brass ring with 199.6 ypg to Miller's 169.25. Touchdowns are more of a draw, with 3.4/game for the K-State signal caller and 2.6/game for the young Buck. In terms of total offense, Miller has a 14.6 yard lead.
Clearly there is a lot of season to play yet, and Heisman predictions this far out are just another way to kill the clock on a Tuesday morning. From what I've seen, though, Braxton is making a solid case for a ticket to New York in a season where the only clear front-runner imploded in back-to-back Big 12 showdowns.
The cynic in me, of course, presumes that the deck is stacked against a sophomore who plays for a team relegated to post-season irrelevance this season. I guess we'll know a lot more after the Ineligi-bowl this weekend... and after the Red Raiders storm Manhattan (Kansas).