This year's Heisman race has me somewhat fascinated because at least two prohibitive favorites (and perhaps three depending on how Kansas State's Colin Klein shakes out in his final outing of the regular season, a home field effort against an ailing Texas squad that could finish their Big 12 schedule only one game better than .500) have imploded after their media anointment.
USC's Matt Barkley led for two weeks heading into the season. Since, "a senior year to forget."
The seemingly electrifying (and at the time unerringly accurate) Geno Smith of West Virginia was bulletproof for five weeks until the world realized that while the Big 12 prefers not to play defense, everyone else in the league plays it a little better than the Mountaineers.
Silo Tech's Klein had his ticket to the Big Apple punched until that little melt-down versus the Baylor Bears, having led the punditry for four weeks.
...leaving redshirt freshman Johnny Football, the biggest question mark in college football, as the latest media favorite to dominate water cooler talk about who will take home the fabled trophy in a few short weeks. Let's start with what we know about the new clubhouse leader:
He's put up some pretty stiff numbers, including more than 4,100 yards of total offense and 38 touchdowns.
Texas A&M has gone into full-on Oscar campaign mode to make this kid a household name.
A 19-year-old Manziel picked up a trio of misdemeanors for boozin' and bruisin' at an off-campus beer joint, and has been called a "ticking time bomb" waiting to go off.
While the pre-Thanksgiving HeismanPundit polling has Manziel leading a pack that includes Notre Dame defender Manti Te'o, Klein, our own Braxton Miller and Barkley's favorite target Marqise Lee, ESPN columnist Gene Wojciechowski says the three guys who will be sitting in the front row of the Best Buy Theater are Miller, Manziel and Lee. Stating up front that Miller is the only one of the likely finalists I've actually seen play, I'm going to take a crack at the top five and analyze why or why not they might make credible claim to being the best player in college football.
Let's start with Johnny Football: He's clearly got the numbers in his favor, and that coupled with a media machine behind him (remember, this kid is essentially the infamous SEC's only serious candidate this year) could be enough to break the historical notion that first-year players do not win the Heisman.
For A&M, the rush is on to make as much hay out of this kid as possible now, while the media lockdown is apparently working... Securing a trademark on "Johnny Football," ostensibly for the use of the Manziel family once NCAA regulations no longer prohibit the young gun from actually making a dollar off his athletic prowess, the school is doing its part to get this kid under the bright lights now and make the absolute most of the Aggie's debutante tip at the SEC ball.
Here's the problem with the kid's meteoric rise to fame, and with his actually taking home the big bronze: his candidacy breaks way too many of "The 10 Heismandments."
The second commandment stipulates the winner must be an upperclassman, or at least a sophomore from a "traditional powerhouse;" he isn't.
The fourth states that he must have some prior name recognition; he doesn't.
The ninth says there will never be another Archie Griffin; picking a freshman essentially dares voters to shake the tree they refused to shake with Tim Tebow.
The tenth says the player must be likable; we know absolutely nothing about this kid other than the fact that he has a rap sheet, he's not allowed to talk with the media, and his University whipped up a too-cute-by-half website to spur his campaign like a rented mule.
On the flip side, Manziel aces the other six commandments with ease. His numbers really are that good, it appears, although his passer ratings against Florida, Ole Miss and LSU (125.1, 124.4 and 82.5, respectively) suggest that a.) he is human after all, and b.) his overall efficiency rating has benefited from >200 games versus lesser opponents including Arkansas and Sam Houston State. Let's face it - we probably wouldn't be discussing this kid at all had the Aggies not stunned media darling Alabama in an upset of the pre-ordained returning BCS Champions.
Next up, Collin Klein: I actually think the K-State slinger may have the best overall case to make for the Heisman honors, though the fact that he seriously stubbed his toe in each of his last two outings doesn't help matters. Had the Baylor Bears - yes, Baylor; yes, that Baylor - not disassembled the Wildcats so completely, we wouldn't be having this conversation, either. But when a team steam rolling its way toward a BCS Title Game so utterly falls to pieces against a 2-5 Big 12 squad, the signal caller on which the offense rests is much tougher to take seriously as the top award getter.
Klein works for a lot of reasons. Looking at the Heismandments, he more or less passes the smell test. His biggest challenges with the established wisdom are the fact that his prior name recommendation was comparatively nil (Rule #4), he does not come from a traditional powerhouse (see Rules 5, 7 and 8), and his offensive stat line is nowhere near as impressive as Manziel's (Rule #8).
Marqise Lee, the lone receiver in the hunt: He plays for USC, the team for which the media may have the largest collective hard-on in the country, which is a big plus. His stat line is superb, which is obviously important. His team is completely irrelevant to both the National Title and Pac-12 Championship races, so this makes him a comparative non-factor. Yes, RGIII earned the coveted trophy last year on a Baylor team (yes, that Baylor) that wasn't really playing for anything other than Griffin's Heisman hopes, but his stat line and media intangibles (have you seen that kid's smile? If not, see graphic at left.) made him an obvious choice for voters.
In short, Lee doesn't have much of a shot in my book.
So what about Manti Te'o? As a reporter, I can confirm one thing about members of the media: we love a story. Te'o has stories in spades, not the least of which is what the Nov. 26 Sports Illustrated cover story called "The Notre Dame Miracle." Te'o is, as SI's Tim Layden put it, "the leader and the soul of the Irish in an autumn for the ages."
Yes, the media love the fact that one of the most beloved (and reviled, in some circles) football program in history is relevant again for the first time in a generation. Yes, the media adore the kid who shies away from the spotlight, doesn't care for the "noise" of the Heisman talk, and has faced a seemingly continuous string of heart-rending tragedies:
The bad news came in bunches. The day after Te'o turned 21 last January, his grandfather passed away. A few months later, a cousin died at birth.

Then, in September, his grandmother and his girlfriend — who was battling leukemia — died one after the other.

Hailing from a large, close-knit family, the 6-foot-2, 255-pound athlete found himself dealing with something he could not outrace or bull his way through.
While Te'o certainly makes for great copy, he isn't the best player in college football. Depending on what stats you're reading, he isn't even the best defensive player in the country. As fans of the Johnny Football campaign are all-too eager to share, the Te'o stat line is a comparative flatline (note, the following has not been verified by yours truly, but is presented for your information only):
Total tackles: 39th in the nation
Solo Tackles: 81st in the nation
Sacks: Not in the top 100 (2 ahead of him on his own team)
Tackles for loss: not in top 100 (2 ahead of him on his own team)
INTs: Tied for 2nd in the nation with 6 (1st place guy has 8). 5/6 of Teo's INTs came against unranked teams.
Passes Defended: 45th in the nation
Fumbles forced: not in top 100
But I did look up Te'o's numbers and compared them with Ohio State's own Ryan Damn Shazier, and found them pretty illustrative:
Shazier also has 8 deflected passes to his credit, twice as many as has the Notre Dame defender. Our own John Simon, by the way, is tied for 18th-most sacks in the nation with 9, while Te'o is a non-factor; Zach Boren, the converted fullback, is averaging 8.2 tackles per game in the five he's played at linebacker, nearly matching Te'o's 8.7 average over 11 games. In other words, he's recorded 41 tackles in only five games - imagine if he'd started the season on that side of the ball...
While Simon and Boren are nowhere near the discussion on who hobnobs with the Downtown Athletic Club, one could ask why Shazier isn't. (The sad reality? Because Ohio State already has a more plausible trophy-contender.)
Final analysis? Defensive players don't win the Heisman, and if they do, they need eye-popping performances to do so. Te'o has an amazing story, but his production doesn't merit his inclusion on the finalist invitation roster. He is, as it were, all sizzle and not nearly enough steak.
Hometown hero, Braxton Miller: I saved the pride of Columbus for last for the obvious reason that we all know his story, and know it pretty well inside and out. No player in this discussion has meant more to his team's chances of success than Braxton Miller. His growth and development in almost every phase of his game has been amazing to observe as a fan, without question.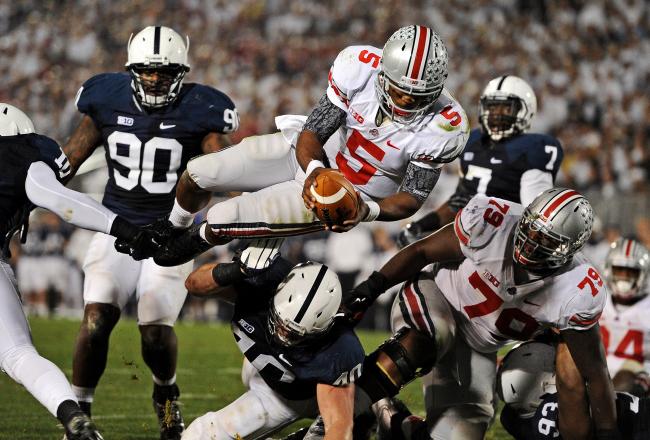 With the right coaching under first-year playcaller-in-chief Urban Meyer, Miller has blossomed into a far-better passer and all-around team leader, while continuing to post those "X-Brax 360" rushing plays. Miller's stat line is good, though not so good as to make him the obvious favorite for the heavy hardware.
In essence, I think the Heisman race comes down to the same three guys as does the Davey O'Brien Award: Miller, Manziel and Klein. The nation's top three quarterbacks are the obvious "Big Three" for an invite to New York and a shot to hoist the iconic trophy. I'll try to make a case for why Miller deserves the nod in the end, and why I also think those chances are somewhat limited.
Miller's stumbles this season have been well documented. When he struggles, Ohio State struggles. His passing statistics are nowhere near as strong as Johnny Football's, but his rushing stats are far more impressive in the context of what his running game means to his team - he's not just a "keeper for a score" type of player. Manziel and Klein each have more rushing touchdowns than Miller, but his rushing yardage is a full field-length larger than Manziel's and more than 400 yards more than Klein's.
Why aren't his rushing touchdowns more numerous? Carlos Hyde. Miller is the #16 rusher in the nation, and the most prolific running QB in the country, save NIU's Jordan Lynch. When it comes to punching the ball in at the goal line, though, Meyer and offensive coordinator Tom Herman have more often than not opted to put the ball in the hands of the big back, as well they should.
Hyde, in fact, is now tied for 23rd on the list of point leaders in the FBS - given some different play calling last week at Wisconsin, and perhaps a recognition of his abilities earlier in the season, this conversation might include Hyde as something other than a footnote to Braxton Miller's story. I'll go so far as to say this - if Miller wins the Heisman this year, Hyde should be an early-season part of the awards discussion next fall. Hyde is, after all, only one touchdown (this season) behind the Badger's Montee/Monty/Montay Ball, unquestionably one of the most brilliant rushers in B1G history.
But Hyde is an important part of the Miller campaign for two reasons - one, he's served to blunt Miller's rushing stats somewhat compared to the other two rushing quarterbacks in the race. Think back to the early weeks of the season, when Miller was the sole component of the Buckeye's then-one-dimensional offense. My, how times have changed. Miller was a staple of the running game in those early outings - hell, he was the running game in the non-conference schedule.
With Hyde's development, the pair have become arguably the most potent one-two running tandem in college football, and that says something about Miller as a candidate for the overall best player in the game - many of Hyde's scoring touches have occurred because Braxton made the call to give him the ball. In fact, in many of the big plays the big back has made, it's been because his quarterback made the call - correctly - to give him the ball instead of tucking it and running. Conversely, many of Miller's most breathtaking plays (remember Penn State, anyone?) came because he made the call - correctly - to yank the ball out of Hyde's capable hands and do something superhuman himself.
Run down all 10 Heismandments, and Miller could put a checkmark in the box after each one.
So, who's going to win, exactly? Good question. Here's what has to happen for Miller to win (Remember, I'm already discounting Lee and Te'o as unrealistic candidates at this point. I suppose depending on the outcome of their head-to-head matchup this weekend, anything can happen, but I'm not seeing damn near a century of precedent overturned based on the body of work established in the first 11 weeks of the season.):
For Miller to win, he has to have the game of his season tomorrow in Ohio Stadium. There is every reason in the world to believe this can and will happen - Miller will be leading the Buckeyes into their biggest game of the year because it is The Game, because it's a date with history/destiny, and because there is no tomorrow after That Team Up North for the Home Team. Miller will also benefit, obviously, from sub-par performances from Manziel and/or Klein, though this seems less likely given that the Aggies play a 2-5 Big 12 team in Mizzou, and given that Klein faces an average-at-best Longhorns squad that has lost to every ranked opponent it has played this year, save Texas Tech.
If Miller turns in an outstanding performance in front of a ranked Michigan squad, it will give him that "signature win" he needs - for some reason a butt-whipping versus Nebraska doesn't cut the mustard given the less-than-jaw-dropping showings at home versus Purdue and at Wisconsin. He will still have a tough row to hoe, on paper at least, matching up against the SEC's Johnny Football... Manziel's passing statistics are really that good.
When Braxton punches Brady Hoke in the proverbial gut at High Noon tomorrow, it should be enough to let voters reflect on the fact that Manziel has plenty of time to wow us again next year, and the fact that Miller will be the architect of perhaps the only undefeated season in the country should be enough to put him over the top with the voters. If he plays like he did last week at Camp Randall, on the other hand, voters will have to decide if an unknown kid from Nowhere, Texas was really good enough, despite losing to two legitimate Top 10 teams, to give the Heisman over a kid who plays for a team nobody cared about four months ago.
Remember, reporters - and sports award voters - love a story, so don't discount Miller's own storyline: heralded athlete commits to a school that immediately gets itself in major NCAA trouble, struggles through a forgettable transition season, and under the tutelage of one of the most media-beloved coaches in the game, delivers one of only a handful of unblemished seasons in school history. Pretty darn good story, if you ask me.
Can Miller really win the Heisman his sophomore season? As a pure fan, I sure hope so... With no Heisman curse to worry about for the Buckeyes this year, I'd much rather see him get the heavy hardware now and focus on nothing but the crystal football in 2013.
UPDATE: Thanks to perhaps the most tactless comment in the history of the sport (I don't actually write about sports for a living, as it turns out), I've gone back to the drawing board and taking a whack at how the five players' mentioned above stack up in terms of their strength of schedule. Here's what we can divine from the four of six BCS computer ratings who publish their SOS ratings somewhere I could find with a few clicks and way past my bedtime:
| Team | Sagrin | A & H | Colley | massey | avG | W/L |
| --- | --- | --- | --- | --- | --- | --- |
| TAMU | 25 | 41 | 29 | 18 | 28.25 | 9-2 |
| KSU | 27 | 28 | 39 | 26 | 30 | 10-1 |
| USC | 13 | 22 | 31 | 16 | 20.5 | 7-4 |
| ND | 33 | 29 | 24 | 21 | 26.75 | 11-0 |
| OSU | 54 | 50 | 62 | 47 | 53.25 | 11-0 |
So the question when looking at the numbers is this: does the additional data change anything about my analysis above? The answer, it appears, is... not really. Before the commenter takes me to task again, there is a very simple explanation, and then a longer, more detailed read of the situation.
The strength of schedule component of this discussion boils down to this: is it better to be undefeated with an easy schedule, or lose games in a hard schedule? The answer, clearly, is neither. It's better to go undefeated in a tougher schedule, of course. Looking at the averages of the SOS ratings (as you can see, the experts are nowhere near in a greement as to which team has the tougher schedule, with a 23-place range for the Aggies and an 18-place spread for the Trojans) we see that USC clearly has the toughest schedule, and Ohio State the poorest. The analysis doesn't change how I look at these two players' performances, as USC loses at least one-third of the games it will play this year, and perhaps a full 41% of its season.
Similarly, A&M has a stiff schedule, but it loses to two ranked opponents as mentioned above. Would Ohio State be undefeated if it played a stiffer schedule? We'll never know, obviously, and because of the bowl ban we'll never see undefeated Ohio State go toe-to-toe against undefeated Notre Dame. This does not change Braxton Miller's body of work, improvement or accomplishments in the context of this discussion.
So a strong player from a USC team that has become the whipping boy of the Pac-12 this season can't move up based on strength of schedule because his team has simply lost too many games in a tough schedule. Wins matter, as history has shown. Notre Dame, with the statistically next-toughest schedule, still doesn't move up any in my estimation because the reasons cited prevously still hold. Manti Te'o is clearly a talented football player who is a real difference maker on his team - I'm still not convinced he's the best defender in the country, let alone the best player in the game this year.
So that takes us right back to the discussion of our three QBs who make the most sense as the finalists for the Heisman Trophy. There is little difference between the strength of schedule between A&M and K-State according to the data, so Klein gets the edge here because he has one fewer blemish on his team's record, and wins matter. A loss to a ranked team is still a loss, after all - there are no moral victories. There are, however, bad losses, and a loss to a 2-5 Big 12 Baylor squad is a really bad loss.
The question becomes, how much worse is Ohio State's schedule than K-State's or A&M's. Well, statiscially about 20 places worse, which is significant. Ohio State has roughly the 50th toughest schedule in the country (dropping the outlier - Colley - the average is almost exactly 50), so it is in the top third of the FBS teams out there... still not horrible, but definitely not a stout as the four other teams in the running.
Could one make an argument based purely on the strength of schedule that Braxton doesn't "deserve" a Heisman bid compared with Manziel and Klein? Probably. Can I? Not with fewer than 12 hours until Miller's final outing of the season. For him, I still hold that he's playing for all the marbles in the Shoe today. If he has a lights-out performance, he's earned the hardware because he's put up eye-popping performances on more than one occasion, notching stellar stats fairly consistantly, improving almost every week, and winning every single game.
If he doesn't win, no one reading this will be surprised. Remember, though, the point of this analysis was not to predict who the voters will select - there is a whole political component here we haven't even scraped the tip of, yet. The point of the analysis is to make a case for why two of the five players currently in the hunt are not serious contenders, and to make a case for why, of the three quarterbacks who are legitimate candidates, the Buckeyes' signal caller has done what it takes to get the invite and be considered seriously for the prestigious award.
He's put himself in position to do so - with a strong performance and a victory tomorrow, he should ensure himself at least a seat at the table.