Editor's note: This feature, a pictorial countdown to the kickoff of the 2013 Buckeye football season, was originally spawned in the Forums, but a fellow 11dubber suggested that it move to the blogs - so, here it is. Also, apologies for the delay in putting our today's edition - my flight didn't get back to Columbus last night until nearly midnight because of weather delays in Charlotte yesterday (grumble grumble grumble). Enjoy today's installment of the countdown.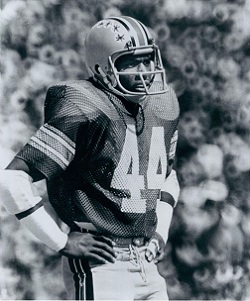 Today's trip down Memory Lane might feel a little bit familiar, in fact, it might feel a little like yesterday's edition, because it will feature a highly-touted, All-American back named Griffin. Like his older brother, the two-time Heisman Trophy winner, Raymond Griffin was a helluva football player. In fact, had his older brother not been THE Archie Griffin, Ray might have been the most famous Griffin ever to wear the scarlet and gray.
As a team captain in 1977, Griffin was an All-American and All-Conference honoree. The standout defensive back earned a permanent place in the hearts of the faithful by setting up the winning touchdown in the 1975 installment of The Game, intercepting a Rick Leach pass with the score tied at 14-14. Griffin returned the ball to inside the 10 yard line of Michigan, leading to fullback Pete Johnson's winning touchdown, and putting the Buckeyes into the 1976 Rose Bowl.
Side note: Sadly, the UCLA Bruins defeated the #1 ranked and undefeated Ohio State Buckeyes 23-10 in the Buckeyes' fourth-consecutive Rose Bowl appearance, and what would ultimately be legendary head coach Woody Hayes' final Rose Bowl berth. The game was the second time Ohio State played UCLA that season, and the Bruins were the only team all season to score more than 14 points in a game against the stout Buckeye defense - something they did twice, earning the victory in the second outing. (For more on that, read Archie Griffin's comments from his outstanding 11W interview earlier this week.)
Ray Griffin was drafted in the second round of the 1978 NFL draft by the Cincinnati Bengals, and was with the team through 1984.
Griffin was not the only standout to wear #44, however. All-American Gene Fekete was part of the football team that won Ohio State's first national championship in 1942. After serving in the U.S. Army for several years during World War II, Fekete returned to Ohio State to finish his education and played one year for the Browns, a new professional football team in the AAFC (although he had been drafted by the Detroit Lions in the 6th Round of the 1945 NFL draft).
Fekete, who died in 2011, served 10 years as an Ohio State assistant coach under Wes Fessler and Woody Hayes, coaching through the 1958 season. He coached running backs, including Heisman Trophy winners Vic Janowicz and Howard "Hopalong" Cassady, and Ohio State won two national championships during his tenure on staff. He and Daniel "Boom" Herron share the school record for the longest run from scrimmage, in Fekete's case an 89-yard dash to the end zone. He led the Big Ten in scoring and rushing in 1942, and finished 8th in the Heisman Trophy voting, becoming the first Buckeye to ever crack the top 10.
One of my favorite Buckeyes and Ohio natives currently involved in the National Football League also wore #44, a few years after Fekete's outstanding season in that jersey. Charles Richard "Dick" LeBeau, born and raised in London, Ohio, was on the Buckeye roster from 1956-1958. An iron man who played both ways in the national title campaign of 1957, The Venerable Dick LeBeau scored two touchdowns in Ohio State's comeback win over Michigan, 31–14.
He was initially drafted in the fifth round in 1959 by the Cleveland Browns but was cut from their team, and was signed as a rookie free agent by the Detroit Lions. He spent his entire 14 year NFL career in Detroit and was teamed with NFL Hall of Fame players Dick "Night Train" Lane, Yale Lary, and Lem Barney as part of a Detroit secondary that was one of the most feared in the NFL. He is still considered one of the greatest defensive backs in Detroit, if not league, history. From 1959–72, he recorded 62 interceptions (tied for 7th in NFL history) for 762 yards and three touchdowns, and was enshrined in the Hall of Fame in 2010.
LeBeau ranks third all-time for most seasons played (14) and holds the NFL record for consecutive appearances by a cornerback at 171. He was a three-time ProBowl selection, and retired in 1972. While his prowess as a player is great indeed, LeBeau is even more well known for his acumen as a defensive coach. Considered by many as the greatest defensive coordinator of all time, the 75-year-old is in his 9th season with the Pittsburgh Steelers, reprising a role he held in the mid-1990s. He's also held coaching positions with the Eagles, Packers, Bengals and Bills. He has two Super Bowl rings from his stints with the Steelers.
Finally, there is one Buckeye left in today's countdown that can't go without mention: Zach Boren. While not an All-American or multiple-award-winning player, Boren forever etched his place in Buckeye history by playing an integral role in Ohio State's transformation from a "clown show" to an undefeated colossus under first-year Head Coach Urban Meyer. Switching to linebacker midway through the season at Meyer's behest, Boren plugged a gaping hole in the Buckeyes' front seven, and started the squad back down the path to re-earning the moniker "The Silver Bullets."
He'll forever be #44 in your programs and #1 in your hearts, if for no other reason than giving us this timeless image:
And that'll pretty much do it for today's installment of the countdown. If you've missed it so far, here are days 50, 49, 48, 47, 46 and 45. Go Buckeyes!