Editor's note: This feature, a pictorial countdown to the kickoff of the 2013 Buckeye football season, was originally spawned in the Forums, but a fellow 11dubber suggested that it move to the blogs - so, here it is. Also, apologies for the tardiness of today's posting, but, well... I have a job, so... sorry. Enjoy today's installment of the countdown.
Some numbers are bigger than others. After two days of pretty epic installments of the countdown, featuring a slew of All-Americans, a legendary former coach, one of the greatest NFL defensive coordinators of all time, and the nation's only two-time Heisman Trophy winner, there was bound to be something of a letdown. And yet, at every number of the Buckeyes' roster over the history of Ohio State football, you'll find some measure of greatness.
For example, no fewer than four men to wear #43 earned the distinction of being an Academic All-Conference honoree. Three men to wear the number have been team Captains, including 1937 First Team All-American Carl G. Kaplanoff. Because Kaplanoff played in the mid-1930s, finding information on him has proven to be somewhat of a challenge - named to the All-Time Captain list at Ohio State, the 6-foot, 235 lb. tackle was drafted in the 12th round of the 1939 NFL Draft by the Brooklyn Dodgers. Not that Brooklyn Dodgers, this Brooklyn Dodgers.
Kaplanoff apparently played just one season for the Dodgers, and the team went 4-6-1, tying for 3rd in the East Division.
The next major standout at #43 didn't come along for another 40 years. Tailback Calvin Murray lettered at Ohio State from 1977-1980, and was named All-Big Ten in his senior season. Among his highlights, Murray set a school record for longest pass reception, hauling in an 86-yard pass from future convict Art Schlichter in a 1979 game against Washington State. Murray led the Buckeyes in rushing in 1979 and 1980, and led the Big Ten in rushing in 1980. He was named team MVP for his efforts that season.
Drafted by the Philadelphia Eagles in the fourth round of the 1981 NFL Draft, Murray's career didn't amount to much, despite the promise showed during his final seasons in Columbus. He was released by the team prior to the start of the 1981 season, but was re-signed on October 28 when Louie Giammona was knocked out for the remainder of the season with a knee injury. He rushed for 134 yards, and spent the next year, the final of his career, playing for the Chicago Blitz of the USFL.
The most recent standout to wear #43 is fan favorite Nathan Williams. The Defensive End from Miami Trace high school spent five seasons with the Buckeyes and lettered four years. Williams successfully came back from season-ending surgery in 2011 to play in 10 games for the undefeated Buckeyes in 2012, recording 40 tackles, including 3.5 for loss, two sacks, and one pass batted away.
Williams finished his career a veteran of 45 Ohio State games and 20 starting assignments. He tallied 25 career tackles-for-loss and 12 quarterback sacks, both totals second among current Buckeyes, as well as 132 career tackles. During his four seasons on the field, he also had an interception, five pass break-ups, three forced fumbles and three fumble recoveries.
After going unselected in the 2013 NFL Draft, Williams agreed to an undrafted free agent contract with the Minnesota Vikings in April, planting the OSU flag on a team with no other Buckeyes on the active roster. Rated as the 28th best outside linebacker in this year's draft class by SB Nation, Williams' injury history was looked upon with some concern by league GMs. Here's hoping the story has a happy ending in Minnesota.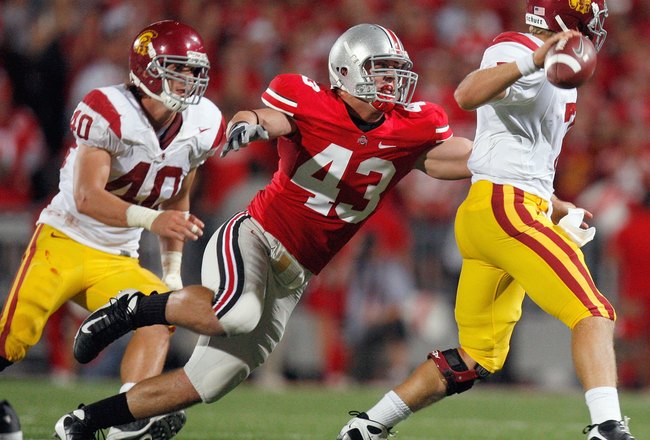 With that, we'll close today's installment of the countdown. If you've missed it so far, here are days 50, 49, 48, 47, 46, 45 and 44. Go Buckeyes!