Editor's note: This feature, a pictorial countdown to the kickoff of the 2013 Buckeye football season, was originally spawned in the Forums, but a fellow 11dubber suggested that it move to the blogs - so, here it is. Enjoy today's installment of the countdown.
Ten days into our extended trip down Memory Lane, we've met some of the biggest stars in the constellation that is Buckeye football. All-Americans, All-Conference honorees, and even a Heisman Trophy winner have made an appearance thus far - and there are more huge names to come, of course, as we get into the final days before kickoff. Today's trek into yesteryear has a slew of top recruits from the early days of the Ohio State football dynasty.
Five men who wore #41 have earned All-Big Ten honors; three of them were also named All-American selections. As an historical footnote, and perhaps as a call to my 11W brothers for help verifying, according to the Columbus Dispatch database of Ohio State jersey numbers, legendary Heisman Trophy winner Vic Janowicz wore #41 during the 1951 campaign, but I can't find independent verification, and obviously Janowicz is known forever as #31, so we'll see him in 10 days.
John Regis Monahan, a native of Pittsburgh, Pa., was the first Buckeye standout to earn both All-Conference and All-American honors at #41. The offensive lineman doubled as a kicker, and played for the Buckeyes from 1932-1934. As a captain his senior season, Monahan earned the distinction of being featured on a Wheaties box. He played four seasons for the Detroit Lions, and was part of the team's 1935 championship campaign. He played a final season for the Chicago Cardinals before retiring from the sport in 1939.
A generation later, another Pittsburgh product would don the jersey and become an integral part of the Buckeye backfield. Thomas Roland Matte played for Woody Hayes from 1958-1960, just missing a championship campaign on both ends of his time in Columbus. Originally tasked as a running back, Matte was quarterback for the latter two seasons of his tenure after starting QB Jerry Fields went down with an arm injury during the first half of the 159 season opener against Duke. According to Ohio State historian Jack Park, Hayes decided at halftime to give Matte a shot, and he held down the job for the rest of his time in Columbus.
During his years in the scarlet & gray the team compiled a record of 16-7-3 (the 1959 season was a black eye in the middle of an otherwise stellar stretch of Buckeye football). As a rusher, he compiled 868 career yards over 258 attempts with 3 touchdowns to his credit. As a passer, he completed 78 of 146 attempts, producing 1,176 yards and 12 touchdowns with only 6 career interceptions. His 8 passing touchdowns in 1960 was good enough for best in the Big Ten.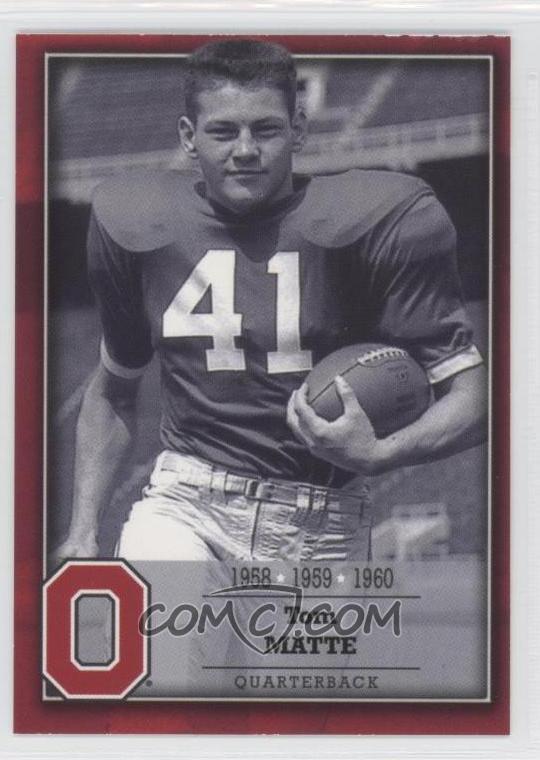 Taken in the first round of the 1961 NFL Draft by the Baltimore Colts, Matte played 12 seasons in the league, but again serving as a running back beside legendary quarterback Johnny Unitas. During his career, Matte accumulated 4,646 rushing yards, 249 receptions for 2,869 yards, 1,367 yards returning kickoffs, and 57 touchdowns (45 rushing, 12 receiving).
Late in the 1965 season, Matte memorably filled in as an emergency quarterback when both Unitas and backup quarterback Gary Cuozzo went down with season-ending injuries in consecutive home losses to the Chicago Bears and Green Bay Packers. For the Colts' regular-season finale (a 20-17 win) against the Los Angeles Rams and the following weekend's one-game playoff at Green Bay (a 13-10 overtime loss on a missed Packer field goal erroneously ruled good), Colts head coach Don Shula wrote a list of plays on a wristband that Matte wore, and is now on display at the Pro Football Hall of Fame in Canton.
Later in his career, Matte was immortalized on the cover of Sports Illustrated, scoring his third touchdown of the afternoon in the NFL Championship Game against the Cleveland Browns, January 5, 1969.
Matte was selected for two Pro Bowls and played in two Super Bowls, earning a ring at Super Bowl V as the Colts beat the Dallas Cowboys. In Super Bowl III, he rushed for 116 yards and caught 2 passes for 30 yards, and still holds the record for highest per-carry rushing average in a Super Bowl game: 10.5 (116 yards in only 11 carries in 1969 versus the New York Jets).
Another generation later, a Buckeye tailback would again demonstrate offensive greatness. Keith Alan Byars, a native of Dayton, played tailback for the Buckeyes under Coach Earle Bruce, carrying the ball from 1982-1985. In 1984, Byars finished second in the Heisman Trophy voting (behind Doug Flutie) after a season where he gained an OSU record 2,441 all-purpose yards, including a then-school record 1,764 rushing yards and 22 touchdowns.
That season also featured a game against Illinois in which Byars led a comeback from a 24-0 deficit, rushing for 274 yards and five touchdowns, the last with 36 seconds remaining in the game. On his fourth touchdown run, going for 67 yards, he famously lost his left shoe at the Illini 40 but never broke stride. Byars was a unanimous first-team All-America selection, and voted the Big Ten Conference Most Valuable Player. (As a footnote, his running backs coach that year was a young Jim Tressel, who would later become the Buckeyes' head coach.)
Despite being the preseason favorite to win the Heisman in 1985, injuries mucked up Byars' final days at Ohio State; he missed most of his senior season, in fact. Even so, he finished his career in Columbus with 4,369 total yards, 3,200 rushing yards, and 50 touchdowns. His 50 touchdowns remain the second most in school history.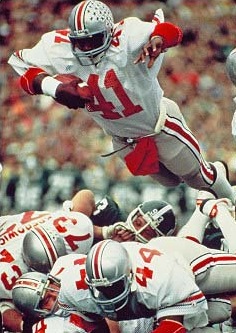 Selected in the first round of the 1986 NFL Draft by the Philadelphia Eagles, Byars was employed in the league until 1998, spending time with Miami, New England and New York after his first six seasons with the Eagles. The 1993 Pro-Bowler racked up 610 career receptions for 5,661 yards and scored 54 (all-purpose) touchdowns. He rushed for an additional 3,109 yards, and actually completed 6 of 13 passes for 119 yards and six touchdowns (third highest passing TD total by a running back in NFL history), with one interception.
And that'll do it for today's installment of the countdown. If you've missed it so far, here is the archive of the series for your reading/viewing enjoyment: