Since 1933, 24 men have worn #38 on the Ohio State University football team. Sixteen earned varsity letters for their efforts, and three served as captain. Two earned Academic All-Big Ten honors, though Donnie Nickey only wore the jersey one season, and most of his achievements were notched while he wore #25.
Among the long-ago names on the roster are many you've probably never heard of. In recent memory, however, are two Buckeye fan favorites. Brandon Joe played for Coach Jim Tressel from 2001-2004, earning a letter each year. In three seasons of playing time, the fullback gained 262 yards on 78 rushing attempts, including one touchdown. He also caught 6 passes for 57 yards, and returned 3 kicks for 23 yards.
As a redshirt sophomore, Joe saw limited use as fullback during the 2002 National Championship campaign and victory over Miami in the Fiesta Bowl. He went undrafted, but was signed in 2006 as an undrafted free agent by the Pittsburgh Steelers. After serving on their practice squad and fighting for a spot on the roster, he was released by the team in September.
Not long after Joe finished his years at Ohio State, the #38 jersey was picked up by a future NFL-drafted linebacker. The decade with Jim Tressel at the Buckeye tiller was marked as much by the success of the teams' linebackers as anything, and Dayton native Austin Spitler played alongside some of the best.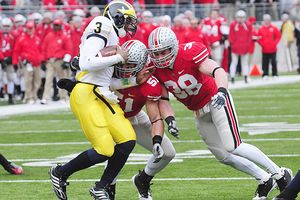 Earning a varsity letter from 2006-2009, the 6 ft. 2 in., 250 lb. linebacker later served as a team captain during his senior season. He played in every game of his freshman campaign, largely on special teams, but recorded seven tackles, including three in the win at Michigan State.
In his sophomore season, Spitler notched 26 tackles including seven tackles and a sack in the win over Youngstown State, and five the following week over Kent State. He earned the "Jack Tatum hit of the week" award for a slobbernocker during the Wisconsin game.
Spitler worked behind highlight machine James Laurinaitis at middle linebacker for much of his career. In his third season he recorded only 11 tackles, having sprained a knee versus Troy that sidelined him for several weeks. Returning to play at Michigan State, he recovered a fumbled Buckeye punt return and promptly went about taking care of business.
In his final season with the Buckeyes, Spitler notched 38 tackles, including five tackles for loss, as well as one sack and an interception. Selected by the Miami Dolphins in the 7th Round of the 2010 NFL Draft, Spitler debuted with the team that fall, and has played three seasons in the league. While not a starter, he's recorded 23 tackles and one fumble recovery during his time in Miami.
Also worth noting, this year marks 38 years since Archie Griffin's senior season. Had the 1975 Buckeyes not lost to UCLA in Griffin's fourth-straight Rose Bowl start, the team would almost certainly have won the national championship, coming into the game ranked #1 for the last seven weeks of the regular season. It also marks 38 years since Griffin was awarded his record second Heisman Trophy. Damn you, Bruins.
And that'll do it for today's installment of the countdown. If you've missed it so far, here is the archive of the series for your reading/viewing enjoyment: