They don't call Ohio State "Linebacker U," but after reading today's post, you might think they should. Between 1975 and 1987, three of the most talented linebackers to grace the gridiron wore #36, each earning All-American and All-Big Ten honors, and each serving as team captain in their senior season. Together, they represent three of the top linebackers of their generation, and one of them is among the most-known and most-celebrated Ohio State alumni of all time.
While most of the Buckeye faithful will think of the third member of this triumvirate first, the first player in today's trip down Memory Lane was actually a more highly-touted NFL Draft Pick. Tom Cousineau, a native of Fairview Park (a suburb of Cleveland), was born in 1957 - the same year the Ohio State Buckeyes won a national championship under legendary coach Woody Hayes. Cousineau was an exceptional high school football player, and among the most heavily recruited in the nation.
Choosing to play ball in Columbus, he was a consensus first-team All-American and broke a school record with 211 tackles in a single season in 1978. He also broke a school record for most tackles in a game with 29, was the MVP of the Orange Bowl, and remains second on the school's all-time tackles list with 569. But his start at the 'Shoe was a little less auspicious.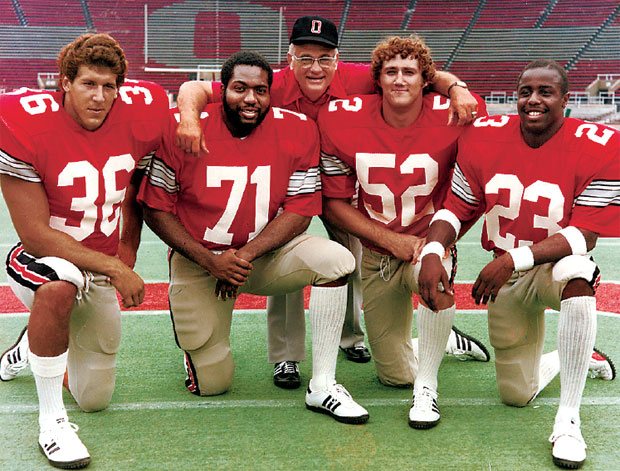 One week into two-a-days at Ohio State, the freshman linebacker called his father, a high school coach in Cleveland, to tell him that it wasn't working out. Cousineau was sore and feeling the effects of his first training camp where he was facing two All-American offensive linemen in practice, Teddy Smith and Chris Ward; college football's only two-time Heisman Trophy, Archie Griffin, at running back; and a monster fullback, Pete Johnson.
His equipment showed the brunt of the practices: a cracked helmet and a broken pair of shoulder pads. After a pep talk from his dad, Tom Sr., Cousineau went back to work, earning his stripes against the best offense in the country. He was promptly thrown out of practice for pancaking Johnson on two consecutive plays. One of the saddest pieces of trivia about Cousineau is that his final game at Ohio State - the infamous 17-15 loss to Clemson in the 1978 Gator Bowl - was also Hayes' final game at the helm of the Buckeyes.
A two-time All-American and three-time All-Big Ten selection, Cousineau's draft stock was extremely high, and he cashed in big time: he was selected as the #1 overall pick in the 1979 NFL Draft by the Buffalo Bills (who, in what proved to be an interesting turn of events, acquired the pick from the San Francisco 49ers in a trade for O.J. Simpson). Here's where the story gets a little... strange. Cousineau, instead of signing with the Bills, signed with the Canadian Football League's Montreal Alouettes because they had offered double the money that the Bills originally put on the table.
No, this is not Bizzarro World: the #1 draft pick in 1979 opted to play in Canada for more money. (Am I the only one, btw, who thinks that Cousineau in the '70s looked like Lou Ferrigno with an afro?)
Cousineau became a star in Canada, playing from 1979-1981, becoming the Grey Cup Most Valuable Player in the 1979 season and tabbed as an All-Star in the 1980 campaign. The bruising back from Cleveland, however, wanted to return to the NFL, and in 1982 the Houston Oilers attempted to make it happen.
The Bills (who still held Cousineau's NFL rights), had other plans, matching the Houston offer. He was then traded from the Bills to the Cleveland Browns for a first round pick in the 1983 NFL Draft (that pick, by the way, was used on future Hall of Fame quarterback Jim Kelly, in a bit of irony - you'll see why, in a minute).
Cousineau signed a five-year contract for $2.5 million, the most money ever spent for a Cleveland Brown player at the time. Although he led the team in tackles in three of his four seasons with the Browns, Cousineau was largely considered an overpaid disappointment, and was traded to the 49ers. Bills fans, of course, take some smug consolation that the man who spurned their affections was traded for Kelly. Cousineau played two more seasons on the Bay before retiring in 1987.
As Cousineau was packing his bags to leave for Montreal, another great linebacker was taking up his mantle in Columbus. You can't make a list of the all-time greatest Buckeye linebackers without mentioning Marcus Marek, who wore #36 from 1979-1982. The Buckeyes' all-time leading tackler, Marek tallied 572 tackles in four years, and was the first Buckeye in school history to lead the team in tackles for three straight years (not even Spielman and Cousineau can boast that).
Marek was extremely efficient in beating Skunkweasels. Earle Bruce's teams won three of four contests with their hated arch-rivals during Marek's tenure with the Buckeyes, and Marek scored an impressive 21 tackles in his final appearance in The Game. His performances against M*ch*g*n would later prompt the great Chris Spielman (more on him in a minute) to say of Marek: "There was no linebacker who played as well as Marcus Marek did in the Michigan games. To me, that was Marcus' signature. Not that he wasn't good in the other games, but he was exceptional in the Michigan games."
Remember, folks, that's ultimately what it's all about at Ohio State: beating Michigan.
Marek went on to be drafted by the Boston Breakers of the USFL, one of the only legitimate leagues to challenge the NFL (the league featured other future NFL greats including Herschel Walker, Jim Kelly and Steve Young). During his rookie season, Marek made the All-League Team with four interceptions, three fumble recoveries and one score; he played in the league until it went under in 1985.
Today he lives in New England and runs a commercial lobster business.
And now, the moment you've all been waiting for. Tom Cousineau and Marcus Marek are, without a doubt, two of the greatest Ohio State linebackers of all time. And yet the man who would follow them at #36 was, if possible, better yet. Charles Christopher Spielman graduated from Washington High School in Massillon, where he was named national high-school scholar-athlete of the year in 1983.
Electing to play college football at The Ohio State University was not a given, as he had That Team Up North as one of his top two going into decision day:
"My final decision came down to Ohio State and Michigan," Spielman recalled in a recent interview. "But Bo Schembechler really did a job on me and I actually wanted to go to Michigan. When I told my dad, he said, 'I'll tell you where you're going, you traitor. You're going to Ohio State.' It was the best decision I ever made."
Thank God Father Spielman had the good sense to put his foot down. His son would go on to play in a Rose Bowl, a Citrus Bowl and a Cotton Bowl. He was a consensus All American in both 1986 and 1987, a three-time All-Big Ten selection, and won the Lombardi award in 1987. Spielman came in 10th in the Heisman Trophy voting in 1986 and 6th in 1987, and of course was later elected to the College Football Hall of Fame.
Spielman is in the Ohio State records book for a number of reasons. He led the Buckeyes in total tackles in 1986 and 1987 and he is Ohio State's all-time leader in solo tackles. He also holds the OSU record for most total tackles in a game. His 546 career tackles places him third on the all-time OSU list behind Marek (572) and Cousineau (569).
His tackle total includes a school-record 283 solo stops. He recorded his best year statistically in 1986 as a junior, recording 205 total stops, including an OSU record 105 solos. His best game that year was a school record-tying 29 total tackles against Michigan.
Spielman was selected in the second round (with the 29th overall pick) of the 1988 NFL Draft by the Detroit Lions. He played eight seasons in Detroit (1988–95), and was a defensive stalwart during the team's run to four playoff appearances, two NFC Central titles, and a berth in the 1992 NFC Championship Game.
He captained the Lions defense that was one of the best statistically in the NFL in the mid-1990s. Spielman is Detroit's all-time leader in career tackles with 1,138 (since the team began recording tackles statistically in 1973.) He also recorded 10 sacks, four interceptions, 30 pass defenses, 13 forced fumbles and 17 fumble recoveries during his Lions' career. He was the first Lion to lead the team in tackles seven consecutive seasons since 1973, including the team's highest single-season tally of 195 tackles in 1994.
Spielman represented the Lions in four Pro Bowls (1990–92, 1995) and was named the team's defensive MVP in 1993 and 1994. He played for the Buffalo Bills in 1996 and 1997, setting a team and personal record with 206 tackles in '96. His 1997 season was limited because of a neck injury that required spinal surgery, and in 1998 he sat a season to help his wife Stefanie - a legend in her own right - recover from cancer treatments.
Though he planned to return for the 1999 season, with the Cleveland Browns, no less, he retired prior to the season due to another neck injury. He was elected to the College Football Hall of Fame in 2009. He has served, since his retirement, as a college football analyst and commentator joining Fox Sports in '99 and then ESPN in 2001. He is extremely well-regarded in that right, and has hosted his own radio program in Columbus in years past. He also spent a season as a coach with the now-defunct Columbus Destroyers arena football team.
To this day, Spielman is one of the most beloved Buckeye backers in history. Alongside other greats like Cousineau and Marek, Stan White, Randy Gradishar, Rick Middleton, Pepper Johnson, Rowland Tatum, Andy Katzenmoyer, A.J. Hawk, James Laurinaitis and Ryan Shazier, one has to wonder if the right team has earned the nickname "Linebacker U" after all.
And that'll do it for today's installment of the countdown. If you've missed it so far, here is the archive of the series for your reading/viewing enjoyment: