Editor's note: This feature, a pictorial countdown to the kickoff of the 2013 Buckeye football season, was originally spawned in the Forums, but a fellow 11dubber suggested that it move to the blogs - so, here it is. Enjoy today's installment of the countdown.
Prior to 1972, there wasn't much you could say about #45 at The Ohio State University. Ten men had claimed the number between 1936 and 1966, none of whom were named All American or Big Ten selections. The most notable Buckeye to wear the now-iconic jersey was James H. Herbstreit, co-captain of the 7-2 squad in 1960 that finished third in the Big Ten standings and #8 in the final AP and Coaches polls (can you imagine the first place B1G team ranking that high in the final standings today???). Herbstreit, of course, is not so much known for his on-field exploits or coaching career, but for siring future Buckeye quarterback and ESPN college football mainstay Kirk Herbstreit, affectionately (you stay classy, Columbus) known by fans and colleagues alike as "Herbie."
So it wasn't until the fall of 1972, when a true freshman named Archie Mason Griffin became the first "young gun" to start on the varsity team ('72 was the first year freshman could do so), that the mythos of #45 began to develop. Of course, it almost didn't happen at all: In his only carry in the first game of the season, Griffin fumbled the ball, and that might have been all she wrote for the stud-to-be.
Instead, a funny thing happened on the way to the office that next week: Woody said "screw it, I'm starting Griffin." (Or something pretty close to that, probably.) Griffin didn't let the legendary head coach down, either. Rather, he went about the tast of setting a school single-game rushing record of 239 yards in the game against North Carolina, breaking a team record that had stood for 27 seasons. He would go on to break his own record as a sophomore with 246 rushing yards in a game against the Iowa Hawkeyes. Over his four-year collegiate career, in fact, Griffin rushed for at least 100 yards in 34 games, including an NCAA record 31 consecutive games.
Asked why he started a true freshman over more experienced running backs, Woody Hayes said, "He's a better young man than he is a football player, and he's the best football player I've ever seen."
Indeed, those words would prove to be prophetic, as Griffin quietly - he is the most humble "celebrity" you're ever likely to meet - went about the task of becoming arguably the most successful and most beloved Buckeye in the history of the University.
Griffin finished that freshman campaign by rushing for 867 yards and on 159 carries, resulting in just three touchdowns. Things really took off the next year, however, when he finished fifth in the Heisman Trophy voting after racking up 1,577 yards on 247 carries, and logging 7 touchdowns. He would win the Heisman the next two years, rushing for 1,695 and 1,450 yards, respectively.
To date, Archie Griffin is the only back to lead the Big Ten Conference in rushing for three straight years. Overall, Griffin rushed for 5,589 yards on 924 carries in his four seasons with the Buckeyes (1972–1975), then an NCAA record. He had 6,559 all-purpose yards and scored 26 touchdowns. In four seasons with Griffin as the starting running back, the Buckeyes posted a record of 40-5-1, and Griffin is one of only two players in collegiate football history to start four Rose Bowl games.
In each of his three final seasons with the Buckeyes, Griffin was an All American and All Big Ten selection, was a two-year team captain, and won the Walter Camp award twice, along with the Maxwell Award in 1975. He was drafted by the Cincinnati Bengals in the first round of the 1976 draft. The College Football Hall of Fame enshrined Griffin in 1986; Ohio State enshrined him their own Varsity O Hall of Fame in 1981. He was inducted into the Rose Bowl Hall of Fame in 1990, and in 2007, he was ranked #21 on ESPN's Top 25 Players In College Football History list, because apparently ESPN has a sense of humor (seriously - only 21st???).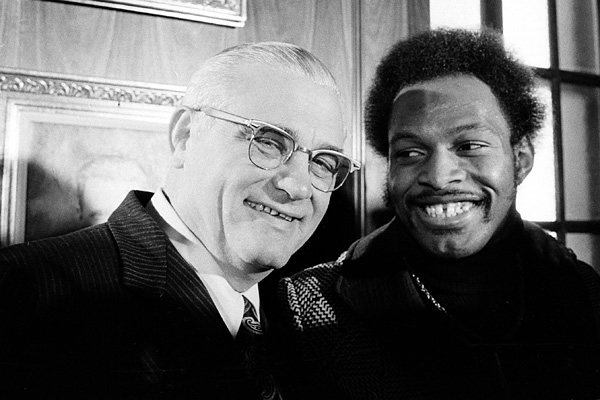 It was 20 years before another Buckeye would wear #45, and although Andy Katzenmoyer is one of the most highly-regarded Buckeye defenders of all time, the University realized that no one else should ever wear "Archie's number," and officially retired his number in 1999.
"Big Kat," a consensus All American, and three-time All Big Ten selection, helped solidify Ohio State's reputation as a place where legendary linebackers are forged. Going on to win both the Butkus and Jack Lambert awards in 1998, Katzenmoyer - like Griffin before him - made Buckeye history wearing #45. In the first game of his college career, he became the first true freshman to ever start at linebacker for the Buckeyes, and totaled 12 QB sacks that season, including 3 in the 1997 Rose bowl.
The New England Patriots selected Katzenmoyer in the first round (28th pick overall) of the 1999 NFL Draft, but he suffered a neck injury during his first season with the Patriots that sidelined him for the latter half of the season, and plagued him throughout the 2001 campaign, ultimately leading to his release prior to the 2002 season. According to NFL.com, in 24 games, Katzenmoyer recorded 101 tackles, 3.5 sacks and 1 interception.
So that wraps it up for today's installment of the countdown. If you've missed it so far, here are days 50, 49, 48, 47 and 46. Go Buckeyes!