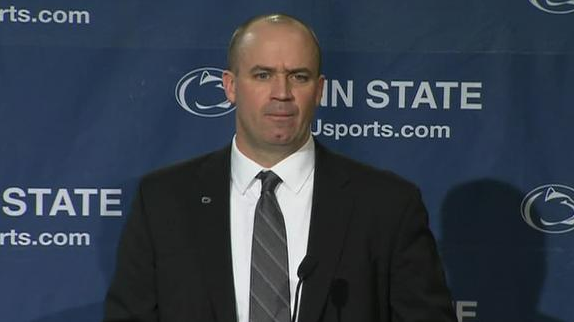 Bill O'Brien's debut in Penn State was, by most measures, a success. Though he began the season 0-2 with a home loss to Ohio, and a rather ugly loss at Virginia, O'Brien rebounded to win eight of the next ten games. Amid considerable turmoil and still in the immediate wake of Paterno's dismissal, death, and all the NCAA storm clouds that came in tow because of the broader university-wide Sandusky scandal, the 2012 Penn State football team finished 8-4. O'Brien picked up coach of the year honors from the Big Ten, the Maxwell Football Club, and the National Sportscasters and Sportswriters Association.
His follow-up was not as successful. The 2013 Nittany Lions followed an 8-4 season with a 7-5 campaign. The losses at Indiana and Ohio State were unqualified disasters, though O'Brien's Nittany Lions rebounded to beat Wisconsin in Madison on Wisconsin's Senior Day. This, perhaps, cost Wisconsin a BCS bid (at least if Ohio State would have won the Big Ten Championship Game).
Now, O'Brien is allegedly testing the NFL waters again.
Penn State's Bill O'Brien, who came close to taking the Eagles job a year ago and was approached by several other teams, is ready to return to professional football, according to pro and college sources, and has already been approached by the Texans and Vikings.

O'Brien struggled with the decision last year and ultimately felt he owed it to his players to stay at Happy Valley for a second season, but relations between him and the school frayed some when the school was subjected to more post-Sandusky sanctions than expected, and he also has had three staff members depart recently. His buyout is less financially restrictive than in past years, and, furthermore, there could be litigation over his buyout as well, if the situation escalates, given the penalties the program faced.
Count me as one of those Ohio State fans very curious to see how good O'Brien is with a full roster and no NCAA sanctions. I think it would be great for the Big Ten. It's one reason why I'm reluctant to see him leave for the NFL, even if the ensuing meltdown from Blue White Illustrated's message boards would be hilarious.
My own hunch is that O'Brien's iron in the NFL fire will never be hotter than it is now, or was last year. If he turns down the opportunity this time, or is not presented with one, I think he stays at Penn State for the long haul.
As of right now, it's a development worth following as we enter the new calendar year.