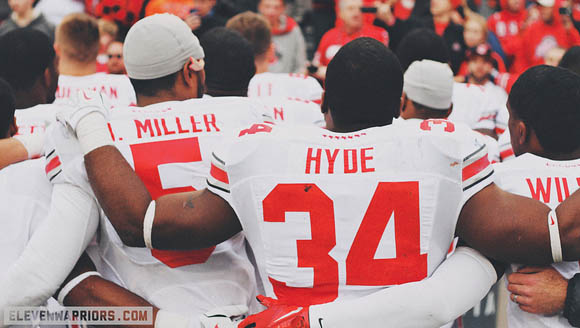 Per OSU football release:
COLUMBUS, Ohio – Ohio State senior running back Carlos Hyde and junior quarterback Braxton Miller were named today as finalists for the Chicago Tribune Most Valuable Player award, along with Wisconsin senior linebacker Chris Borland. The newspaper announced the finalists today on its web site. The winner receives the Silver Football Award.

Ohio State's dynamic duo has been the force – along with one of the best offensive lines in the nation – for the Buckeyes' 12-0 regular season. The last three games, in fact, the pair has combined to average 356.6 rushing yards per game with 13 touchdowns scored. Miller has added another 443 yards through the air with six touchdowns during that span.

Miller is in line for a remarkable and unprecedented triple-double. He has already been named the recipient of the Griese-Brees Quarterback of the Year award in 2012 and 2013 as well as the Graham-George Offensive Player of the Year Award the past two years. He was the Silver Football winner last year as well as being a finalist this year.

Only three players have previously won the Chicago Tribune's Silver Football award as Big Ten MVP twice: Ohio State great Archie Griffin (1972-73), Indiana's Anthony Thompson (1988-89) and Minnesota's Paul Giel (1952-53).
Carlos Hyde and Braxton Miller also led the Buckeye contingent for All-B1G first team, among other accolades. It'd also be cool to see Braxton Miller collect the treble.