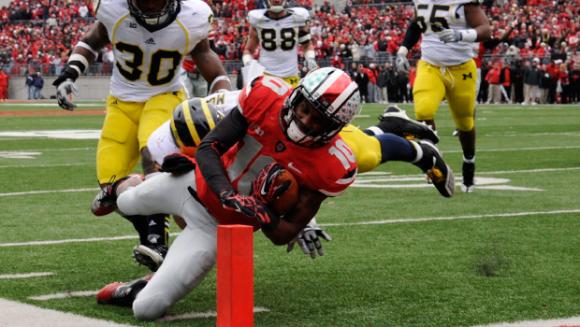 Three games remain on Ohio State's schedule and the one this Saturday is actually the least exciting and important. Blasphemy and truth meshing for the first time.
Next week, Ohio State will play Michigan State for the right to go to the Rose Bowl and possibly the national championship game. Still, in the annals of time, it's difficult to find an Ohio State-Michigan game where the Buckeyes looked elsewhere. Even during the Rich Rodriguez era, The Game was still the most anticipated spot on the schedule.
But this year presents almost unprecedented circumstances with the Big Ten Championship Game looming. Not since 1942 has Ohio State played a game the week after Michigan. Fans surely are hoping for the same result, though. The Buckeyes won their first national championship that season with head coach Paul Brown at the helm.
To accomplish that mission and complete The Chase, Ohio State must stay geared toward its archrival.
"When you walk into the hallways all you hear is 'It's Time For War,'" junior linebacker Ryan Shazier said. "You can just tell through practice, even the players, you can just tell that we're intense when we go through our drills. You can just see the look in [Coach Meyer's] eyes, and you can just tell that he wants to win so bad in this game."
Meyer made it clear to his team that they'll receive Michigan's best shot, regardless of what their recent play indicates.
"It's a one-game season for us right now," senior left tackle Jack Mewhort said. "All we're worried about is the one in front of us. It's The Game. That's all we're focused on. We'll handle the other stuff when we get there. For now, there's only one game that matters."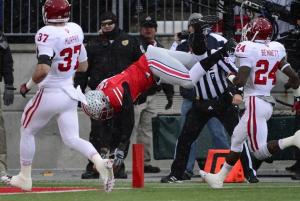 Action Braxton
Each week, Braxton Miller, Carlos Hyde, Ryan Shazier or another talented Buckeye wows spectators with a memorable performance. It's become commonplace to witness career-defining games. The three aforementioned players all delivered in full on Saturday, but it was Miller who played a starring role in two of the biggest highlights of the season.
First came a flip into the end zone on a 37-yard touchdown run, and then Miller, lining up at wide receiver, took a handoff from Kenny Guiton and went heels-over-head for a touchdown. It didn't matter where he lined up, Indiana wasn't going to stop him.
Miller finished with 144 yards rushing and two touchdowns on 13 attempts. He accounted for nearly 65 percent of Ohio State's offense.
"I was just having a little bit of fun," said Miller, who didn't wear a knee brace for the first time since September.
It was a much less exciting play that Meyer found memorable, though it did result in a first down when one wasn't expected. Facing 3rd and 17 with the snow falling and wind swirling, Miller connected with tight end Jeff Heuerman who was sprinting up the seam.

"That is his best play at quarterback since we've been here," Meyer gushed. "That is his best and he knows it, I know it, Tom Herman knows it." He went one step further, as well, saying it'd be hard to bring up a game where Miller played better overall.
Herman enjoyed watching his pupil from the press box, but he was worried on both touchdown runs. He feared a flag would come out for unsportsmanlike conduct on the first and dreaded Miller being injured on the second, wishing that he had thrown the ball instead of running it.
There were three passes Miller delivered that stuck with Herman – the throw to Heuerman that Meyer mentioned, another deep pass to the tight end and a 39-yard touchdown pass for Devin Smith on a post route.
"Three unbelievable throws," Herman said. "I came away from the game thinking he played really, really hard, and that's encouraging."
On tap is a trip to Ann Arbor, and Meyer believes his quarterback and team are peaking at just the right time. It's probably too late for him to jump back into the Heisman discussion due to three missed games in September, but Miller could get an invite to New York. Those three games serve as an albatross for now. It's likely Miller would be the front-runner entering the stretch run if not for a sprained MCL.
Instead, he'll attempt to give himself a winning record against the maize and blue. Miller is currently 1-1, but his statistics in both games were eye-popping. He's a combined 28-of-43 passing for 424 yard with three touchdowns and an interception and 157 yards rushing and a touchdown.
"I feel we're getting better and better each week. Braxton Miller is a different quarterback than he was," Meyer said. "People make the comment about him having fun – he's having fun because he knows what he's doing. He's confident in the personnel around him, and that was not the case last year.
"He knows where people are. He knows the protections. He's playing quarterback."
Michigan Finds Confidence During Rough Stretch
The goals at Michigan have changed drastically during the course of the season. First, it was a Big Ten championship, then a 10-win season. Now, the Wolverines are just hoping to play spoiler against Ohio State, though head coach Brady Hoke refused to acknowledge that role.
Hoke led a rare Monday practice for Michigan and was encouraged by the results. The spirited session served as a confidence booster for a coach and program that have languished for six weeks.
"We don't talk about that," Hoke said about spoiling Ohio State's season. "We've never mentioned it, and I won't. It's not about them, it's about us. That's the way it's always been.
"If I have to say something like that to motivate the guys in our locker room, then those guys shouldn't be in our locker room."
Taylor Lewan, a senior offensive lineman who spurned the NFL a year ago, said Michigan's heart is what could lead the upset-minded Wolverines over the Buckeyes. Lewan has been a source of controversy for much of the season. His play has regressed and a tussle against Michigan State looked dirty on his part.
"This team believes in themselves," he said. "It doesn't matter what any media, any fan or anybody thinks about this team. The only thing that matters is the guys in the locker room believe. If we have 115 guys believing, we can win."
They may be the only 115 people in the state of Michigan who feel the Wolverines can end Ohio State's school-record 23-game win streak. Las Vegas has tabbed the Buckeyes as a 13-point favorite. Both team's offenses are the focus.
Ohio State sports the Big Ten's best unit, scoring 49 points per game, rushing for 315 yards per game and totaling 531 yards of total offense every Saturday. At the opposite end of that spectrum is a Michigan offense that's been downright offensive.
The Wolverines' November has been forgettable. They had back-to-back- games of negative rushing yards and have compiled just 886 yards from scrimmage in the past four games – 130 of those are rushing yards, producing an abysmal average.
Hoke said he's very confident Michigan can win Saturday or else he'd just cancel the game.
"I'd call down there to Columbus and say, 'We won't do it,'" Hoke said, tongue firmly in cheek.
When pressed about Ohio State's recent success, Lewan flipped the script and said this week's preparation and Saturday's game isn't about the Buckeyes.
"This is not about Ohio. I'm talking about the University of Michigan. One hundred thirty-four years of Michigan football, most wins in college football. I'm talking about that right now. Our defense will play. Our offense needs to be more consistent. We worked on that [Monday] morning, and we're going to work on that all week. The guys understand what kind of rivalry it is.
"I'm not talking about Ohio. I'm talking about the University of Michigan."