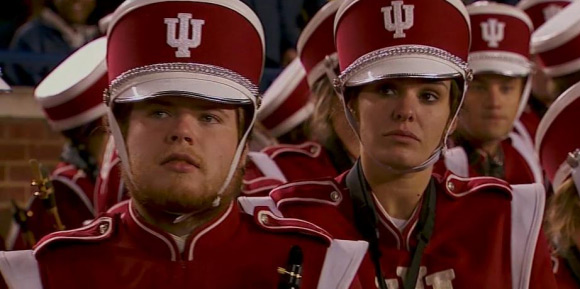 The Big Ten is perceived as having uniformly boring football, but this week's slate of games proved otherwise. Aside from the gorgeous Ohio State-Iowa football game, the rest of the conference displayed a wide range of styles: vertical passing, power running, option, Pleistocene offense, killer defense, two hand touch. Every game stood out in some way because of the variegation; past the break, records and bones are each broken.
Michigan (6-1, 2-1) 63, Indiana (3-4, 1-2) 47
Points were expected in this game, but certainly not this many from Michigan. Jeremy Gallon set a Big Ten record for receiving yards, Devin Gardner set school records, and Michigan and Indiana combined for 1,323 yards as Michigan triumphed over Indiana in a thrilling, sloppy game.
Gallon had 14 catches for two touchdowns and 369 yards, falling just short of the NCAA record of 405. Devin Gardner also set Michigan records for passing yardage (503) and total offense (584).
It was wild all throughout, but Indiana was done in by a slow start and disappointing finish. A missed two point conversion in the third quarter left the Hoosiers always a score behind, and then once surprise starter Tre Roberson was hurt, turnovers by Nate Sudfeld undid the team. Indiana's coverage of Gallon was LOLworthy all day because it focused on stopping Devin Funchess, who had 84 yards of his own, even when Gallon went over 200 receiving yards. After having the worst performance by a tailback in Wolverine history last week, Fitz Toussaint tore it up with 151 rushing yards. The turnaround for Michigan's offense is stunning – or more likely, Indiana's defense is that porous.
Michigan has two weeks to shore up the offense and defense before in playing Michigan State on Nov. 2. Indiana's next game is also on Nov. 2, against Minnesota, and the Hoosiers' bowl prospects look dicier by the week.
Michigan State (6-1, 3-0) 14, Purdue (1-6, 0-3) 0
And now for something completely different: a defensive struggle. Raise your hand if you expected Michigan State to shut out Purdue. Put your hand down, everyone, that was a gimme. Michigan State's fearsome defense maimed Purdue's offense and again proved itself to be the nation's best.
A terse summary of the game: nothing happened for 20 minutes, then Denicos Allen returned a fumble for a 7-0 Michigan State lead, then nothing happened for 30 more minutes, and finally Tony Lippet threw a touchdown pass to Andrew Gleichart on a trick play. That's all. The game lasted less than three hours, 50 minutes passed before either team reached the red zone, and both Indiana and Michigan had more offense than these two teams combined. This is the kind of ugly game that people look down on.
If Michigan State could put a consistently productive offense to go with its defense, it would be the best team in the division and maybe the conference. For now, it's one of the top contenders and a borderline ranked team.
What else is there to say about Purdue this year? The season is a lost cause now, one for Darrel Hazell to build strong relationships and make recruiting gains so he can survive future bad years. The quest for Purdue to be the worst Big Ten team since 1981 lives on.
Purdue has a week off to practice its sorcery before hexing Ohio State on Nov. 2. Michigan State is at Illinois next week before the big game against Michigan.
Minnesota (5-2, 1-2) 20, Northwestern (4-3, 0-3) 17
Here's the horrifying loss I warned about last week. On a peanut-free day, Minnesota led throughout the game and did just enough to hold off a rallying Northwestern team.
In coach Jerry Kill's return, Minnesota scrimped and scrounged for yardage with its option game. Thanks to some solid play by PhilipNelson, 20 points was enough to hold on for the win. Trevor Siemian had another bad day for Northwestern, throwing two interceptions – one a pick-six that provided the margin of victory – and averaging a weak 5.1 yards per passing attempt. The Wildcats scored late to cut the lead to three, but executed a dreadful onside kick and watched the Golden Gophers run out the last two minutes.
Minnesota tries to get bowl eligible with a home win over Nebraska. Northwestern will try anything it can to keep this season from going down in flames next week against Iowa, a game that has become a pretty heated rivalry.
#25 Wisconsin (5-2, 2-1) 56, Illinois (3-3, 0-2) 32
Wisconsin was able to get whatever it wanted on offense and cruised to an easy victory over Illinois.
The Badgers rolled out to a 21-0 lead in the first quarter behind the always excellent Melvin Gordon/James White combo before Illinois could get started. The Illini eventually did fight back, cutting the deficit to 28-17 by halftime, but three more touchdown runs by Gordon and White gave Wisconsin an insurmountable margin. Joel Stave was effective in the supplementary passing game; if the ever-efficient Taylor Martinez is a Jedi master of game management, Stave is his Padawan.
Nathan Scheelhaase was good for Illinois, but the lack of running game kept Illinois from being able to keep pace. Illinois's day got worse when All-American caliber kick returner V'Angelo Bentley left the game and returned in a walking boot. Though the Illinois defense couldn't handle Wisconsin's power, not all was lost; in a furtherance of the rivalry with Northwestern, Illinois hosted Mr. Peanut himself.
Wisconsin has a bye week, then faces Iowa on Nov. 2. Illinois hosts Michigan State next week.
Wake Forest 34, Maryland (5-2, 1-2) 10
With an uncompetitive loss to Wake Forest, Maryland's dream start has transitioned into a harrowing midseason. Even worse than the loss is the bounty of injuries Maryland players have suffered.
Though Maryland outgained Wake Forest, three turnovers ended promising scoring drives, with C.J. Brown's erratic quarterbacking hurting the team. Maryland was also unable to get the run game going, with 23 carries for 39 yards. On the other side of the ball, QB Tanner Price did everything for the Demon Deacons, with a passing, rushing, and a receiving touchdown.
Maryland lost receiver Deon Long in the second quarter with a fractured tibia and fibula and receiver/superstar Stefon Diggs in the fourth quarter with a fractured tibia, each season ending injuries. In 2013, Maryland has lost its top three wide receivers, two running backs, four defensive backs, quarterback and running back, mostly because of injuries. Maryland will muster everything it can when it hosts Clemson next week.
As for the Week 8 non-participants:
Rutgers players licked their chops when Central Florida upset Louisville to reopen the American Athletic Conference championship race, and prepare for a game against a no longer undefeated Houston team.
Penn State used its bye week to install a radical "eleven men in the box" scheme to slow down Carlos Hyde in advance of this week's game at Ohio State.
Nebraska coaches were worried about being prepared for Minnesota, then relaxed when they remembered that they're just Minnesota.
And there you have it. There are only three non-OSU Big Ten games next week, so you may as well partake in all of them. I recommend Nebraska and Minnesota duking it out for bowl eligibility, Northwestern trying to keep the season afloat against Iowa, and Michigan State and Illinois to see Ohio State's likely Big Ten Championship Game opposition. Until next time, au revoir.
---
Finally, here's a bonus GIF for your Sunday morning.