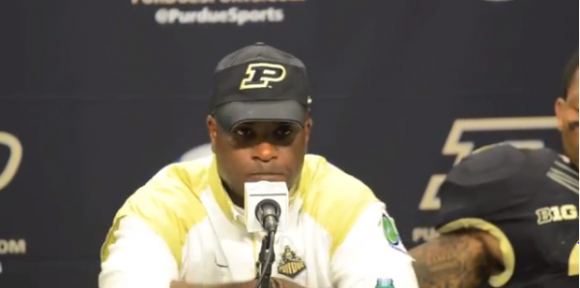 What do you do when you're supposed to write a Big Ten recap, eight teams are on their bye weeks, and you can't cover the Ohio State/Wisconsin game?
Some people might submit hand turkeys, especially after the satisfying but draining trifecta of the Gold Pants Social, Eat Too, Brutus, and OSU/Wisconsin. But with the desolate Midwestern setting for these games, something clicked.
So after three very different performances in the three Big Ten games, The Good, the Bad, and the Ugly seems like an appropriate framing device for Week 5. Woo-ee-oo-ee-oo.
Illinois (3-1) 50, Miami (OH) 14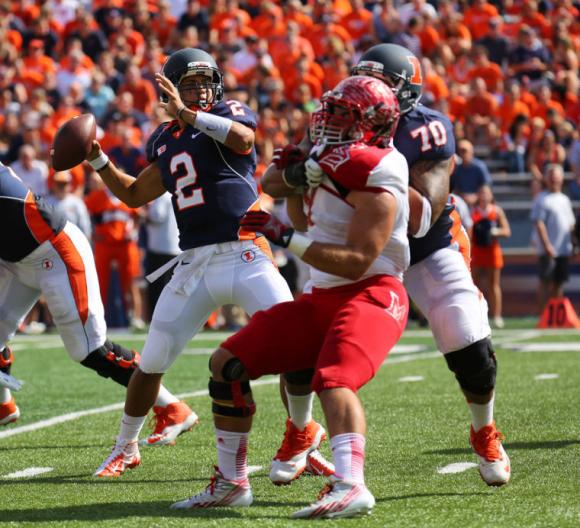 Let's start off with the best showing for the Big Ten, Illinois's clobbering of Miami (OH). This is the good performance, and Illinois's emergence as a decent team is enigmatic… just like Blondie.
Illinois blew the doors off of Miami (OH), scoring 50 points for the first time since 2011. Nathan Scheelhaase had what may be the best performance of his career, going 19/24 with 278 passing yards, five touchdowns, and one interception.
The offensive explosion is something to behold: Illinois has 161 points through its first four games, a school record. The defense was in fine form as well. In short, it was everything a game against a MAC school is supposed to be.
Illinois plays at Nebraska next week; watch for the quarterback duel between Scheelhaase and the ever-efficient Taylor Martinez.
Northern Illinois 55, Purdue (1-4, 0-1) 24
Yup, this is the bad. Northern Illinois gave Purdue a vicious beatdown, much like Angel Eyes did to any poor soul who encountered him.
Purdue proved beyond a shadow of a doubt that it is the worst team in the Big Ten. The 31 point loss is the worst in Big Ten history against a MAC school. Oy vey.
The good for Purdue: by gaining 524 yards, the Boilermakers more than doubled their average output over the first four games. The bad: Starting QB Rob Henry was horrible, and backup Danny Etling's decent performance could lead to a benching,not to mention the defense's total inability to contain QB Jordan Lynch. The ugly: Purdue now has two more losses than anybody else in the Big Ten with seven conference games to go.
Purdue has its hands full next week against the University of Bye before a leisurely game against Nebraska on Oct. 12th. Chin up, Boilermakers: at least you're not UConn or Lane Kiffin.
Iowa 23 (4-1, 1-0), Minnesota 7 (4-1, 0-1)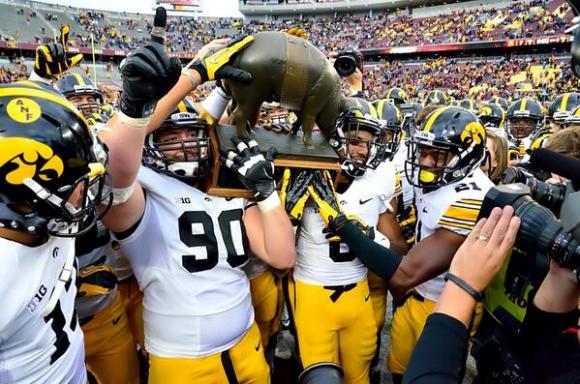 The other Big Ten conference game this week was an ugly affair. Here's an analogy: Iowa is Tuco – not that Tuco – and Minnesota is the one-armed man that lays a trap for Tuco only to be shot in his distraction.
Iowa regained Floyd of Rosedale, but it wasn't pretty. Iowa got out to a 17-0 halftime lead and the Golden Gophers did nothing with the ball all day; its 30 rushing yards is by far the lowest output of the season. Fans were apathetic by the second quarter, and Iowa fans made TCF Bank Stadium into Kinnick Stadium North.
Meanwhile, is it time to take Iowa seriously as a championship contender? The Hawkeyes nearly tripled Minnesota's yardage, and the consistency of Mark Weisman and Jake Rudock make Iowa a wild card threat to the sexier teams in the Legends Division. Conversely, the evidence suggests that Minnesota was a 4-0 paper tiger.
Iowa plays Michigan State next week, a school they've owned. Minnesota is heading to Michigan to see if they can muster anything against the Wolverines' flawed defense.
As for the schools with bye weeks, they were in a western mood as well:
Northwestern's Kain Colter and Trevor Siemian kept insisting that Evanston wasn't big enough for the two of them, to their teammates' annoyance.
Indiana's Kevin Wilson drove his players from Bloomington to Indianapolis with a branding iron.
Nebraska players robbed an armored train. It was risky, but Bo Pelini wanted those runzas.
Maryland WR Stefon Diggs untied QB CJ Brown from the aforementioned train's tracks. Brown wondered who that masked man was, anyway.
Michigan State's Mark Dantonio and Michigan's Brady Hoke raced to discover a cache of buried Confederate gold only to realize too late that they forgot shovels.
Seven magnificent Penn State players defended State College from a gang of roving Paterno apologists.
Rutgers wondered why in the hell everyone was doing stereotypical western things instead of breaking down film. Everyone else scoffed at those slick-eared New Jersey greenhorns.
So that's it for the abbreviated Week 5 Big Ten Schedule. Week 6 looks to be much more interesting; I'd recommend the Iowa/Michigan State and Illinois/Nebraska nooners before Ohio State/Northwestern kicks off in primetime. If all goes according to plan, Buckeye fans will be in ecstasy about impending gold.