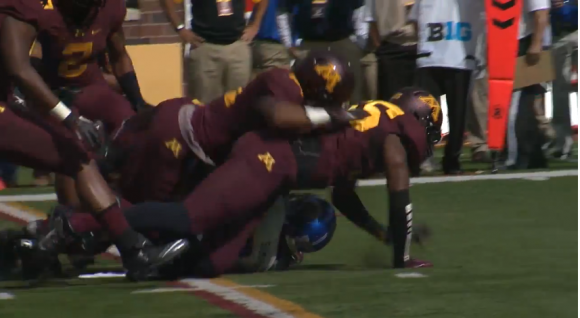 It took four weeks to be certain, but the Big Ten is no longer an embarrassment.
The ugliest games of the week were elsewhere: Florida-Tennessee was a comedy of errors (#BlameUrban), Virginia Tech-Marshall dragged into triple overtime, and if you missed Cincinnati-Miami (OH), I wouldn't say you really missed it, y'know?
The Big Ten looked pretty chill this week: 9-2 (11-2 counting the pledges), and if the Big Ten's final 9-8 non-conference record against power conference schools reflected its overall stature, the Big Ten would be a 53rd percentile conference. After how far the conference sunk last year, 53rd percentile is a massive improvement. Onward, ho!
Iowa (3-1) 59, Western Michigan 3
Last week, some idiot called Iowa football "depressing". Boy do I feel silly.
Iowa dominated Western Michigan in all areas of the game. On offense, Iowa gained 446 yards, proving that last year's sickly offense is firmly in the past. New defensive coordinator Phil Parker came up with a fantastic game plan, holding the Broncos to 209 yards and 74 rushing yards. And on special teams, Kevonte Martin-Manley returned two punts for touchdowns.
Fifty-nine points marks the most points for the Hawkeyes since 2002. This was only the second time in the last decade a team had two punt return TDs and two interception return TDs in the same game, and indicates some life in the staid Iowa program.
Though they're sure to regress at some point, the Hawkeyes play next week at Minnesota for Floyd of Rosedale.
Minnesota (4-0) 43, San Jose State 24
For shame, Minnesota. You were grouped with the noon overachievers and you only carved out a comfortable 19 point win.
Minnesota took a 20-17 lead into halftime after an aerial bombardment by San Jose State, which gave up any pretense of balanced offense. Once Minnesota followed suit by abandoning the pass and midline veer-ing the Spartans to death, they ran away with the game.
What surprises me about Minnesota is its uncanny ability to replace whatever quarterback leaves the field with somebody that fits its scheme. Is Phillip Nelson out? Put in redshirt freshman Mitch Leidner and he'll gain 222 total yards and four rushing touchdowns, matching a Minnesota single game record. Despite their defensive issues, a bowl game now looks likely.
Oh yeah, and San Jose State's punter was ejected for fighting.
Minnesota plays its Big Ten opener against Iowa next week.
#22 Notre Dame 17, Michigan State (3-1) 13
The Big Ten only took one major shot to the chin this week, which was Notre Dame outlasting Michigan State in a game marred by penalties.
Michigan State's nationally No. 1 defense was amazing in holding Notre Dame to 220 yards of offense, but the Fighting Irish capitalized on Michigan State's only turnover, a wide receiver pass intercepted and converted into a game-winning Cam McDaniel touchdown run. Notre Dame earned five of its 12 first downs via penalty, and a number of them were questionable pass interference calls like this.
After performing so well against Youngstown State, it was only natural to expect the Michigan State offense to regress. That's exactly what happened, as the Spartans could only muster 254 yards of offense. Starting quarterback Connor Cook was so ineffective (4.2 yards per attempt) that MSU coaches benched him for the Spartans' final drive, which sputtered. Cook was frustrated at being taken out, though Mark Dantonio claimed that Cook was still Michigan State's starter.
The Spartans will lick their wounds for a week before traveling to Iowa City on Oct. 5th.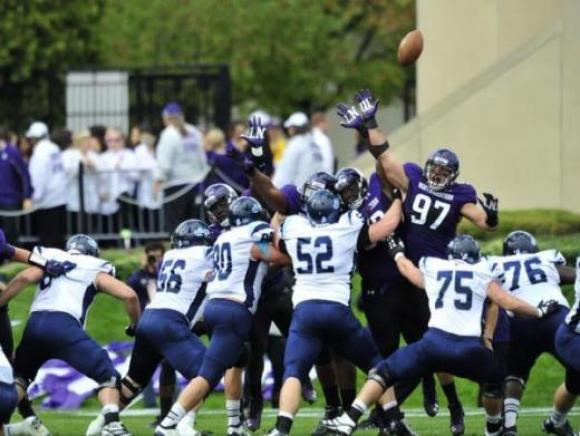 #18 Northwestern (4-0) 35, Maine 21
After three weeks of looking like the Big Ten's second best team, Northwestern squeezed out an uncomfortable win against Maine.
The two teams had a near-draw in yardage at 373 to 379 and both teams had several turnovers; opportunism proved the difference. Northwestern's two defensive touchdowns, interception returns by Damien Proby and Dean Lowry, gave it a 21-0 lead by the early fourth quarter, and Maine never came closer than two touchdowns the rest of the way. A fun fact: Northwestern leads the country in interceptions with nine.
Getting pushed around by an FCS team is cause for concern, and Northwestern will try to fix that during its bye week. NU follows that with a program-defining home game against Ohio State on Oct. 5th.
Penn State (3-1) 34, Kent State 0
In an odd scheduling quirk, Penn State scheduled the two teams with golden mascots, Central Florida and Kent State, in back-to-back weeks. After losing to the Golden Knights last week, PSU made sure there would be no repeat against the Golden Flashes.
Penn State was never in any real danger while blanking Kent State. Zack Zwinak ran for three touchdowns and the Nittany Lions controlled the game with 287 rushing yards. Kudos to the Penn State defense for a shutout, its first of the season; with the Big Ten's stingiest rushing defense, more of those could follow.
Penn State has a bye week, then opens Big Ten play at Indiana on Oct. 5th. In the meantime, please tell your audio operators to rebury Sweet Caroline.
Nebraska (3-1) 59, South Dakota State 20
To great cheers, Bo Pelini and Nebraska overcame a poor first quarter to overwhelm South Dakota State. The Cornhuskers didn't need the ever-efficient Taylor Martinez to shred South Dakota State's defense, racking up 645 yards with near-perfect balance in the victory.
It wasn't all sunshine and rainbows for Nebraska: South Dakota State's Zach Zenner rushed for 202 yards on 21 carries, though the Blackshirts negated his attack by forcing the Jackrabbits to throw in the second half. The defense was porous early, allowing South Dakota State to take a 17-14 lead into the second quarter, and worst of all, stadium security failed to eject Larry the Cable Guy on sight:
Like almost everybody else in the Big Ten, Nebraska has a bye in week 5. Its next game is on Oct. 5th against Illinois.
#24 Wisconsin 41 (3-1, 1-0), Purdue (1-3, 0-1) 10
If you want a picture of Purdue's future, imagine Wisconsin's boot stamping on a Boilermaker's face — forever. Wisconsin blasted Purdue in the Big Ten's first conference game of the year, rushing for 388 yards and five touchdowns.
Purdue did make it a game for a while, pulling to 14-10 after a Rob Henry touchdown run. In the end Melvin Gordon and James White were just too strong, rushing for 147 and 145 yards respectively. It continues a touch stretch against the Badgers for Purdue: since 2009, Wisconsin has beaten Purdue five times, with an average margin of victory of 31.6 points.
Purdue finishes its non-conference schedule against Northern Illinois next week Purdue is entrenched as the Big Ten's worst team, but at least with some soul-searching it won't embarrass itself like other conferences' worst teams.
Wisconsin, which earns Most B1G Team of the Week honors for this alone, will head to Columbus to compete against the #3 Buckeyes in Rushapalooza 2013. Say, were you aware that Eleven Warriors is hosting two fine events before that one?
#15 Michigan (4-0) 24, Connecticut 21
Michigan was supposed to rebound after being taken to the wire by Akron, and that sure as hell didn't happen. Connecticut held a two touchdown lead before Michigan meandered back into the game, and Brendan Gibbons kicked the winning field goal for Michigan with 4:36 to deliver a haphazard victory.
Here is the microcosm of Michigan's last two weeks, here it is: down by three on its final drive, 18 point underdog Connecticut needed to convert a 4th and 29 to keep its hopes of winning alive. Michigan gave up 27. Alarming, but just enough to survive.
Devin Gardner had a game to forget: 11/24 passing, no touchdowns and two interceptions, with a few fumbles to boot. Gardner is capable of so much better; chalk it up to another bad game against a poor defense, but he has to show better decision-making for Michigan to win the Big Ten. At least Fitz Touissant came through for the Wolverines, rushing for 124 yards and two touchdowns.
If the Wolverines truly are what they hate and run Tresselball successfully, they could scrape out these gut-churning wins all year. Like everybody else, Michigan has a bye week, then a game against Minnesota on Oct 5th.
Missouri 45, Indiana (2-2) 28
Say what you will about Indiana's defense, at least it's consistently terrible.
In a game that should have been even more lopsided, Missouri trounced Indiana. Missouri got out to a 14-0 start, but a few empty red zone trips allowed Indiana to sneak back into the game and tie it in the second quarter. After that though, Missouri responded with a 24-0 run to put the game out of reach.
The Tigers had 363 yards of offense at halftime and finished with 623 yards on a whopping 100 plays. Indiana's offense functioned well again under quarterback Nate Sudfeld, but its defense is an anchor on the team's potential. Or the rock grounding the ship, I haven't quite decided on the naval metaphor.
Indiana's next game is on Oct. 5th against Penn State, following a bye week.
We want to give some love to the soon-to-be-Big-Ten schools that vindicated themselves well this week:
Maryland (4-0) 37, West Virginia 0
West Virginia was the bettors' favorite despite being a slight underdog, yet the Maryland defense secured the Terrapins' first shutout since 2008.
The defense held the Mountaineers to 175 yards and forced six turnovers, more than enough to secure the win in soggy M&T Bank Stadium in Baltimore. The garish helmets and non-stretchable uniform fabric probably helped too. After the dominating performance, there's a decent chance that Maryland will be ranked on Monday.
Maryland has a bye week, then gears up for #5 Florida State on Oct. 5th.
And saving the best for last: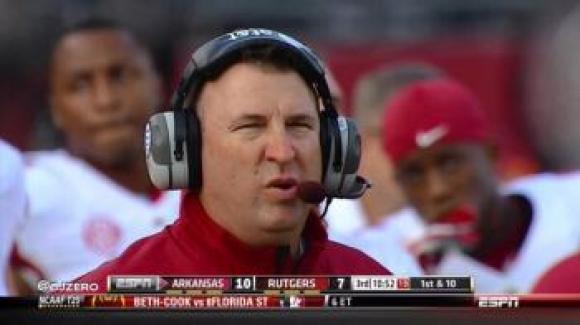 Rutgers (3-1) 28, Arkansas 24
Let's get the obvious joke out of the way: #karma. #Karma, indeed.
Rutgers came back from 10-0 and 24-7 deficits to win. Rutgers QB Gary Nova overcame some erratic throwing to finish with 346 passing yards and three touchdowns, the final one to Leonte Carroo with 5:18 remaining.
Though Arkansas got off to a strong start, the Razorbacks wilted in the fourth quarter. Bielema elected to punt with 2:48 left in the game – understandable on 4th and 24 but still unwise – and Rutgers was able to run out the clock.
Rutgers, which looks like an 8 or 9 win team now, has a bye week before facing Southern Methodist on Oct. 5th. Arkansas, which faces Texas A&M, Florida, LSU and Alabama in the next four weeks, has a date with destiny.
So with every freaking team in the Big Ten taking it easy in Week 5, I'm not sure what to do to fill space. Maybe I'll go full Hunter S. Thompson and submit some acid ramblings, maybe I'll recap Antique Roadshow reruns, maybe I'll continue the story of Bret Bielema's daily life. The sky's the limit.