Mornin', Skullerinos.
While Ohio State basketball returns to the drawing board after another road loss, in anticipation of a return to the court on Tuesday against Iowa, it may be worth our while to shift gears and focus on other things happening around the world of college sports. It's actually been a fairly eventful 48 hours.
NCAA DEREGULATES RECRUITING. You may have been watching other shooty hoops action while this happened, but the NCAA passed some new rules that may be inviting more problems in a landscape where the line between "amateur" and "professional" exists on paper only.
There were 26 rule changes that were proposed on Saturday, 25 of which were passed. Here's the rundown of the big changes.
Coaches are granted unlimited phone calls and text messages to eligible recruits. Somewhere, Kelvin Sampson bemoans that this was not done sooner.
Restrictions on printed material/advertisements to recruits have been lifted as well.
Social media contact is now equivalent to traditional media contact (i.e. phone calls, texts, mailers). Coaches are allowed unlimited contact via Facebook and Twitter (however discreetly).
Recruits are permitted to receive outside sponsorship of competition-related expenditures without compromising eligibility. Remember Sharrif Floyd's "bake sale"? Totally above board now, provided the donor is not an agent of any kind.
The "Baton Rule" is no more. Now, programs can have any number of coaches on the road recruiting as they please.
Recruits can be considered "student athletes" after the National Letter of Intent is signed and faxed. This makes them eligible for any permissible benefits that can be provided once athletes step foot on campus for classes.
This all sounds like the NCAA has essentially liberalized recruiting, short of signing high school athletes to professional contracts with free shoes bonuses.
The NCAA's idea is to shuck regulation in favor of a streamlined rule book and increased efficiency in identifying and prosecuting the big violations of the NCAA's amateur mission. However, it seems like deregulating recruiting the extent to which the NCAA just did is asking for trouble.
In short, what the NCAA did is pass the buck on regulation to the families. It is now the families' obligation to coordinate with the suitors for their young athlete about when is the best time to call, when junior is not available to Facebook chat because of study hall or practice, et cetera.
Whereas a lot of families for higher profile sports like football and men's basketball often seem to relish in the attention their kid gets on the recruiting trail, this may be an unsatisfactory approach. We shall see.
I guess the good news is that, if anything, this just provides more firepower for Urban Meyer and his staff. In a deregulated framework, it's basically sink or swim, something for which Meyer and company are well suited and for which others in the conference may have to adapt. Is it any wonder why Pat Narduzzi has upped his Twitter presence of late?
SOMETHING SOMETHING TE'O SOMETHING. So, here's the latest deal on the Te'o thing with the dead girlfriend thing that was a fake thing.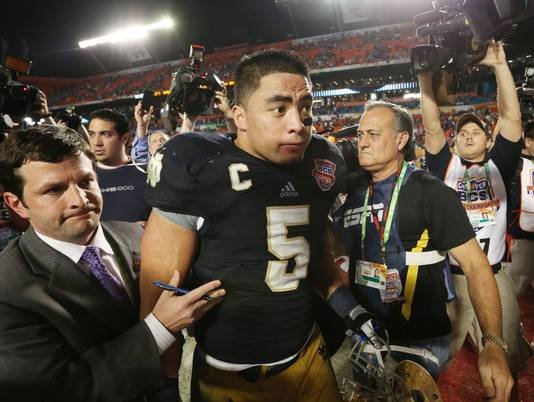 Jeremy Schaap sat down for 2.5 hours with Manti Te'o, off camera, to get his account of things. Te'o's account, in a nutshell: he says he was legitimately duped, did not know until the Deadspin story, but did embellish the story to his parents a bit in order to avoid an unwanted conversation about his parents' suspicions. A partial transcript is available.
Some takeaways, at least from my vantage point, follow.
First, Te'o is pleading he was a victim of naivete, which I think is believable. I know well people like him who come from "devout" backgrounds and can believe him getting duped, if that is indeed 100% of what happened on his side of things. I guess you have to know that type of "crowd".
Second, his account raises several questions about Jack Swarbrick's story. Swarbrick's account suggests Notre Dame was more forthcoming in their investigation and that Te'o himself eventually knew by the end of December. So, it seems like either Swarbrick or Te'o is getting some important details wrong.
Deadspin's Tim Burke and Jack Dickey have already poked some holes in Te'o's account that was made available late Friday night. Namely, it seems untenable for Ronaiah Tuiasosopo to have offered a Twitter DM apology to Te'o for Schaap to observe when Te'o was not observed to be following Tuiasosopo on Twitter.
According to a USA Today report, Ronaiah Tuiasosopo did not go far into crafting Lennay Kekua's back story. Much of the details come from the lives of acquaintances.
Meanwhile, we found out Notre Dame did this. This isn't insidious, but it is some next level institutional ineptitude.
I have no doubt this story will continue for some time, with the sports world devolving into a daily serial of "As the World Turns". It's becoming one of the most sensationalistic stories in recent memory where there was no crime committed or professional/organizational bylaw violated.
Such is sports fandom these days, I guess.
WOMEN'S BASKETBALL MAY BE APPROACHING THE END OF EMPIRE. If you've followed me for some time, you may know I take the women's basketball team at Ohio State very seriously and am very much invested in their seasons. I thought it necessary to do a little checkup here on how they're doing.
Namely, it's not good. Ohio State prevailed on Thursday at home against Indiana, winning 68-45. Darryce Moore, whose brother, J.T., is on the football team, had 14 points and six rebounds. Tayler Hill, P.J. Hill's younger sister, led the Buckeyes with 15 points. Amber Stokes, daughter of Ron Stokes, is still sidelined with an injury.
A win like that is expected from this program, but it is only the Buckeyes' first conference win this season. At 1-4 in league play right now, the Buckeyes are ahead of only winless Northwestern and Wisconsin. Everyone is chasing Purdue and Penn State this season.
For those of us that are proudly invested in this program, this is a bitter pill to swallow. It was only a few years ago when fans of Ohio State women's basketball were typically bemoaning this team underperforming in March with the #1 seeding it usually had. This was at the height of Ohio State's dominance of the league, which saw the squad lose 15 league games in a six-year stretch that saw Ohio State win six league titles (five outright). More recently, Ohio State has played like a second tier squad in the league with the emergence of Penn State as hegemon.
The team returns to action on Sunday, playing at lowly Wisconsin. Thereafter: a home date with Penn State next Sunday.
MISCELLANY. If you unwrap Baylor's new helmets, you get chocolate candy... This happened at Hinkle Fieldhouse... Kansas State football briefly approaches the event horizon at the Shrine Bowl... Graham Spanier, hanging out... Silly NFL, Duron Carter is as much a product of X-BOX as he is Ohio State... Pep Hamilton leaves his position at Stanford as the Andrew Luck Director of Offense in order to take a job with the Indianapolis Colts as, well, basically the Andrew Luck Director of Offense... Don't click here.