Hello, readers, and goodbye, college football. Welcome to the saddest day of the year — the first day of the offseason.
And of course, we'll once again have to endure more of the "S-E-C!" narrative this offseason. Never mind that Alabama's 42-14 destruction of Notre Dame last night was more Alabama and Nick Saban's black magic ways than the SEC being an unstoppable conglomerate.
Other than the Crimson Tide, the only other SEC team that looked totally dominant in its bowl game was the Fightin' Manziels. I mean, Northwestern, who hadn't tasted postseason victory since the Truman Administration, even beat an SEC team on New Year's Day.
For most of us, Alabama vs. Notre Dame represented a lose-lose situation1. Ohio State didn't even move in the final AP poll, staying at No. 3 while being jumped by Oregon.
And though several Ohio State players tweeted last night about how they should have been playing in the national championship game, we can at least comfort ourselves knowing that Ohio State was the only FBS team to finish the season with a perfect record.
Hopefully we can say the same thing a year from now. It would only be fitting if Urban Meyer and the Buckeyes ended the SEC's title streak.
Now, though, it's time to focus all our energy on college basketball. Ohio State's hoops team needs to do the same after a lackluster effort over the weekend. Tonight is a huge game for the guys, not only because West Lafayette is possessed by malevolent spirits that are difficult for visitors to overcome, but also because everyone needs to move on from the embarrassment against Illinois.
More importantly, Ohio State needs a good win, and even though Purdue is just 7-7 right now, a road win in the Big Ten would be a statement victory this team has yet to earn this season. It could also be a confident booster for the next game, a Sunday meeting with an annoyingly good and undefeated Michigan team.
WHAT'S THE MATTA WITH OHIO STATE? Naturally, Ohio State dropped in this week's polls, falling from No. 8 to No. 14/15. There's no question that this team has real issues, but one person who is not overreacting is Thad Matta, believing this past weekend was a fluke2 more than anything:
"I have to be honest, I have to throw Saturday out,'' he said. "We did things that were so uncharacteristic. As I told them, `Look, I'm not sure who was in your jerseys in this game.'''
Matta is open to the idea of changing the starting lineup and will consider going center-free at some point like he did for a time on Saturday, with Deshaun Thomas playing the five alongside Aaron Craft, Shannon Scott, Lenzelle Smith, and LaQuinton Ross. His main goal is "finding those five guys who have a flow to them is what I'm still looking at.''
Thomas is also not in panic mode:
"I don't think this team is falling apart. There's some things we need to work on. We're going to get there. We know now what it's going to take and what we have to do to play hard and win ballgames.''
Granted, that's easier said than done without players like Jared Sullinger and Evan Turner on hand. But it's not like this team is devoid of talent either, and March is still two months away. For those such as the Big Ten Geeks questioning if Ohio State will even make the Tourney, let's just pump our brakes a bit and see how they play these next couple weeks.
B1G, IF TRUE. In his presser yesterday, Matta also said, "We have to be good every night... But we can't have one guy who is playing ridiculously hard and the others are not."
That's what happened to the Buckeyes against Illinois, and as Matt Charboneau of the Detroit News wrote, "take a night off in this conference, and you're cooked."
We are reminded of this every season, but this year it's truer than ever: it's hard to win on the road in the Big Ten. This week alone features several matchups between ranked teams, including Minnesota at Illinois tonight, Minnesota at Indiana on Saturday, and Michigan at Ohio State on Sunday. Even ranked teams going on the road are no gimmes — Michigan State at Iowa on Thursday could prove to be a tough test for the Spartans.
For Michigan, largely regarded as the best or at least second-best team in the Big Ten, the conference schedule still presents about as many traps as Indiana Jones encountered. Their trip to Columbus is the first of four road contests against a ranked team in their next six games.
It should be another wild ride in the B1G this season.
THE FRESHMAKER. The Football Writers Association of America unveiled its Freshman All-America Team, which featured four Big Ten players — Michigan TE Devin Funchess, Michigan State OL Jack Allen, Iowa OL Austin Blythe, and Penn State DE Deion Barnes.
Although no Buckeyes were selected, Urban Meyer was chosen as the team's coach3. He's hardly new to college football, but since he took a break before coming to Ohio State, I guess that was enough for the FWAA to name him as their "freshman" coach. And coaching the only undefeated team certainly helped, too.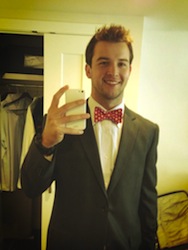 As a spectator and analyst at the BCS National Championship Game, Meyer was asked if the game would have been closer had Ohio State played:
"That's all speculative. I can't say that," Meyer said. "I have a lot respect for the Notre Dame team. I am somewhat surprised. I thought it would be more of a low-scoring game because Notre Dame's defense has been good all year."
The way-too-early odds for the Buckeyes winning it all next season? 10-1:
2015? YOU MEAN WE'RE IN THE FUTURE? As last night reminded us, the playoff system can't get here soon enough. While we're two years away from that, BCS executive director Bill Hancock provided a few more details about what January 2015 will look like.
The national championship game will continue to be played on a Monday, and the semifinals will take place on Dec. 31 or Jan. 1. Even though there hasn't been a formal announcement yet, the Rose Bowl and the Sugar Bowl are expected to host the inaugural semifinals.
Cowboys Stadium is the early favorite to host the title game:
Only the first title game will be announced, he said, after a formal bidding process. Although it is widely expected to be awarded to Cowboys Stadium at Arlington, Texas, Hancock said there has been interest from 12-15 cities. He said although the initial hosting would probably be limited to the sites of the six bowls involved in the playoff, other sites were likely in the future, including "cold-weather cities."
The conference commissioners will meet once more today and then again in April. By that time, we should know which stadium Braxton Miller will win his second straight national championship in.
ONE CLICK PONY. Amber Stokes is out for four weeks with a knee sprain... AJ McCarron learned it by watching Saban... Confirmed attendees for postseason all-star games... Bill O'Brien says he did not ask for a raise... Oregon's Keanon Lowe had a good reason for faking an injury... In honor of Justified's return tonight, here's some Raylan Givens wisdom... David Bowie is releasing his first album in 10 years... Oops, Al Roker crapped his pants.