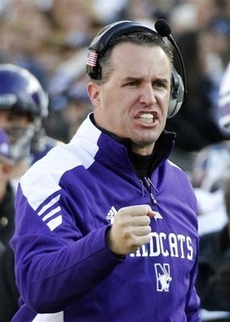 It was Michigan State's turn to sit the weekend out and hope for a few upsets to provide some clarity at the top of the conference standings. While Northwestern did its part knocking off the Hawkeyes in Evanston, the Buckeyes and Badgers took care of business maintaining a three-way tie atop the standings with just two games remaining.
Should the gridlock at the top hold, the Big Ten will look at BCS rankings to choose its automatic bid, which would leave the Buckeyes and Spartans in a beauty contest for a potential at-large berth.
Northwestern 21, Iowa 17
Behind the heroics of quarterback Dan Persa, the Wildcats topped the Hawekeyes at home on Senior Day, giving Northwestern their fifth win in their last six matchups with Iowa.
Persa threw for 318 yards and led his team to two huge touchdowns in the final 6:21 as Northwestern rallied from 10 down in the fourth quarter to stun Kirk Ferentz's crew (again). It was a bittersweet triumph for Persa and his Wildcats, however, as the quarterback ruptured his Achille's tendon on his final pass, a 20-yard strike to Demetrius Fields with just 1:22 to play.
Northwestern blog Lake the Posts called the effort "muted euphoria", while Black Heart Gold Pants congratulated the Wildcats for winning their "one-game season" for the fifth time in the last six years.
The Wildcats get Illinois at home next weekend before traveling to Camp Randall to end their season, while Iowa welcomes your Buckeyes before visiting always-friendly Minneapolis to end the year.
Wisconsin 83, Indiana 20
The answer to the age-old question of how badly the Badgers, playing without star running back John Clay, can beat a terrible Hoosier team at home has finally been answered: 63 points.
Wisconsin jumped all over Indiana in Madison, racing out to a 38-10 halftime lead before putting 45 more poins on the board in the second half, finishing with their best scoreboard performance in 95 years. Not having Clay didn't seem to matter as Montee Ball ran for 167 yards and three touchdowns in his first career start, while super sub James White pitched in 144 yards on the ground with two scores of his own. Together, the duo accounted for 311 yards on 41 carries, good enough for 7.6 a pop.
Scott Tolzien was efficient in the pocket, finishing 15/18 for 181 yards with three scores and zero interceptions. Meanwhile, his counterpart, Indiana's Ben Chappell, left the game in the first half with a leg injury after starting 8/14 for just 63 yards.
The Hoosiers moved to 0-6 in the conference, finishing with Penn State and a trip to West Lafayette, so an 0-8 run is not out of the question. The Badgers, on the other hand, are cruising and visit Michigan before welcoming Northwestern to Madison to end the season. We need a Wisconsin loss in the worst way, so I hope you enjoy rooting for the Wolverines.
Michigan 27, Purdue 16
Speaking of the Wolverines, beleaguered coach Rich Rodriguez is starting to collect Big Ten wins with his second-straight, and third of the season, after struggling to collect just three league wins in his first two seasons at the helm in Ann Arbor. Purdue is not a good football team, so let's not get ahead of ourselves, but Rodriguez has likely achieved enough to keep his job, which should be good news to the fine folks of Columbus, Ohio.
Shoelace Robinson was largely held in-check by the Purdue defense, finishing with just 68 yards on the ground and committing four turnovers, but his Wolverines were just good enough to capture the win in West Lafayette, outscoring the Boilermakers 13-3 in the second half after leading by just one at the break.
Purdue defensive end Ryan Kerrigan was his usual beastmode self, notching four sacks, two forced fumbles and five TFLs in the loss. We'll be glad to see him gone, especially after setting the league mark for career forced fumbles at 14.
Big Ten Standings

| TEAM | CONF | OVERALL |
| --- | --- | --- |
| Michigan State | 5-1 | 9-1 |
| Ohio State | 5-1 | 9-1 |
| Wisconsin | 5-1 | 9-1 |
| Iowa | 4-2 | 7-3 |
| Michigan | 3-3 | 7-3 |
| Northwestern | 3-3 | 7-3 |
| Penn State | 3-3 | 6-4 |
| Illinois | 3-4 | 5-5 |
| Purdue | 2-4 | 4-6 |
| Minnesota | 1-6 | 2-9 |
| Indiana | 0-6 | 4-6 |
Purdue visits Michigan State Saturday before finishing at home against the Hoosiers, while the Wolverines face a brutal pairing of Wisconsin and Ohio State to wrap things up before heading to a mid-December bowl game.
Minnesota 38, Illinois 34
It's weird calling any win over a Ron Zook-coached squad an upset, but that's exactly what happened as lowly Minnesota rallied for a late victory over the Fighting Illini in Champaign.
Gopher running back DeLeon Eskridge finished with three touchdowns, including the game's final 14 points, but no run was bigger than his two yard plunge with just 0:16 remaining to put Minnesota on top. Embattled quarterback Adam Weber silenced some of his critics by finishing 20/26 for 225 yards and two touchdowns.
The Illini, who looked like the best three-loss team in the nation just a few weeks ago, have now suffered back-to-back setbacks against Michigan and Minnesota, not exactly the Big Ten's power elite, and finish with games at Northwestern and Fresno State. Interim Gopher coach Jeff Horton, fresh off his first career win (that's Ron Zook for you, folks), finishes out with games at Illinois and at home against the Hawkeyes.